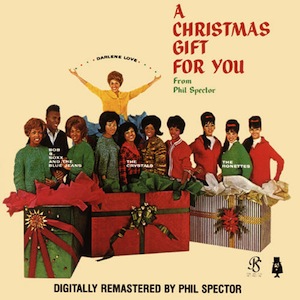 If you have a window near, go ahead and look outside. Chances are, there are some Christmas lights up somewhere within view. In the coming weeks, you'll probably frantically brave mall crowds and horrific parking lot jams for last-minute gifts, wondering why it is that you avoid the mall for an entire year only to finally cave when it's impossibly chaotic, deafeningly loud and smells something like garland draped across a junior-high locker room. Nearly 50 percent of you have already seen It's A Wonderful Life this month, and roughly 92 percent of you will catch at least one of the 22 available viewings of A Christmas Story that will run every two hours from Christmas Eve night up through the morning of the 26th. These things are undeniably Christmas. Other things are too, but somehow, the meaningful stuff is more distinct. But nearly everyone seems to live the lights, the movies and the malls. And the songs, of course.
Well before I planned to write about Phil Spector's Christmas Album (or whichever name you prefer to call it), I was actually wondering how these holiday staples came to be—like Hermey, the elf who wants to be a dentist, or a Red Rider BB Gun, and most specifically, a song. Most of the jingles we carol are pretty old. Hell, "Jingle Bells" is 150 years old, while the 1930s and '40s seem to be the heyday of holiday tradition. I guess they wouldn't really be traditions if they weren't old, and we like to keep them that way, apparently. Consider that Bing Crosby's "White Christmas" (1942) is the best-selling single of all time, of any music, not just holiday music. (His "Silent Night," from 1935, is third all time.) That's not to say new traditions can't be created, it's just that many of them reside somewhere below the lofty status held by these longstanding customs, and I wonder if it's even possible to create a Christmas classic anymore.
I think Phil Spector probably wondered this, too, only he was in a position to do something about it. His curated mix of holiday tunes pushes the limits of Christmas music—whether it's tweaking the lyrics of "White Christmas" or writing his own in Christmas (Baby Please Come Home). Spector, a Jew born on Christmas day, did what few were or are capable of doing. He made the largesse—both genuine and contrived—of Christmas even bigger.
With his trademark Wall of Sound, Christmas hits you in the face like an avalanche gaining momentum. And now, when you're making your mix of Christmas classics, one of Spector's songs makes the cut. (It probably even makes the cut on your "cool" mix, where you go heavy on obscure funky soul holiday licks and Tom Waits' "Christmas Card from a Hooker…") This seems like a remarkable achievement to me, considering the number of times these songs have been recorded—the fact that there's an original, and then there's Spector's, and maybe a few others. But what is a more remarkable achievement to me is that I could listen to "Baby Please Come Home" in June, a solid six months before I decide to go the mall, six months before I even think of watching A Christmas Story. I don't listen to it in June, mind you, but I could. Because it's a pop song, it isn't just a Christmas song. It just happens to sound even better when all of that other shit is going on. words / j crosby