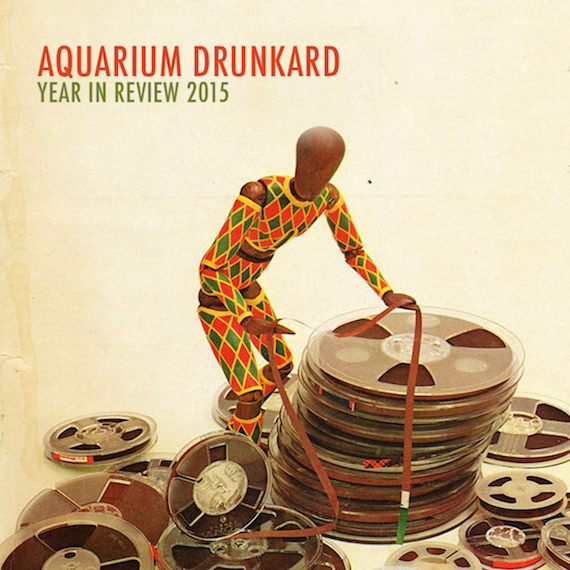 Here it is. Our obligatory year-end review. The following is an unranked list of albums that caught, and kept, our attention in 2015. Have at it. — AD

Deerhunter – Fading Frontier: The album's name might seem to belie its subject matter: this is probably the warmest, most emotionally serine piece the band has done, an affirmation of opportunity — rebirth, even — rather than blurred horizons. But frontiers have limits, and Bradford Cox himself compared Fading Frontier to the first day of spring, suggesting fresh starts and, not limits, but limitlessness. That's not to be confused with the ethereal dream-plush of Halcyon Digest. That ambient fog is lifted. In its place is perspective, something Monomania fabulously worked at. In that way, Fading Frontier arrives almost as a third chapter in a trilogy, one that might ultimately be this band's legacy. (buy)
Jim O'Rourke – Simple Songs: Pop music by Jim O'Rourke is still music by Jim O'Rourke, which is to say the "simple" in the album title shouldn't be taken literally. But it's not a lie, either. These are songs for driving, for cruising, even, funky struts with Steely Dan grooves and maybe even some Zeppelin riffs. O'Rourke is riding shotgun, your chuckling navigator, cracking wise while looking back on the side view mirror. (buy)
Ought – Sun Coming Down: The most quotable (and therefore quoted) lyric from the Montreal outfit's raw, kinetic utterly consuming debut follow is appropriately this: "I am no longer afraid to die / 'Cause that is all that I have left, yes / And I am no longer afraid to dance tonight / 'Cause that is all that I have left, yes." Strong enough on their own, those words within the context of the album reveal its greatness. Wrestling with anxieties gives way to cynicism, then ennui, then exasperated defiance — the rebellion not of yelling, but of gradually admitting that none of this is real, so fuck it. Reference whatever kind of yester-punk you want with whatever influence, this is new, current. Sun Coming Down is arguably the most "2015" music this year. An of-the-moment piece — in time, feeling, genre — but where the moment is still very much aware of what's to come — or maybe more accurately, what's probably not. (buy)

Kamasi Washington – The Epic: A daring debut by Los Angeles saxophonist Kamasi Washington The Epic is about more than scope — though at 171 minutes it is a true journey. It's a declarative statement: Jazz as an art form has room to grow, live, and thrive in a modern context. Washington is one of its greatest ambassadors, inspired by John Coltrane, Miles Davis, Vince Guaraldi, Stanley Clarke, McCoy Tyner, and dozens more in the jazz pantheon, marshalling his massive band for these rousing, spiritually-invested compositions. (buy)
The Velvet Underground – The Complete Matrix Tapes: While it's easy to complain about the fact that Polygram made us buy half of these recordings last year as part of the Velvets' third album deluxe box set, it's absolutely impossible to complain while actually listening to these four discs, recorded live in San Francisco at the close of the 1960s. Quite simply, the music performed here by Lou Reed, Sterling Morrison, Moe Tucker and Doug Yule is some of the greatest rock & roll ever made. And the fact that they were playing for what sounds like (at the most) a few dozen people doesn't end up being depressing — it's actually pretty inspiring. "The possibilities are endless," Reed sings. And you believe him. (buy)
Dungen – Allas Sak: Swedish psych-journeymen Dungen returned in 2015 with their seventh lp, Allas Sak. A sweeping and highly musical journey from start to finish, the instrumental "Franks Kaktus" has stayed on repeat. Driven by jazz flute, tribal percussion and washes of eastern-leaning guitar, the song vibes on some serious mystical 70's prog, and that's before the electric starts ripping away. (buy)

Protomartyr – The Agent Intellect: Stark Rust Belt proto-punk dirges about digital demons, pornographic corrosion, the white devil, royalty, and visits from the Pope. Singer/lyricist Joe Casey orates like a Motor City Mark E. Smith, his grumbles, shouts, and asides teeming with local detail, religious allusions, twisted humor, and on this album, the band's third and absolute best, bare observations on love, family, and the inevitable apocalypse. (buy)
Yo La Tengo – Stuff Like That There: A kind and gentle sorta-sequel to the band's 1990 cover album Fakebook, Stuff Like That There finds Hoboken's finest re-teaming with guitarist Dave Schramm, interpreting songs by the Lovin' Spoonful, pre-P-Funk outfit the Parliaments, and indie rock peers like Special Pillow and Antietam. The Cure's "Friday I'm in Love" becomes a gentle honky-tonk shuffle and the quartet inhabits one of Sun Ra's early doo-wop ballads, "Somebody's In Love," fully and warmly. (buy)
Lightning Bolt – Fantasy Empire: Lightning Bolt, Providence, Rhode Island's mythical art noise duo, has recorded a hi-fidelity translation of their lo-fi body assault of volume and rhythm. Brian Gibson on bass, Brian Chippendale on drums, the two conjure immense energy. Their sound is physical… muscular, and their live shows are visceral, engaging all the senses. Tightly composed, Fantasay Empire carries Lightning Bolt's throbbing heft and crushing riffs into an immersive–and sometimes beautiful–headspace. (buy)

Jessica Pratt – On Your Own Love Again: Pratt's meditative, slow-rolling acoustic psychedelia is arresting and beautiful. This, her sophmore lp, reflects and laments on love, hurt, and the past. Without ever getting too loud or too fast, Pratt's otherworldly voice is unafraid to lead listeners into an unexpected bed of harmony, or left-turn melody, while plumbing emotional depths. Her finger-picking is incredibly nuanced and adept, and the uncrowded arrangements allow the richness of her songwriting to both bloom and transport. And they do, indeed. (buy)
Ryley Walker – Primrose Green: Walker's vintage influences – Pentangle, Van Morrison, John Martyn, Tim Buckley, just to name a few – are obvious and undeniable. But Primrose Green, the songwriter's second lp, manages to make those tried-and-true vibes feel fresh and vibrant. He may be looking back, but the music here has plenty of forward-moving momentum, thanks to the thrilling interplay between Walker and his backing band drawn from Chicago's fertile experimental/jazz scene. (buy)
Joan Shelley – Over and Even: Shelley's 2014 LP Electric Ursa was a late-breaking favorite, but Over and Even is even better, as Shelley expertly explores love, loss and the unnameable regions in between. She's as good at detailed, heartrending narratives (see "Jenny Come In" with Will Oldham guesting on backing vocals) as she is at more ethereal vibes (the mystical title track and "Lure & Line"). In tandem with guitarist Nathan Salsburg, it sits comfortably next to classics from Gillian Welch & David Rawlings and Richard & Linda Thompson. (buy)

Steve Gunn & The Black Twig Pickers – Seasonal Hire: Only mere months after releasing his 2014 masterwork, Way Out Weather, Steve Gunn teamed up early this year with Mike Gangloff, Nathan Bowles (a Gunn regular), Isak Howell and Sally Anne Morgan of the Black Twig Pickers. Their melding of Gunn's desert-swept cosmic Americana and the Pickers' rustic Appalachian bluegrass made for one of the finest and pleasurable listens of the year, each player rambling in beautiful ramshackle harmony. The sixteen-plus-minute title track closer is a gorgeous soundscape of droning sylvan majesty. One likes to believe John Cale would sit up in his chair, or lie down on his floor, for that cut. (buy)
Carsten Meinert Kvartet – To You: Restored from the original mastertapes, Frederiksberg Records 2015 reissue of To You – the 1968 Danish jazz LP by Carsten Meinert Kvartet. Spiritual jazz incarnate. (buy)
Daniel Bachman – River: Daniel Bachman is a masterful acoustic guitarist and composer in the "American Primitive" vein, and River is his most realized work thus far, approaching concept-album levels of immersion. For example, the 14 minute opener "Won't You Cross Over To That Other Shore" – a dizzying yin-yang of beautiful, dulcet melody pitted against a detuned, ragged bass-bark. All on the single, common 6-string! (buy)

Destroyer – Poison Season: Dan Bejar has always been a dramatist and a wordsmith. A man who plays with lyrics, melody and song structure that has cemented him as one of the most interesting and rewarding artists of the century. Bejar's latest follows its predecessor's gloriously big sound, with Springsteen-esque melodies, 70's AM pop vibes, saxophone lines, and stories of people, real or imaginary – but all relatable. (buy)
Robert Aiki Aubrey Lowe & Ariel Kalma, FRKWYS Vol 12: Recorded on the eastern Austrian coast, Robert Aiki Aubrey Lowe (Lichens) and Ariel Kalma tune their approach and instruments to their natural setting, allowing babbling creeks and the wind to dictate elements of their drones, synth soundscapes, and skittering, beat-driven electronic experiments. (buy)
Mamman Sani – Unreleased Tapes 1981-1984: The third instillation of the Sahel Sound label's reissue series of Nigerian organ master Mamman Sani finds them going into the well of early 80s unreleased material. Unsurprisingly, the release is more akin to Sani's 1978 lp La Musique Electronique du Niger than his late 80's disc, the celestial, sci-fi Taaritt. On this most recent reissue, Sani's proclivity towards lo-fi swirling drones and hypnotic trance prevail. His reedy and dreamlike organ reinterprets ancient folklore in endlessly imaginative and glorious fashion. There's truly nothing else in the world like the music Sani was making. "Bodo" is cloud-draped electronica, pure in its primitiveness, and Sani's rendition of the American "Five Hundred Miles" is a dreamy waltz into the heavens. Eat your heart out, Peter, Paul and Mary. (buy)

Meg Baird – Don't Weigh Down The Light:A deeply satisfying LP that feels like an instant psych-folk classic. The former Espers member relocated to San Francisco from Philadelphia recently and you might hear a little bit of Golden State sunshine in the grooves here, as subtle piano and electric 12-string textures fill out the picture. It's still Baird's high, lonesome voice and gorgeous fingerpicking that take center stage, however – and rightly so. (buy)
Ork Records – New York, New York:A thing of box set beauty from the Numero Group, compiling the (almost) complete output of Ork Records. Ork was one of the original indie labels, curated by NYC tastemaker Terry Ork. Leading off with epochal 7-inch debuts from Television and Richard Hell & The Voidoids, the label was on the front lines of the mid-70s CBGB scene. We may know it as "punk" these days, but the music on this collection is wide ranging, eclectic and adventurous: the rules had yet to be written. And Numero's almost 200-page book, filled with great info and photography, is worth the price of admission alone. (buy)
Joanna Newsom, Divers: At times a time travel sci-fi epic, baroque tone poem, and maritime ballad, Joanna Newsom's Divers is also a lush, inviting group of songs, packed with intricate instrumentation and reigned over by her one of a kind voice. Newsom's work is so ripe for annotation and analysis that it's sometimes easy to forget that even without the necessary study required to truly "get" it, it packs a purely emotional punch. Pick any one of Newsom's detailed couplets — say "I believe in you/do you believe in me?" from "Leaving the City" — and realize that these songs exist to get lost in, to explore, and to wander through for years. (buy)

Thundercat – The Beyond/Where the Giants Roam: Bassist Stephen "Thundercat" Bruner is a key force on two of the year's best records, Kamasi Washington's The Epic and Kendrick Lamar's To Pimp a Butterfly, but he's no slouch on his own. His third solo album, the mini-LP The Beyond/Where the Giants Roam blends hip-hop, jazz, and experimental electronica to create his most song-focused, deepest effort yet. On "Them Changes" he layers his voice over a fluid bass line and an Isley Brothers sample, reflecting on heartbreak through plain poetry. The theme is universal and the sounds are from outer space. (buy)
Kendrick Lamar – To Pimp a Butterfly: Decades from now, we'll still be dissecting, questioning, and contextualizing rapper Kendrick Lamar's third album, To Pimp a Butterfly. It's a musical feast, with Lamar leading Flying Lotus, George Clinton, Thundercat, Bilal, Anna Wise, Rapsody, Kamasi Washington, Robert Glasper and dozens more through intricate, dizzying webs of jazz, experimental electronic music, and funk, and it's lyrically massive, with Lamar occupying multiple characters, settings, and timelines to address black identity, systemic racism, personal ethics, and obscured histories profanely, stridently, and with unmatched elegance. Adhering to radical redemption narrative, Kendrick rhymes as prophet, decrying the thieves in the temple, the worshipers, and sometimes the temple itself. It's a work worthy of both the time and considerable effort it takes to engage it. (buy)
Laraaji – All in One Peace: Collecting three of new age composer Laraaji's late '70s and early '80s albums — Lotus Collage, Unicorns in Paradise, and Connecting the Inner Healer… on cassette, their original medium, Leaving Records' All In One Peace is three and a half hours of peaceful, immersive sounds, drifting treated zither and synth capable of providing "fresh new listening" more than 30 years after their initial, handmade runs by Laraaji himself.

Wilco – Star Wars: A sneak attack, initially released for free via the band's website, Star Wars is an 11 song set which finds Wilco sounding as spunky and revitalized as it has in years. Songwriter Jeff Tweedy was clearly inspired by the loose Sukierae, released in 2014 with his son Spencer, because like that record Star Wars is off-the-cuff and most often joyful bash, brimming with Verlaine/Lloyd guitar interplay and twitchy post-punk rhythms. Tweedy's voice rides over the mix, focused on ideas of destiny, attraction, and family. It's the band's knottiest since A Ghost Is Born and its best set of songs since Sky Blue Sky. (buy)
Low – Ones and Sixes: Ones and Sixes pulses with menace, intent, and patient, unmistakable dread. Low has been a dependable force in indie rock for more than 20 years, but with bassist Steve Garrington in tow, Alan Sparhawk and Mimi Parker sound especially vital here, augmenting these austere songs with fuzz guitar and booming electronic bass, lyrically tapping into the mythic violence of Neil Young's "Revolution Blues" or Cormac McCarthy's Blood Meridian. When Parker sings "All you innocents make a run for it," it's not hard to imagine her as the assailant instead of a frantic passerby proclaiming a warning. (buy)
Father John Misty – I Love You Honeybear: Since 2012's Fear Fun, Josh Tillman has sunk deeper and deeper into his Father John Misty character to the point that it's difficult to tell where one fiction ends and reality begins. But despite all his cantankerousness, I Love You Honeybear is genuine stuff, and apart from asides about crass consumerism and affectation, it's mostly an album about being in love — perfectly captured in the rapturous "Chateau Lobby #4 (in C for Two Virgins)" — and that's the one thing that seems real about Misty these days. (buy)

Vince Matthews and Jim Casey – Kingston Springs Suite: Despite the patronage of Johnny Cash, Shel Silverstein, Kris Kristofferson, and Cowboy Jack Clement, Vince Matthews and Jim Casey's progressive country concept album sat on the shelf for more than 40 years, but this year it was restored to its proper glory, a ragged, sweet, occasionally funky song cycle about a place both real and imagined, about the South, about hippies, lovers, weirdos, and the fabric of American musical heritage. (buy)
Ryan Sambol – Now Ritual: Many moons ago, Ryan Sambol fronted the Austin band The Strange Boys. The group was praised for its prodigious ability to synthesize all forms of roots and rock. So much so, talk about the band became a vortex of genre names and touchstones–garage rock, Dylan, country, Doug Sahm, Nuggets… Apt comparisons, but what made The Strange Boys a great band was their loose, masterful evocation of all those vibes at once. What made The Strange Boys' music great was Sambol's keen sense of melody paired with a charming, off-kilter delivery and a countering element of beauty and introspection. The songs contained a world-weary seriousness with which Sambol vacillated between sunny and nihilistic outlooks. It's a conversation that develops in his solo work, and separated from the vehicle of his band, his songwriter's persona seems more beguiled and tormented. (buy)

Kenny Knight — Crossroads: An understated Colorado country rock gem, unknown and unloved since its release 35 years ago. Blending the dusty acoustic rambles of the Dead circa 1970, the world weary ache of White Light-era Gene Clarke and Knight's own brand of faded Americana, the ten tracks here offer up a shot of pure, private press pleasure. (buy)

Lily Chao – Chinese Folk Songs: A reluctant pop star, Lily Chao came up in the Taiwanese Cabaret scene in the '60s and achieved great stardom. The French label Akuphone has reissued the soulful singer's Chinese Folk Songs record from 1968, an inventive recasting of Mandarin folk tales through crisply orchestrated rock and roll inspired by the Ventures, The Shadows, and Japanese eleki. (buy)
Don't Think I've Forgotten – Cambodia's Lost Rock and Roll: The soundtrack to a vital documentary, Don't Think I've Forgotten details the musical scene of Phnom Penh, Cambodia, before the Khmer Rouge attempted to wipe the city's rock & roll and pop from existence. Through the '50s, '60s, and '70s, Cambodian youth blended Western rock and Cuban cha-cha-cha rhythms with Khmer melodies, before the brutal regime and American bombs threatened to erase it all. But miraculously, much of the art has survived, and what you hear on the album, from the gentle crooning of Sinn Sisamouth to the surf stylings of Baksey Cham Krong to the wailing psych of Drakkar, speaks to the tenacity and perseverance of those who created it. (buy)
Robbie Basho – Rainbow Thunder: Songs of the American West: We are undoubtedly living in the midst of an incredible and fertile Robbie Basho revival. Since 2013's reissue of the man's majestic 1978 Visions of the Country, his popularity has skyrocketed and reissues have been coming hot and heavy, largely at the hand of the nascent Grass-Tops Recording Label. Basho's 1981 Rainbow Thunder: Songs of the American West was, according to the man himself, "a collection of songs expressing the feelings and textures of the West in its Prime, and of the Native American Peoples who lived there. I hope it does them some small degree of justice – they who looked so hard into Nature." Nature, capital N. No mistake there, as this record again finds Basho looking into vistas, deserts, woodlands and landscapes and transfusing them through his stately, echoing 12-string guitar and his magical baritone. (buy)

Bob Dylan – Bootleg Series Vol. 12: The Cutting Edge: You can get the latest Bootleg Series in two-, six-, or 18-disc iterations. Whatever your trip may be, The Cutting Edge is a deep dive into Dylan's mindbogglingly productive 1965-66 studio sessions, which produced Bringing It All Back Home, Highway 61 Revisited and Blonde on Blonde. False starts and fuck-ups galore! But also plenty of magic, as Dylan fumbles fearlessly toward genius. The Ghost of Electricity howls on. (buy)
Bob Dylan – Shadows in the Night: Still crazy after all these years. Shadows in the Night is an otherworldly, funereal effort from Dylan, who croons his way through a collection of Sinatra-related standards, sounding like a ghost with a hangover. Bob may not have the Chairman of the Board's pipes, but he digs deep into the songs, locating their broken-but-not-defeated core. (buy)
Dylan, Cash and the Nashville Cats — A New Music City: A major label compilation in the vein of Now That's What I Call Music! doesn't inspire much confidence. But Sony Music absolutely killed it this year, with Dylan, Cash and the Nashville Cats — A New Music City, an endlessly rewarding collection highlighting the work of Nashville session players and the holy and endlessly influential convergence of country and rock and roll, specifically following Dylan's trend-setting pilgrimage to the titular city to record Highway 61 Revisited. (buy)

Gloria Ann Taylor – Love Is A Hurtin' Thing: Taylor's "Love Is A Hurtin' Thing" and "Deep Inside of You" are some of the deepest cuts in the books. Her funky, Midwestern proto-disco, crafted with her husband, producer, and James Brown cronie Walt Whisenhunt, is raw, real, propulsive, and prophetic. The duo's DIY production on their own Selector Sound label yielded a dense, heavy sound–strings, vibes, dubbed out echoes–and Ubiquity's makes these extra rare sides attainable at last. (buy)
Pops Staples – Don't Lose This: This is really an achievement of production first, sound second. Adding to their collaboration, Mavis Staples and Jeff Tweedy (who produced) took incomplete songs, and ever so delicately finished them — adding Mavis' voice here, slightly there, Tweedy filling in bass and guitar (and his son, Spencer, with drums), only when necessary and never a bit more. What could've easily been a coffee-shop caricature of Pops Staples' legacy — or co-opted by Mavis entirely — is instead an honest portrait, the legend come quietly alive. Pops' casual, rocking chair groove spills forth, like a low sun, the day gone but still very much warm. (buy)
Lead Belly – The Smithsonian Folkways Collection: Spanning the vast breadth of Huddie "Lead Belly" Ledbetter's repertoire, including blues, folk, gospel, popular songs, and novelties, The Smithsonian Folkways Collection helps to contextualize the legendary singer's range and his incalculable influence on modern music. Including songs culled from his John Lomax recordings, commercial records, and on-air radio performances, the box set also includes a rare "mash up" with Bessie Smith, as Lead Belly sings along to a Smith 78 in producer Frederic Ramsey's living room. (buy)

75 Dollar Bill – Wooden Bag: Deeply awesome, thoroughly unclassifiable jams from guitarist Che Chen and drummer Rick Brown. Described as "Bombino possessed by the ghost of young Bo Diddley," the duo's spiky and raw explorations are a total blast. If you need convincing, go directly to the head-full-of-steam epic "Cuttin' Out," which churns and grooves for 15 unstoppable minutes. (buy)
Chuck Johnson – Blood Moon Boulder: The emergence American primitive guitar over the last few years — probably starting with Numero Group's excellent 2008 compilation Wayfaring Strangers: Guitar Soli — has in some ways created a weirdly distinct landscape within the genre. Folks like Chuck Johnson — who have been playing for years, decades even — finally have a broader platform for their music, but also find themselves in odd competition for audience ears, as listeners invest themselves in discovering and rediscovering of the likes of John Fahey and Robbie Basho. Such is the case for niche musicmakers, where the smaller the space, the more quickly crowded in popularity. This year, Blood Moon Boulder stands out in large part as a result of the most nuanced of departures, with his electric and pedal steel specifically, and refining his mode of mostly trimmed compositions at more traditional song lengths. The resulting emotional target — the linchpin of instrumental narrative — is more immediately accessible and resonant. More simply, Blood Moon Boulder is beautiful craftsmanship. (buy)
The M.C.I. Records Story 1954-61: Martians, Demons and Fools Like Me: Documenting the birth of the twangy, reverb-soaked Phoenix sound, Bear Family's Martians, Demons and Fools Like Me features early, pioneering work by Lee Hazlewood, Patti LaSalle, Dick Robinson, Bobby and the Demons, Wayne Newton in hiccupping teen idol mode with the Newton Brothers, and Sanford Clark's "The Fool," featuring the Howlin' Wolf-quoting licks of Al Casey, who'd go on to join Los Angeles' crack session group the Wrecking Crew and help invent the surf sound that would soon dominate the nation. It started in the desert, and this collection helps capture those nascent rumblings. (buy)

Drinks – Hermits On Holiday: Drinks is the four legged solo project of Welsh singer-songwriter Cate Le Bon and LA psych-man Tim Presley aka White Fence. Both musicians have bent sensibilities underlying their respective brands of pop rock, and the duo get weird on Hermits On Holiday. Most of the songs are loosely formed abstractions, angular and quirky… bouncy, low-stakes, musical conversations between two friends. (buy)
Deeradorian – Expanding Flower Planet: The Expanding Flower Planet taps into some mad-scientist degrees of creativity. Angel Deeradorian tears across the rock continent, the deep-sea bubbling electronica, and into wild sonic frontiers, recalling Ennio Morricone and Goblin in her range and palette. It's a far-out, metaphysical trip. Her stints in the Dirty Projectors and more recently Avey Tare's Slasher Flicks all seem to be stepping-stones on the path to this freewheeling sonic experiment. (buy)
Lower Dens – Escape From Evil: It's unclear whether Escape From Evil represents what Lower Dens will be in the future, but it's certain that the band's double-down on '80s pop sensibilities and tidier production are subtle but nevertheless clear distinctions from their previous two efforts. The move proves to be an astute one. With a softening of synthpop and new wave veneers — like Gary Numan singing Billy Idol's "Eyes Without a Face" while pushing through a cumulous fog — the band avoids sameness via retrofit. The result is at once a nod to the past — the '80s, sure, but possibly, even their own — with a sound that searches for tomorrow. (buy)

Giant Sand – Heartbreak Pass: If Giant Sand's 2012 Tucson: A Country Rock Opera was a singular — if idiosyncratic — narrative story, Heartbreak Pass is a return to the bewildering collage approach favored by singer/songwriter/magician Howe Gelb. The album marks 30 years of experimental Americana from the Arizona band, and it does so in appropriately scattered fashion, folding in avant-pop like "Transponder" and the smoky jazz of "Pen To Paper." (buy)
Eternal Tapestry – Wild Strawberries: Space rock is hard to digest for some — never mind the trippy intonations that a listener needs to be fundamentally down with. But also because so many of its purveyors painstakingly craft landscapes or, as it were, atmospheres, without traversing them. And as a practical matter — space rock is both a time and headspace commitment — you have to give an audience a way to get there. They'll just never have the patience otherwise. Knowing that, Wild Strawberries is ostensibly a scary proposition — this is sound sprawl at peak breadth. But inside is well-traveled terrain. Plump organ thrums, modal guitar exploration, synth twinkling and churning in the spaces between — a confluence of sky above and world all around. The ride may be bumpy a times, but what a trip. (buy)
Dennis Taylor – Dayspring: Grass-Tops Recordings shines a well-deserved light on a mostly unknown early 1980s LP by solo acoustic guitarist Dennis Taylor. Originally slated for release on Windham Hill, but ultimately self-released, Dayspring is an elegant guitar soli gem, pristinely recorded to showcase Taylor's expert fingerpicking. (buy)

Punk 45: Burn, Rubber City, Burn 1975-80: Part of Soul Jazz Records' place based punk compilations, Burn, Rubber City, Burn canonizes the proto-punk lineage of Akron, Ohio. The city developed a unique strain of arty, new-wave inflected rock bands with a working class, Midwestern sensibility. Raw tracks by Devo, TheBizarros, Tin Huey, Ralph Carney and others are collected here with extensive liner notes to convey a sense of the Akron scene. (buy)
The Mantles – All Odds End: In terms of influence, there are no surprises to The Mantles' sound. You could draw a pretty clear line from proto-punk to new wave, with copious obvious references to source from. For most bands — and there are a lot of them like this — that sort of pastiche is at best a pleasant one-off listen, at worst, a bad imitation. The Mantles, though, live in that rare air of heavily sourced sound that sounds all its own, emphasis on "own." To do this well, a band has to own it. For The Mantles, and specifically All Odds End, owning means locking more confidently in on their trademark restraint — a sum of parts, where guitar, cymbals, kick, keys, bass stand alone without remark, but have exceptionally simple and occasionally vibrant purpose in congress. The album, as a sum of tracks, wonderfully follows suit. (buy)
Alan Vega/Alex Chilton/Ben Vaughn – Cubist Blues: Completely improvised over the course of two evenings in 1994 at Dessau Studios in New York, Suicide's Alan Vega moans newsprint poetry while Ben Vaughn and Alex Chilton dismantle rockabilly riffs and roots archetypes. It's droning, oozing art rock, spontaneously created and unselfconscious. Light in the Attic's reissue helps rescue the vital record from years of out-of-print obscurity and includes live material the trio performed before heading their individual ways. (buy)

The Staple Singers – Freedom Highway Complete: 2015 was an incredible year for Staple Singers fans. Pops' final recordings were released as the stellar Don't Lose This and Stax released a beautiful career-spanning collection Faith & Grace: A Family Journey 1953-1976. But the deepest representation of the group's musical mission was Freedom Highway Complete, a live show recorded in 1965 at the New Nazareth Missionary Baptist Church in Chicago. Inspired by the fervor of the Civil Rights marches, Pops and his children offer up musical protest, worship, and sanctified lamentations. The recordings are impeccably presented; simply close your eyes and you're in a pew, taken by the Spirit, moved to reflection and action. (buy)
Karen Dalton – Remembering Mountains: Unheard Songs By Karen Dalton: Karen Dalton possessed one of the most magical voices of the 60s folk revival: it had weight and soul that set her in a league of her own. She played the banjo and 12 string guitar and was a master interpreter. Her 1971 Bearsville album, In My Own Time, is a masterpiece. However, she never recorded original material in her own time. She died in 1993, and guitarist Peter Walker, who manages her estate, enlisted the likes of Lucinda Williams, Sharon Van Etton, Julia Holter, Diane Cluck et. al. to turn her notebooks full of lyrics, poems, and writings into songs. The bones of her songs are powerful stuff, and Remembering Mountains gives us an imagining of the original Dalton LP that could have been. (buy)
Charles Mingus – Mingus Plays Piano: Superior Viaduct reissues Mingus' underexposed and long out of print Impulse! LP from 1964, his only solo album, on which he doesn't play a note on the bass. Subtitled "Spontaneous Compositions and Improvisations," Mingus Plays Piano portrays the visionary composer in an intimate way, like a peek into his sketchbook. The renditions are loose, deconstructed, and haunting–a direct line to the soul. (buy)

Kurt Vile – b'lieve i'm goin down: Vile mastered his hazy, heartland rock many albums ago, but with b'lieve I'm goin' down, he's channeled his low-key, chiller personality into his music with easy aplomb. I'm not sure you could say this is the best Kurt Vile record to date, but the record does indicate this is the best Kurt Vile we've seen. That is, his previous two releases are arguably better than this, but as we wrote earlier this year, "the album refines Vile's established groove." That about sums it up. For Kurt Vile fans, I'm not sure there's much earth shattering here — another excellent effort in the casual stoner drone vibe, shuffling down the sidewalk, kickin' up shit here and there. But no matter how he's walking, dude sure is hitting his stride. (buy)
Courtney Barnett – Sometimes I Sit and Think and Sometimes I Just Sit: Genuine, witty, plainspoken, Courtney Barnett's songwriting is instantly charming and relatable. Her deadpan, Melbourne drawl vibes naturally amidst her day-dreamy, slacker rock sound. Sometimes I Sit… is Barnett's first proper album and features her live band–drummer Dave Mudie and bassist Bones Sloane–as well as guitarist Dan Luscombe. It's unpretentious, and real, with a spontaneous "live" feel that suits free-flowing wordplay. (buy)
Viet Cong – Viet Cong: Properly inheriting the mantle forged by post-punk's late 70s and early 80s era, Viet Cong is a harsh and intense listen. "March of Progress" bolts through ideas for several songs over its length, keyboards, guitars and reverb cloaking the manic shift from one structure to another. "Bunker Buster" recalls Pere Ubu at its most fractured. But then comes a song like "Continental Shelf," bursting with a hooky bass line and rhythmic drumming. Viet Cong knows how to inject beauty into the maelstrom. (buy)

Smokey – How Far With You Go The S&M Records: Plenty of '70s rockers flirted with androgyny, but John "Smokey" Condon and producer EJ Emmons went far beyond that, creating explicitly gay music together for their own S&M imprint. Chapter Music's How Far Will You Go: The S&M Recordings, 1973—1981 collects the band's singles, bouncing from the groovy punk glam of "Leather" to the dance punk of "DTNA" to the electric piano pulsing Ariel Pink-template "Topaz." It's a diverse look at a band too bold for its day, but too brave to care one way or the other. (buy)
Jeff Bridges – Sleeping Tapes: Jeff Bridges, the Dude himself, leads listeners of Sleeping Tapes on a journey into the dark recesses of the unconscious. Part self-help, hypnosis, New Age ambient, and spoken word, Sleeping Tapes makes for a soothing sleep-aid, but is also an inventive, cross-genre, psycho-cultural document. Bridges cut the tape with musician/actor/activist Keefus Ciancia (True Detective, Nashville) and artist Lou Beach, and all the proceeds benefit the No Kid Hungry organization. (buy)
Tom Carter – Long Time Underground: Guitar heaven. This sprawling double LP opus delivers heady, rich tones and zones from start to finish. Imagine avant master Loren Connors tripping through "Dark Star" and you're somewhere in the ballpark. (buy)

SK Kakraba – Songs of Paapieye: In their first ever release of new music, Awesome Tapes From America graced us with the rhythmic xylophone brilliance of Ghana's SK Kakraba. The woody echo of the soloist's instrument and the hypnotic tribal playing on Songs of Paapieye evoke Francis Bebey's (a kindred spirit, no doubt) more atmospheric leaning sanza-centric records and, like those records, Kakraba envelopes himself into a focused and consistent vibe — a 33 minute trance that will keeping you coming back for more. (buy)
Tal National – Zoy Zoy: The "most popular band in Niger" follows up their first international success, Kaani, with Zoy Zoy. It's a breakneck dance record, a whirling dervish of polyrhythm, Hausa and Zarma vocals led by Hamadal Issoufou Moumine. They implement Tuareg and soukous guitar styles as well as the kora. Grooves are hypnotic but usually quite swift–it's very fun music that's also dizzying in its complexity and rich texture. (buy)
Florian Fricke/Popol Vuh – Kailash: A wonderful set of celestial, previously unreleased sounds Popol Vuh mastermind Florian Fricke. The first disc captures Fricke at his most intimate, alone at the piano, while the second features more classically Vuh-y action, with glorious synths and ageless melodies climbing ever skyward. As an added bonus, a DVD of Fricke's travels in the Himalayas provides the perfect visual counterpart to the music. (buy)

Phil Cook – Southland Mission: Phil Cook is a pastor of sorts. His religion, inherent in his music and personality, is an inherent warmth and love, a paean in sound to family, home, friendship and the organic blending of American roots music — country, soul, blues, gospel and folk. He infuses all of this into Southland Mission and, in doing so, has made the record of his career. (buy)
Nathan Salsburg & James Elkington – Ambsace: This dynamic duo weaves an intricate six-string web that calls to mind the John Renbourn/Bert Jansch axis without being slavishly devoted to it. Nodding towards britfolk, minimalist and blues forms, the album throws a few curveballs into the mix with covers of the Smiths and Duke Ellington – their reinterpretation of the moody Ellington/Mingus/Roach classic "La Fleurette Africane" is a surprisingly perfect fit. Wherever Salsburg and Elkington go, it's always a pleasure. (buy)
Matthew E. White – Fresh Blood: Matthew E. White took the blue-eyed gospel soul of his 2012 debut and on Fresh Blood, his astounding sophomore effort, blew that sound out into an orchestral soul that showcased White's alternately gorgeous falsetto and sultry bravado amongst divine, dramatic and some just downright funky arrangements. Album opener "Take Care My Baby" and "Vision" are easily two of the catchiest songs of the year, while "Tranquility," White's distorted, feedback-laden eulogy to Phillip Seymour Hoffman, sung from the departed' s perspective, made us all stop and catch our breath for a little longer than a moment. (buy)
Bassekou Kouyate & Ngoni Ba – Ba Power: When it's all said and done, Bassekou Kouyate will go down as a legend of Malian music specifically, and more broadly for western audiences, a landmark of overgeneralized "African music." Ba Power finds the man — and his band — coming into the full, unabashed form that only confident, established musicians in their prime can find. His custom ngoni array takes a traditional Bambara instrument — akin to a lute — and modernizes it to the extent that an ancient, light stringed instrument bellows with grit and grime, as though traditional Griot musical storytelling was splattered through garage weirdness and attitude. With his wife as primary vocalist, once Robert Plant drummer Dave Smith adding beat, and Kouyate's brazen ngoni experimentation, Ba Power is modernized Africa music at its best — harnessing instrument not synth, respect for tradition rather than exploitation, and above all, the ability to rock with forgetting the lilting roll. (buy)
Alabama Shakes – Sound & Color: After skyrocketing into mainstream stardom after their 2012 debut, Boys & Girls, the quartet went and did the coolest thing imaginable: they completely changed up their sound. Led in by a Jon Brion-esque keyboard line, and handing off to a gorgeous, rich vibraphone, the band takes on a much mellower and yes, spacier sound. Howard's earth shattering gravel isn't completely absent, but on this brilliant sophomore effort, she favors a smoother, quieter falsetto. A new world hangs outside the window," Howard sings. Yes, indeed. (buy)
Sufjan Stevens – Carrie & Lowell: Carrie & Lowell is among Sufjan Stevens' best work, if not his best. Pared down from more recent departures — the excellent but certainly distinct Illinois, 2010's mostly curious The Age of Adz, Christmas records in and amongst them — this is Stevens in his purest form: effortless storytelling and whispery vocal, no space nor word wasted. Such simplicity, though, runs the risk of monotony alongside this records' nearest kin, probably Seven Swans or occasions on Michigan and A Sun Came. Then, consider the origin story — such a deeply and specifically personal autobiography runs the risk of pushing listeners away, rather than pulling them in. But this is neither monotonous nor off-putting, but rather distinct, beautiful and breathtakingly inclusive. It may not have the same reach it would have 10 or even five years ago, but it is nonetheless a staggering achievement. (buy)

Widowspeak – All Yours: Four albums and four years into their recording career, Widowspeak's combination of sound settles somewhere between elements of the Vaselines, soft shoegaze, and even the hypnotic low-key rhythm of Laurel Canyon. The album's centerpiece – the over six-minute long "Girls" – doesn't overstay its welcome by even one single note and that's how the album feels as a whole. It wraps around you and pulls you into its hazy, reflective world – eager to let you share in all of its thoughts again and again. (buy)
Julien Baker – Sprained Ankle: Sprained Ankle is one of a long line of albums recorded in such simplicity and studied mental, if not literal, isolation that it transports you into that world. The gentle acoustic instrumentation – some songs supposedly recorded in one take – ebbs and flows in pulses that punctuate Baker's words. The lyrics are so intensely personal, Baker's voice a wisp at times as she speaks out from within some serious headspace. It's hard to always understand every word she says. She sings as if looking down at the ground, telling us what it feels like to be. And all the pain that that can cause. (buy)
Shopping – Why Choose: The minimalist end of post-punk has gotten short shrift in revivalist bands, but Shopping takes the cleanest sound imaginable and turns it into a force for pulling back layers of modernity. "Why Wait" uses its jittery guitar line to echo the desire for instant gratification from its narrator and echoes the album title and sentiment of whether modern life even pushes us to choose anything. It's a pulsing, careening album of clear intent and a cry from amid the wilderness of clutter. Strip it all away and hear what needs to be said. (buy)

Bitchin Bajas – Transporteur EP: Stepping away from their steady label home of Drag City for a moment, Chicago's Bitchin Bajas released a limited edition EP entitled Transporteur, via the European label Hands in the Dark. From the now sold-out EP, they have perhaps created their finest piece to date, the nine-minute-plus "Marimba," a masterwork of pulsing electronic loops and atmospheric woodwinds. It's an experiment in rhythm as drone, a trance that travels on the side of tropical, evoking the sounds of an mbira as much a synthesizer. (buy)
Car Seat Headrest – Teens of Style: This record is the digital-age Singles Going Steady. Why not re-record a set of singles and EPs previously released? Why not touch up and change and make tweaks to make them what you want and release them together? That being said, Teens of Style is classic power pop. The amazing choruses of "Something Soon" and "Times to Die" are as infectious as they are seemingly sloppily recorded. This is high class rock and roll channeling the new and the classic and nailing them both head on. (buy)
Wire – Wire: Wire has been together for a longer stretch now than they have been in either of their two previous runs. One of post-punk's most malleable bands, their tendency to restlessly tweak their sound has led to numerous albums that for any lesser band would be career high water marks. Maybe it says something, too, that this late in their career, they self-title a record – a statement of purpose, perhaps. Less throttling than 2013's Change Becomes Us, Wire is a more deliberate record, the sequencing recalling some of their late 70s triumphs. There still is simply no other band like Wire and they prove that yet again this year. (buy)

J.B. Smith, No More Good Time in the World for Me: Recorded 50 years ago by archivist Bruce Jackson at Ramsey State Farm in Rosharon, Texas, the unaccompanied voice of convicted murder J.B. Smith is all you'll find on these recordings (some of which appeared on a single LP issued by John Fahey's Takoma Records in 1965). Restored in their entirety by producers Nathan Salsburg and Lance Ledbetter, Smith's sung/spoken psalms are beautiful, sad, and powerfully human reflections recorded in a place built to dehumanize. (buy)
GRNDMS – Capitol Mill: GRNDMS' debut is the result of an ongoing long distance pairing of Catherine DeGennaro and Suzy Jivotovski's material. Entwining delicate folk with garage pop, the everyday with the mystic, the two fuse into a strange and beautiful whole, creating one of the most enchanting records of the year. (buy)
Dwight Yoakam – Second Hand Heart: Owing as much to the Byrds and Cheap Trick as Buck Owens and Merle Haggard, Dwight Yoakam's Second Hand Heart is a chiming, revved-up ode to the classic West Coast Sound. Taking on the traditional "Man of Constant Sorrow," Dwight slips back into his well-worn cowpunk boots with a sly sneer. (buy)
For Heads, by heads. Aquarium Drunkard is powered by its patrons. Keep the servers humming and help us continue doing it by pledging your support via our Patreon page.