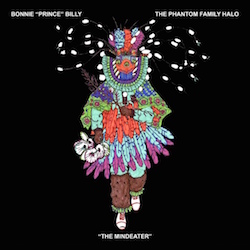 This month often finds Bonnie 'Prince' Billy and Dawn McCarthy's warm and luminous cover of the Everly Brothers' "Christmas Eve Can Kill You" on steady repeat. It's perfectly cozy and bittersweet (Christmas in a nutshell) and, similar to the pair's 2013 full-length album of Everly Brothers covers, fairly catholic to the original.
However, back in 2011 Oldham teamed up with the Phantom Family Halo, a psych-rock band from his native Louisville, KY, for a four-song EP entitled Mindeater. Here they cover the Brothers' "I Wonder If I Care As Much," and, here, things go off the hinges a bit. And that is by no means a critique — far from it, in fact. We've commented on this tune in the past — how the Everly's reworked the 1958 original for their 1968 lp, Roots, trading in the sparse and sorrowful dusk of the original for a slower, more droning take.
Bonnie and the Phantom Family definitely pay tribute to the '68 re-working, for a heavily psychedelic and droning eight-minute exorcism, led largely by the guitar work of Dominic Cipolla, whose harsh, sludged-out noodling-turned krautrock jam evokes Richard Thompson's awe-inspiring live performances of "The Calvary Cross." Yes, this one most surely goes off the hinges, and you'd do well to go off with it. No yuletide gay or fireplace warmth here, just the sludge, the psych, the drone and the opening of the gates. Bring on 2016. Bring on the weird. words / c depasquale
Bonnie 'Prince' Billy & The Phantom Family Halo :: I Wonder If I Care As Much
Only the good shit. Aquarium Drunkard is powered by our patrons. Keep the servers humming and help us continue doing it by pledging your support via our Patreon page.