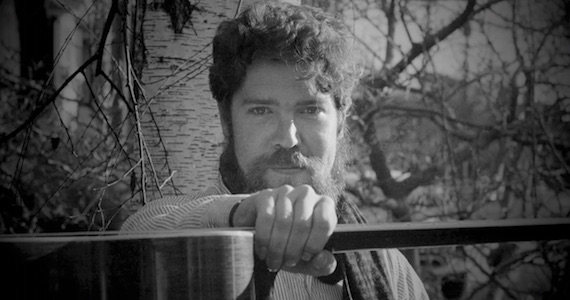 It's a good time for fans of Robbie Basho's wondrous work. The late guitarist-songwriter-composer's pioneering albums, once painfully difficult to find, are being reissued with regularity (primarily by the Minnesota-based label Grass-Tops Recording). Live recordings — also once very tricky to track down — are in abundance. And there's even a feature documentary, Voice of the Eagle: The Enigma of Robbie Basho, making the rounds.
Along with all of this Basho-mania, followers of the musician are releasing their own Basho-inspired music. An artist as singular (and sometimes strange) as Basho is certainly a tough act to follow, but the "Zen Buddhist Cowboy Songs" (an apt phrase Basho used to describe his own stuff) of Richard Osborn and Kyle Fosburgh are up to the task.
Richard Osborn :: Going To The Beachhouse
Osborn actually studied with Basho close to 50 years ago, learning firsthand how the guitarist brought a raga style to the acoustic guitar. "When I heard Robbie Basho in person … I knew that I had found a true musical direction," Osborn says. But that direction took some time to come to full fruition: an injury to his hand kept Osborn from playing for several decades. He returned, his powers seemingly undiminished, on the 2010 Tompkins Square compilation, Beyond Berkeley Guitar, and has since released new music at a steady clip. Osborn's latest release, Freehand is a truly stunning example of Americana raga, with his dazzling 12-string fingerpicking guiding the listener through a wide-open sonic landscape. "Essential to the raga approach to music is an awareness and focus on feelings that are expressed and evoked and how their energy may be harmonized with the energies of the world," Osborn writes. And the compositions on Freehand achieve this awareness and focus, feeling both cosmic and firmly rooted in the soil. It's an album that — like Basho's best — continues to reveal its depths on repeated listens.
Kyle Fosburgh :: Big Star Falling
Kyle Fosburgh wasn't around to get lessons from the master, but he has obviously been heavily inspired by Basho's work. He's one of the masterminds behind the aforementioned Grass-Tops Recording label, and he's a skilled guitarist in his own right. His 2015 double LP, One Night, is perhaps his strongest effort yet. It's also his most ambitious, bringing together his own pieces along with successful re-interpretations/re-arrangements of Basho tunes, such as " Bury My Heart At Wounded Knee" and "Fruit of the Vine." Fosburgh's expert fingerpicking is complemented throughout by his modest-but-affecting vocals — he's not trying to reach Basho's operatic heights, but the phrasing and deeply felt emotion here call to mind Robbie's unique stylings. As its title suggests, the pristinely recorded One Night is a collection best heard in the nocturnal hours, offering a chance for quiet contemplation and earnest soul-searching. A keeper.
And what of Basho himself? Grass-Tops' recent reissue of 1981's  Rainbow Thunder  is highly recommended (though newbies should start with  Visions of the Country, a  true masterpiece), and further reissues are said to be forthcoming in 2016. Unfortunately, a planned physical release of incredible live rarities entitled  Portrait of Basho As A Young Dragoon  has been suspended due to copyright issues — but the music is now available as a free download and  Grass-Tops has made the accompanying book available as a free e-book.  Filled with great, previously unseen photos of Basho in the 1960s by Barry Olivier, plus an insightful essay by Richard Osborn, it's an essential piece of the Basho puzzle. words / t wilcox photo / barry olivier
Related: Transfigurations 2013: Recent & Recommended Guitar Soli