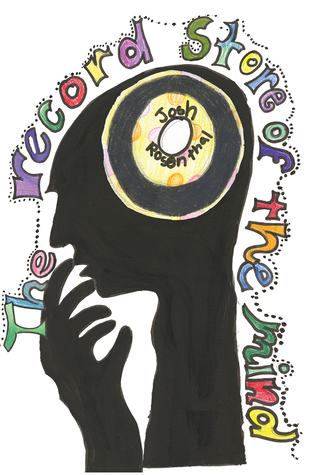 "How do you know what you're looking for?"
That's the question author Josh Rosenthal's daughter Emma asks him as he  browses the bins at On the Corner Records. The conversation is recounted in the introduction to his first book, The Record Store of The Mind. Rosenthal's spent his life in record stores and on the radio, which led to him working in the music industry, first for major labels like Columbia and Sony, before going rogue and founding Tompkins Square, which has released essential records in the fields of American Primitive guitar, gospel, hillbilly, and Americana since 2005. In the book, he details his decades in the business, inventories his massive record collection, and pens loving thoughts on his favorites: Tia Blake, Charlie Louvin, Alex Chilton, Bill Fay, Harvey Mandel (the book contains  an appreciation and call to support Mandel originally published here on Aquarium Drunkard), and dozens more.
Rosenthal possesses an archivist's attention to detail – T. Bone Burnett refers to him as "a record man's record man" on the back cover – but also a fan's wild-eyed glee, and like a truly great record store, I found  gems filed in unexpected sections throughout the book: wry humor and in the "Start a Label If…" chapter; thoughtful discussions of race in the chapter dedicated to Louvin; patient eschatology in the chapter exploring Fay and his landmark record Time of the Last Persecution.
As the book ambles along, given to detours and some gentle bragging about choice scores and great shows, Rosenthal dances around that question Emma posed: What is he trying to find? What is he listening for in his ole timey '78s? What about  his jazz records comforts him as he pulls them out in the winter? What might the fretwork of the pickers he calls  the "Obscure Giants of Acoustic Guitar" reveal to him? What drives a collector further into the world of lost sounds and weird heroes, beyond appreciation and to the point that it's no longer enough to simply possess secret knowledge, but becomes necessary to share it, investing no small cost to repress and distribute the objects of your admiration, like Rosenthal has with the arcane sawing fiddle of Smoke Dawson, the country soul of Bill Wilson, the gospel of the blind "Arizona" Juanita Dranes?
Rosenthal's voice can be prickly. Occasionally cranky. But most often, to borrow a phrase from his mini-review of Vernon Wray's Wasted – a phrase he himself likely nicked from Jerry Garcia – his prose is "ragged but right." I suspect that most readers will recognize traces of themselves in The Record Store of The Mind. I certainly did. I felt familiar pangs of excitement when he describes coming across a true score, and found myself miffed when he insulted some of my favorites, chiefly, the Beach Boys, saying that my enjoyment of that group likely represented a "deep cultural chasm between us." Reading these words, I wanted more from him – more recommendations, more stories, maybe more opportunities to rebuff and argue with him. The words here crackle with Rosenthal's passion, which has fueled the work of Tompkins Square, reissuing not just mythic forces from the past but also young, fresh artists: Hiss Golden Messenger, William Tyler, James Blackshaw, Ryley Walker, and others who synthesize their root sounds into new, invigorated things. Rosenthal never settles on exactly what he's looking for in The Record Store of the Mind, but his sly and funny words illuminate a deeper truth: that he'd be utterly bummed out if the day ever came that he'd found it all. words / j woodbury
Listen: Josh Rosenthal's The Record Store of the Mind playlist via Spotify.