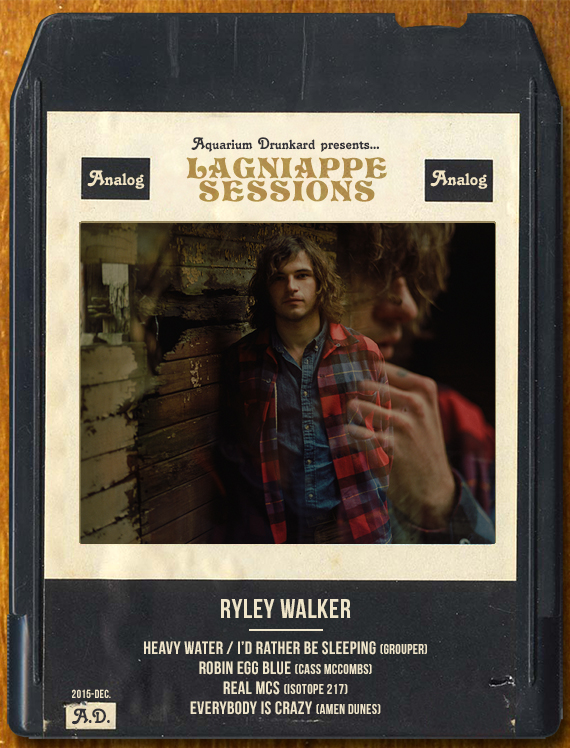 Lagniappe (la ·gniappe) noun 'lan-ˌyap,' — 1. An extra or unexpected gift or benefit. 2. Something given or obtained as a gratuity or bonus.
The Lagniappe Sessions return in 2016 with Ryley Walker, whose sophomore lp, Primrose Green, was one of our favorites records of 2015. Here, Walker reimagines and reworks four disparate tracks, ranging from jazzists (and fellow Chicagoans) Isotope 217 to contemporaries Cass McCombs, Amen Dunes and Grouper. And in doing so they become his own. Walker's notes on his selections, below…
Ryley Walker :: Heavy Water / I'd Rather Be Sleeping (Grouper)
All time greatest tune. Gave it a shot with just guitar. Really a massive fan of Grouper. Lyrics and arrangements are always fascinating. Every record she sets the bar higher. Listened to this song in particular a hundred times.
Ryley Walker :: Robin Egg Blue (Cass McCombs)
Robin Egg Blue is a great, great tune. I can't tell if it's happy or sad. I wrote the words down on a piece of paper to recite them. Had fun.
Ryley Walker :: Real MC's (Isotope 217)
One of my most favorite bands ever. Chicago's greats. Part of a great generation of heady tunes in Chicago and they all still put out some of the headiest shit on the planet with tons of different groups. Jeff Parker is one of my most favorite guitar players in the world. Huge influence. Matt Lux playing heady bass on here too. These dudes were cranking out a great record every year for a period of time.
Ryley Walker :: Everybody Is Crazy (Amen Dunes)
Happy and lucky enough to be a friend of Damon. His record Love is a modern classic. So excited to see what's next.
Lagniappe Sessions Archives / imagery via d norsen