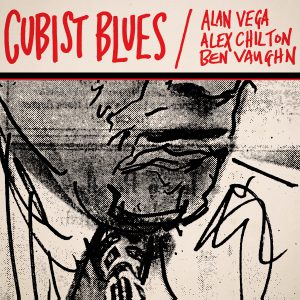 In December, 1994, Alex Chilton, Ben Vaughn, and Alan Vega walked into Dessau Studio in Manhattan.
They had only the vaguest idea of what might happen. There was a basic premise, that friends Vaughn and Chilton were going to "play the blues" with Vega, visual artist and frontman of the avant-garde electronic duo Suicide, but beyond that, nothing.
Chilton had just finished a series of shows with his beloved reunited band Big Star; Vaughn, who'd cut his teeth in the roots scene and working with maverick country musician Charlie Feathers, had recently appeared alongside Mudhoney, Luna, the Flaming Lips, the Gories, Codeine, and others on a tribute comp to Vega and Suicide, Invitation to Suicide. The duo was eager to work with Vega, and excited by the prospect of pure creative deconstruction.
What they recorded over two frenzied nights was released in 1996 as Cubist Blues on Henry Rollins' 2.13.61 label. The base elements were simple: guitar, synth, piano, skittering drum machines, some bass, and live drum kit, undulating under Vega's reverb cloaked rockabilly incantations. The record was released and made some waves in Europe, but was virtually ignored in the U.S. It quickly fell out of print. But for those who caught on, who heard in the album's grooves a wild, unrestrained fervor, more spiritually connected to free jazz than alternative or indie rock, Cubist Blues was a treasure. Weird and feral. Oozing. "Liquid," Vaughn calls it, over the phone from the Mojave Desert, discussing the late 2015 re-release of the album by boutique label Light in the Attic.
"Alan insisted we had no expectations going in," Vaughn says. The approach – loose, unplanned, almost entirely improvised –was new to him. "He didn't want to have any discussions prior to going in. He was excited when Alex joined in, but he didn't want to know anything beyond that. As a matter of fact, telling him that Alex was coming with me almost ruined everything for him. It was one less surprise he would encounter," Vaughn says. "He was really adamant…really aggressive about not setting up any groundwork that might make anyone comfortable enough to phone it in."
You can hear the spirit of those evenings in Vega's cackles, shushes, and barks in album opener "Fat City," in the limber New Orleans strut of "Lover of Love," in the pulsing electro-blues of "The Werewolf," and the spooky, soul rattling gospel of "Come On Lord." To unbelievers, these songs might sound nonsensical, half-baked, or maniacal. To the converted, they are swampy hymns of devotion from the farthest fringes.
Alan Vega & Ben Vaughn :: Fat City
Listening to the album nearly 20 years after its release, Vega recognizes a special kind of magic in it. "It could it have been a terrible thing, something we finished and said, 'That's that,'" Vega says over the phone from his apartment in New York. In 2012, he suffered a heart attack and a stroke, which affected his speaking, but not his verve. His speech is blurred, but perfectly lucid. "But we kept going, because it sounded great," he says of the the spontaneous recording session.
Vega operates outside of the confines, on a different plane. But there's no pretense in his voice when he describes his artistic approach: "Maybe it's worth nothing, maybe it's worth something. I don't give a shit, because I don't give a shit."
Though the headfirst approach was new to Vaughn, it was a mode Chilton had operated in before. There was Big Star's Third, an album which gleefully dismantled the chiming pop of that band's repertoire, creating a damaged template for indie rock to follow, and then 1979's Like Flies on Sherbert, which took what producer Jim Dickinson and Chilton started on Third to demented extremes. Its sound parallels that of Suicide: a violent, sideways attack on rockabilly, gospel, country, and blues. Roots music as interpreted by inspired heretics.
"I was not a Big Star fan, not a power-pop fan," Vaughn says. "Like Flies on Sherbert was the only record by him that really blew me away, and the reason it did is because it's a roots album." He cites Chilton's irreverent take on the Carter Family's "No More the Moon Shines on Lorena" and the Bell Notes' "I've Had It." "These were songs I knew, and I'd never heard anyone give themselves the permission to completely disrespect them like he did, and turn [that disrespect] into something beautiful. It's like post-apocalyptic roots music, like the world blew up and the record player is spinning, and that's what a Carter Family song is going to sound like from here on. There's a scorched earth policy on that record that made me realize, 'This guy really listens to a lot of music.'"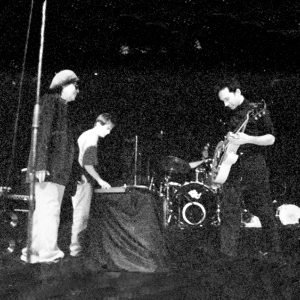 Those solid shared roots – a love of American rockabilly and blues – provided a footing for the trio. From there, Vega directed things into the void.
"He is the living breathing embodiment of spontaneity," Vaughn says. "He wants the truth, even if it ends up not being good. That's a risk he's willing to take, and I'm not even sure he's aware it's really a risk. It's not even courage, 'cause courage would mean you were consciously thinking about something. That wasn't happening. It was non-verbal. We just started and it took on a life of its own, immediately."
Not averse to describing what happened in mystical terms, Vaughn says, "It was like a fever dream. The most creative moments are the ones where you come out of it at the end and realize you'd gone somewhere else for that time, and now you've returned and you're not sure how everything came out of you and you're not sure what that process was…you were channeling or riding something."
That same energy can be heard in the live recordings, offered as a download with the new record and on a limited vinyl edition. Recorded at the Trans Musicales festival in France in December, 1996, the group tears through Cubist Blues, joined by bassist Mike Vogelmann. The group encores with a Suicide song, "I Remember," and the performance seems so fiery it's hard to imagine why the group never reconvened. "There really wasn't any demand for it," Vaughn counters. "Nobody offered us any gigs. The record basically disappeared in America." The chance to reunite the Cubist Blues lineup ended with Chilton's death in 2010, but Vaughn and Vega have kept in touch, and in 2015, they recorded together. Neither is quite sure what will come of the recordings, but their uncertainty fits the spirit of their first outing together.
"People ask: 'How was this made?'" Vega says. "I don't know how it was made. I really don't know. I don't know where the music came from. I knew Ben and Alex, but aside from that, I didn't know a fuckin' thing. I still don't know where it came from. That's Suicide, too. Same thing. I don't know where it comes from. People ask, 'Why?' Why our records sound the way they sound. We say, 'Who knows,' and then we start. Off we go. Holy shit, this is good. We can't say why. There is no why. Who gives a shit? It's not supposed to be why. It's supposed to be the world. The mystery." words / j woodbury