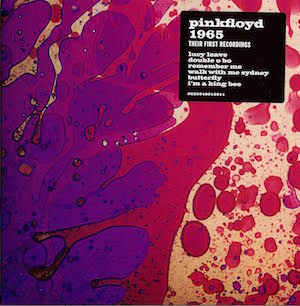 While the limited release (1000 copies only) and ensuing display of capitalism in excelsis in the immediate resale on the collectors market, the one thing that's certain is that there is a massive outpouring of interest in these early recordings of the nascent Pink Floyd. I try to stay far away from the negative web chatter as much as possible, but a quick scan of several prominent online forums shows some heated discussion, mostly based on the high figures this release is selling for. In my opinion, the sour grapes are tainting many opinions on the music, but for me – a massive Syd Barrett fan as well as most things 60s – these tracks are some of the greatest newly uncovered gems of the last 20 years.
Both "Lucy Leave" and "King Bee" have been available on bootlegs for years, but the sound quality here surpasses the unofficial releases. "Lucy Leave" is full of Syd trademarks – quirky chord progression twists, whimsical lyrics, and that unfiltered English vocal delivery. "King Bee" (along with "Double O Bo") offer the type of hard r&b that was all the rage in the mid-60s UK, but with a decidedly Syd twist; NO other band quite sounded like the lads do here. The most direct parallel was The Pretty Things, but the (incredible) Pretty's hit it HARD and didn't display the already-apparent Syd eccentricities.
"Walk With Me Sydney" is a trip; my first listen left me scratching my head, but this track (Roger Waters first composition, allegedly) is hooky, weird and full of the rule breaking lyrics that became a Floyd trademark. I sat and listened to these songs half a dozen times in a row when I first got the vinyl, and by the 3rd listen, I was definitely a believer in this track (especially the unbelievable stop-start chorus mentioning 'DT's and a washed out brain).
The star of the set, though, is the majestic "Butterfly"; not only does it speak to how Syd was unbelievably talented from the start, but it is nothing short of a premonition of the more rocking moments of his two post-Floyd solo LPs. words / d see