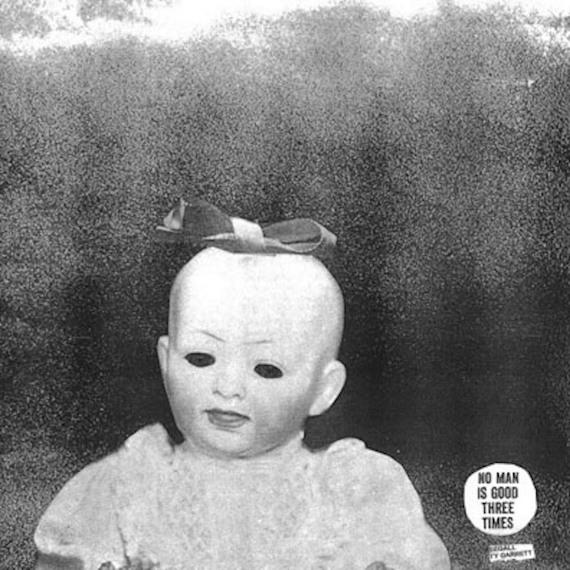 In a goofball YouTube promo, Dr. Ty Segall, PhD defines "emotional mugging" as a "psychoanalytic subject-to-subject exchange formed as a response to our hyper-digital sexual landscape." So sizing one another up, frontin', a cold barrier of distraction, the practice of impenetrable differentiation… This silly promo vid is of special import because I think Ty's trying to get all psychological on us in bigger way. On his last proper full-length under his own name, Manipulator, Ty inhabited a full-blown persona, "The Singer," sparkle-faced and transformed. Mugger's imagery centers around the nastiest baby-head mask, (the whole Muggers band wears them in another clip) as if to signal some return to an impossible infancy. Example A: one of Mugger's most crooked tracks, "Baby Big Man (I Want a Mommy)."
Segall is extremely prolific, active in several different bands, and they all involve head banging appeal. While each album differs in tone, Manipulator felt like his first great leap in which he crystallized his many records full of loose, heavy rock into a grand statement. It presented a refined, "glamorized" version of Segall, singing his most crisply written songs and unfurling his finest guitar shredding. Mugger sounds like a giant step too, but the vibe is murky and tense. It turns up the volume on the sputtering, atonal guitar freakouts and coughed up lyrics that explode into death rays of endless echo. In short, it's his weirdest sounding album, but it's awesome because he taps into a heavy mess of new sounds. It's as if an increasingly hyperbolic, figurative painter careens into abstraction.
On the opener, "Squealer," Segall's character undergoes mitosis, splitting down his lamé bodysuit, responding to his "Singer's" calls in a throaty growl. Throughout the album he encompasses both "Mandy Cream" and "Candy Sam", codependents, lovers, but also recalling some sort of elemental, relational twinning. "Candy" is the underlying concept of Mugger, appearing in most of the tunes. Candy is kind of a tired trope to ask to do much metaphorical work, but it's this repetitive, childlike insistence on this candy, the archetypal kid's treat, that again references this regression to infancy, this dumbing down, this blunting of emotion by what Dr. Segall calls "the over-communication relayed in cell based technology and content driven media." For all of his melodic prowess, Ty has never gets too deep or immersive with his lyrics, but on Mugger they work in tandem with the obtuse music, like a globular accent on the canvas. On "Candy Sam", he sings "candy's gone, no more fun" in a crazed voice that ramps up into a crushed, robotic squeal and then breaks down to acoustic guitar and kids "la-la-la'ing" along to the melody. The big man arrives at the pre-verbal child state.
If from album to album Segall's guitar sounds have increased in fidelity, Mugger arcs into a new dimension of grit, pulverized and pitted against harsh synthesizers. At times, the loping, angular grooves sound like thick-grained electronica.
Ty's signature, intensely fuzzy tones have progressively gotten buzzier, thicker, and louder as his record-making skills have increased, one would think the distortion has reached an upper limit. He even started a band called Fuzz! In psychological terms, he has a fuzz fixation, a sort of psychosexual latency that has manifested in this gristly and extreme sound effect. Mugger is a fresh, rich fruit to come out his obsession with fuzz. Ty's brought the contemporary fuzz-rock band into a new sonic space, one that recalls the future-thinking bands of the past. "The Magazine" settles into an oscillating trance that references Silver Apples or Can, and "Breakfast Eggs" and "Baby Big Man" recalls Captain Beefheart if he allowed his entire Magic Band access to fuzz boxes. Both sides of this album are riddled with fierce, spasmodic, single note solos a la Robert Quine.
Also of note, Mugger is threaded with crucial, heavy collaborators: Melvins drum man Dale Crover, Emmett Kelly of The Cairo Gang, Kyle "King Tuff" Thomas, Charles Moothart, Cory Hanson & Evan Burrows of Wand, and the indispensable Mikal Cronin. The Muggers lay into a stoned-out, grooving cover of The Equals' "Diversion," on which Ty sings, "Diversion, I'm back I'm back I'm back." To my ears, he's never quite been here before, and I hope this Mugger sound is no mere diversion but an intentional trajectory to a strange, new galaxy of guitar rock. words / a spoto