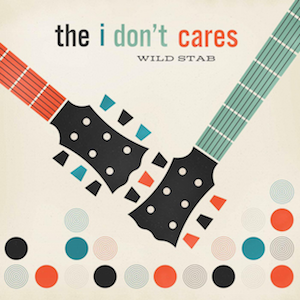 It's been a minute since we've heard from Paul Westerberg. That's a funny sentiment considering the non-stop Replacements-fest that went on from 2012 through last year's final run of tour dates. But the Westerberg who appeared alongside Messrs. Stinson, Minehan and Freese for that astounding run was a man reliving his past and having fun with it, not someone stretching his creative spirit. That reunion came on the heels of what had been one of the most fertile and interesting periods of Westerberg's solo career to date starting with 2008's 49:00.
But soon after the 'Mats said they were going away again, Instagram photos of Westerberg and Juliana Hatfield started popping up, and soon it was official – there would be a record called Wild Stab under the banner of the I Don't Cares – the band with a name designed to literally lower expectations. And when the first song off the record was a seeming throw away track called "1/2 2P" – a song about finding an irresistible urge to urinate come over you whenever a certain someone was around – well, my expectations went even lower.
It's always the game that's been played. Some of (but not all of) Westerberg's finest solo moments have come when the stakes were low. Disappearing for four years after getting dropped from Capitol? Quietly slide a record under your nom de plume Grandpaboy into record stores (Mono) and then follow it up with a companion album that contains some of the best songwriting of your career (Stereo). Nearly ruin your guitar hand allegedly stabbing it with a screwdriver while cleaning wax from a candle? Drop a surprise album that is one track and 40 some minutes in length – and again maybe one of the best albums you've ever done – on to the internet with no fanfare (the aforementioned 49:00). And then follow that up with four more similarly released EPs over the next year that all contain seriously solid material. You start to get the picture.
So – how does Wild Stab (more lowered expectations) hold up? It's actually fantastic. From what has been said in interviews, Hatfield was allowed a look through Westerberg's demos that had gone unreleased (mostly) and allowed to pick what she thought sounded worth tackling. The results are a record that sound a lot like this recent excellent period of Westerberg's songwriting. Opener "Back" strikes a perfect balance between the two halves of Stereo and Mono – the reflective and lightly punchy lyricism of the former and the minimal and driving full-band sound of the latter. "Wear Me Out Loud" becomes the first of a great handful of rockers that sound like they could've emerged out of the Rockpile school of songwriting – "Love Out Loud" being the best example of this.
Hatfield's contributions are hard to pin down, but they aren't slight. Her lead vocal turn on "Dance to the Fight" is a natural for her voice. And her backing and duet vocals throughout the record are actually a great pairing for Westerberg. So much of this record sounds like the type of guitar play that has been typical of recent Westerberg albums that it's hard to know exactly where Hatfield fits in – she does that good a job of fitting into the overall sound of the album. I can only imagine that they'd be endlessly amusing and fun to see perform live.
But despite the fact that the album seems overstuffed – 16 tracks is a lot to keep listeners around for, no matter the artist – it moves at a swift pace with enough variation between songs to really make it worth it. They even take a stab at two older Westerberg songs – "Outta My System" appeared on 49:00 but also on an earlier compilation. "Born for Me" was originally on 1999's Suicaine Gratifaction and what had been a piano driven ballad becomes a first-class rock song. If I put the two side by side, I'd take the original version every day of the week, but within the context of Wild Stab, the new version really cooks. It's a fine compliment to the other songs and a great credit to Hatfield as a collaborator that she saw the potential in its inclusion.
The I Don't Cares :: Born For Me
The album ends with "Hands Together," a rarity in the Westerberg canon in that it's nearly seven minutes long . With its references to silent film stars and dead baseball players, it lyrically returns to the same era that opener "Back" hinted at. It's a gorgeous, almost hypnotic number that doesn't really have a chorus – instead it's just Westerberg putting on a lot of his deft lyrical touches – the beautiful ones that he's been honing more in his older years. While it almost doesn't fit the rest of Wild Stab, it's a great finish to an album that feels so much more together than anything about it would have implied. It's an album that wants you to think it didn't care so that the purest moments shine even more brightly in relief. words / j neas
The I Don't Cares :: King of America
Related / Recommended: The Replacements :: Final Show @ Grant Park, Chicago, July 4, 1991