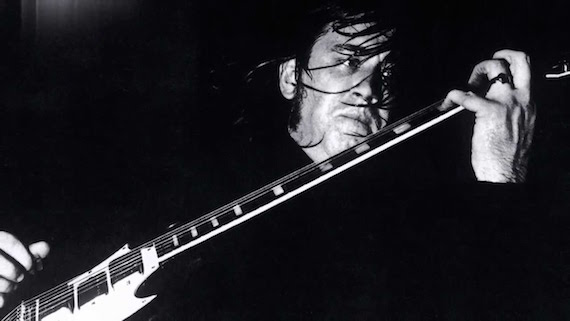 I think about Terry Kath every time a rock star dies. We've become accustomed to the cycle. It's how we process the death of famous people now. The social media churn. The first 24 hours of wall-to-wall Facebook. The headlines, the think pieces, the tributes, the sharing of video. Then it gradually dissipates over the next 72 hours, until you are left alone with your own muscle memory – the way you identified with the artist yourself. You are alone with the artist, again.
Terry Kath shot himself in the head while fooling around with a 9mm handgun one week shy of his 32nd birthday, January 23, 1978. His last words were, according to bandmate James Pankow, "What do you think I'm gonna do? Blow my brains out?' I found out about this by reading the October 16, 1978 People magazine cover story on Chicago while waiting to get my haircut in a local barbershop in Plainview, Long Island. I was eleven years old. There was a photo spread of the Chicago band members with their wives and babies. I remember a wave of nausea coming over me as I pored over the article in a disbelieving stupor. It made no sense at all. Terry Kath was my first experience with feeling something profound around a death. The sensation would soon become all-too familiar, with Keith Moon, Bonzo and others to follow. The difference was that news of Terry Kath's death was traumatic for me, and I use that word with no irony, and with all its potency.
Now it's 38 years on. It looks like we could see a little revival of appreciation for the great Chicago guitarist and singer now that his band is headed into the Rock and Roll Hall of Fame. His daughter, Michelle Kath Sinclair, only two when her father passed, has completed a documentary about her dad. She seems like a very sincere person who wants to get the Terry Kath story right, not just for the world but for herself, by learning as much as she can about a father she never really knew.
Chicago is one of the most commercially successful bands of all time, having sold well over 100 million records worldwide. Each one of Chicago's eleven albums preceding Kath's death went platinum. That kind of sustained success seems unfathomable today. Eleven albums is a sizable body of work for anyone, and there is plenty of Terry Kath to listen to, including lead vocals on indelible hits like "Colour My World", "Wishing You Were Here", and "Make Me Smile", still heard in taxi cabs and piped into retail stores across the US every single day. His voice is a mellow baritone sounding most like bandmate Robert Lamm, his hero Jimi Hendrix, and Ray Charles. There are plenty of great moments to discover, notably the soulful "Hope For Love" from Chicago X; the experimental, corrosive "Free Form Guitar" from Chicago Transit Authority (Chicago's very own mini-'Metal Machine Music', which pissed off fans immensely, recorded in one take); the bluesy strut of "In the Country" from Chicago II; "Little One" from Chicago XI, written by Danny Seraphine about his daughters but sung by Kath (touching to hear today if you think about Kath singing those words to Michelle); the loose, gritty "Mississippi Delta City Blues" written and sung by Kath and recorded for Chicago V, eventually surfacing on Chicago XI. Hendrix was supposedly a big fan of Kath's guitar playing, and Kath wrote the expansive, tripped out "Oh, Thank You Great Spirit" for Jimi on Chicago VII. He was supposedly set to start work on a solo album at the time of his death. We get a hint of what that might have sounded like on the stirring 7:47 "Tell Me," which is not on a Chicago album – an edited version of the track was used in the final episode of Miami Vice.
Kath killed himself four months after Chicago XI was released. The band was already contemplating a new direction as it would be the last album overseen by producer James William Guercio. Upon reading it again after 38 years, there are several interesting revelations in the People Magazine article I read in the barber shop. Robert Lamm says of Guercio : "Somewhere around our album Chicago V it went from 'being taken care of' to being manipulated. It was part him, part us . . .we were naive and idealistic and stuck to the music. Jimmy produced some great albums and encouraged and supported us financially in the beginning. But then he got up on a mountain and gave directives. It didn't wear well." It wasn't just a business or musical direction that shifted in the aftermath; there was a marketing conundrum. The massively successful band had no identifiable star power.

The People article goes on : "The disillusionment with their mentor, and the shock of Kath's death, also brought into focus another disturbing reality: that in the Frampton/ Fleetwood/Bee Gee era of rampant rock iconolatry, there was more logo than ego behind the band members' fame. They enjoy the mixed distinction of reigning as the world's most famous-but-faceless rock stars. Says Lamm: 'As a result of our marketing campaign, the band still had no image at all as we were getting into our 30s. We felt that maybe we should have some control. Terry's dying caused us to reevaluate our lives.' "
So their solution was to hire Donnie Dacus, which was kind of like replacing Roy Campanella with Bob Uecker. Their next album, 1978's Hot Streets, produced by Phil Ramone, dropped the numerical title and was only their second to feature a cover photo of the band, jumping around looking happy as can be. You have to give the band credit for soldiering on, but this jubilant image, coupled with their choice of "replacement" and choice of lead single – "Alive Again" (??) – all less than a year after Kath's passing, seemed tasteless back then, and it still does. The album went platinum, but was the first Chicago album to miss the Top Ten on the Billboard album chart. Dacus would appear on Chicago 13 with the numbered title and logo returning on the cover, their only album up until that point without a Top 40 hit, and Dacus was dismissed. No, he won't be enshrined in the Rock Hall with the band, but Peter Cetera invited him to perform with them. Robert Lamm stated in 1990 that the band lacked chemistry and wasn't the same after Terry died. In fairness, how could it be ?
Chicago continued to be a massively successful act fronted by Peter Cetera until he left the band in 1985. Decades worth of blaring horn arrangements, sappy power ballads and county fairs have obstructed our view of Terry Kath. He's now been dead six years longer than he was alive. Although he is not listed on Rolling Stone's Top 100 Guitarists of All Time, he is revered by many guitarists who have marveled at his technique. He experimented a lot. As reported in 2002 Rhino Records media notes, "(Robert) Lamm recalled him attempting to make an auto-picking device using a modified electrical cocktail mixer." Kath was an early investor in and spokesman for Pignose when it emerged as a startup in 1972. Premier Guitar described his string preferences : "For his high E, he typically used the high A string from a set of tenor guitar strings. For the rest, he used a stock Fender set, using its high E as his B string and then progressing on through the pack from thinnest to thickest. The inclusion of the tenor string meant there was always an extra, so the Fender pack's 5th string was actually Kath's low E, and he ended up tossing aside the 6th string." Got that ?
Today, Chicago is not cool. But Terry Kath always was. Chicago's induction into the Rock and Roll Hall of Fame will surely be emotional for Terry's family and former bandmates. Hopefully it will bring some long-overdue attention to his innovative guitar style, and singular voice.
Josh Rosenthal is the founder of Tompkins Square label and author of a new book, The Record Store of the Mind.