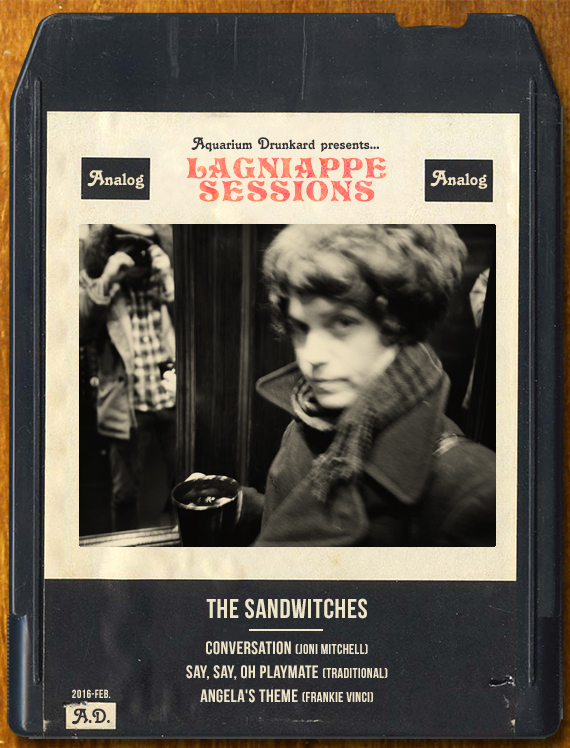 Lagniappe (la ·gniappe) noun 'lan-ˌyap,' — 1. An extra or unexpected gift or benefit. 2. Something given or obtained as a gratuity or bonus.
The Lagniappe Sessions return with The Sandwitches. Bay Area stalwarts since the release of their first lp in 2009, the band announced they were calling it a day following the release of Our Toast last June. So consider the following a coda of sorts. Members Grace Cooper, Heidi Alexander and Roxanne Young, in their own words, after the jump . . .

The Sandwitches:: Angela's Theme (Frankie Vinci)
I did this song because Sleepaway Camp is very important to me and without question one of the greatest horror movies ever. I don't know much about Frankie Vinci but I read an interview with him in which he said something like " I'd like to be John Lennon for a day, obviously not the day he got shot" I like that. I meant to do the entire song on keyboard as a sort of challenge to myself but it broke. Got enough out of it for a good intro at least. Thanks Frankie, thanks Angela
The Sandwitches :: Say, Say, Oh Playmate (Traditional)
My friend's daughter, Ramona, sings here with me. I've always liked this children's song. A very special old friend of mine used to finger pick it on the guitar and Leo Kottke has a medley where he plays parts of it. I love Leo. I love this song. It's beautiful and creepy.
The Sandwitches :: Conversation (Joni Mitchell)
Lagniappe Sessions Archives / imagery via d norsen