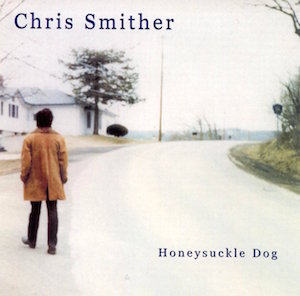 A song concerned with reveling in the moment, on a park bench in the sun after a rain with "pockets full of free time". Paul MacNeil's "Sunshine Lady" was first recorded by Chris Smither in early 1973 for his planned third album, Honeysuckle Dog.
Smither and MacNeil were friends on the late 60s /early 70s Cambridge, MA folk scene and, according to Honeysuckle Dog's producer, Michael Cuscuna, it was thought the track would be the 'hit' from the record.   But that never happened, as the label (Poppy Records — best known as the home of the early Townes Van Zandt output) collapsed and the album was shelved for 30 years. MacNeil then tried his own luck with the song, the following year in 1974, on his sole LP, If It Rains. The album failed to make a splash, despite being a strong collection of folk-rock songs in the vein of contemporaries Danny O'Keefe, Gordon Lightfoot, Kris Kristofferson, and Tom Rush.
Chris Smither :: Sunshine Lady
The cast of musicians backing Smither on this track is remarkable. The rhythm section was filled out on drums played by Ray Lucas — who had previously backed Jimi Hendrix, Aretha Franklin, Otis Redding, King Curtis and other R&B greats — with a bass groove provided by the prolific Richard Davis, who was already famous for his work on Van Morrison's Astral Weeks. Keyboardist and singer/songwriter Eric Kaz plays electric piano and Pat Rebillot, who would record with Gary Burton, Herbie Mann and Hall & Oates the same year, contributes acoustic piano. Robin Kenyatta, usually an in-demand jazz sax player, here provides a pastoral, park-bench flute solo (we find a sax solo on MacNeil's version instead, played by session ace David Woodford.) Kenyatta would use Lucas and Rebillot, along with producer Cuscuna, on his funk-jazz classic Gypsy Man, recorded around the same time.
As it stands, "Sunshine Lady" may have missed its shot initially, yet it endures forty years on as a quintessential mellow daydreaming song. Not a bad legacy. words / r caldwell