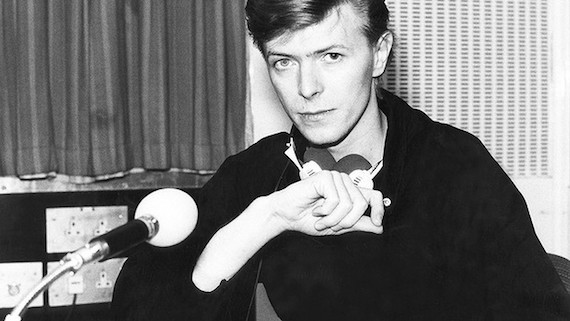 On May 20, 1979 – two days after the release of Lodger – David Bowie, along with a pile of his favorite records, took the reins at BBC Radio One. For two hours Bowie ran through and commented on a eclectic array of sounds; those of his influences, his contemporary peers and artists he himself had, by 1979, no doubt influenced. It's a great mix in and of itself, only made sweeter by Bowie's candid commentary.
The Doors – Love Street / Iggy Pop – TV Eye / John Lennon – Remember / ? & The Mysterians – 96 Tears / Edward Elgar – The Nursery Suite (extract) / Danny Kaye – Inchworm / Philip Glass – Trial Prison / The Velvet Underground – Sweet Jane / Mars – Helen Fordsdale / Little Richard – He's My Star / King Crimson – 21st Century Schizoid Man / Talking Heads – Warning Sign / Jeff Beck – Beck's Bolero / Ronnie Spector – Try Some, Buy Some / Marc Bolan – 20th Century Boy / The Mekons – Where Were You? / Steve Forbert – Big City Cat / The Rolling Stones – We Love You / Roxy Music, – 2HB / Bruce Springsteen – It's Hard To Be A Saint In The City' Stevie Wonder – Fingertips / Blondie – Rip Her To Shreds / Bob Seger – Beautiful Loser / David Bowie – Boys Keep Swinging / David Bowie – Yassassin / Talking Heads – Book I Read / Roxy Music – For Your Pleasure / King Curtis – Something On Your Mind / The Staple Singers – Lies
Related: The Unofficial Bowie: A Conversation Piece
Aquarium Drunkard has launched a Patreon page, which will allow readers and listeners to directly support our online magazine as it expands its scope while receiving access to our secret stash, including bonus audio, exclusive podcasts, printed ephemera, and vinyl records. Your support will help keep an independent cultural resource alive and healthy in 2019 and beyond.