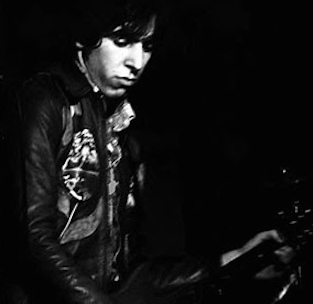 1975 was a strange time for rock & roll in Memphis.
Big Star, the flagship band of Ardent Records, was kaput, and the label itself was in flux, tethered to the financial woes of its distributor, Stax. Following the tumultuous sessions that would eventually be fashioned posthumously into Big Star's  Third/Sister Lovers, a young rock writer named Jon Tiven showed up from New York. A fan of Big Star who'd helped organize the Memphis Rock Writers Convention — helping to forever align rock critics and the cult band  — he embarked on a serious of sessions with Chilton and hooked with up with a young singer/songwriter named Tommy Hoehn. Together, they tapped into the Memphis scene orbiting Ardent Studios, enlisting Chilton, Jim Dickinson, Chris Bell, and a few more session hands for a series of recordings under the name Prix, mixing Big Star-like Anglophile pop with hard-edged rock.
Only a handful of the group's recordings ever saw official release, winding up on Miracle Records and Terry Ork's pioneering punk label Ork Records (a couple Prix cuts are featured on Numero Group's excellent Ork anthology, Ork Records: New York, New York). Apart from a  Japanese import CD, the group's recordings have remained unavailable until now: this month sees the release of Historix, featuring most of the group's entire recorded output, via Hozac Records.
Prix didn't take off, but Tiven's enjoyed a long career in music, working with the Jim Carroll Band, producing records by Wilson Pickett and Frank Black, and writing songs for artists like Irma Thomas and Robert Cray. Inspired by renewed interest in Prix, he's begun a new incarnation of the group featuring Sid Herring of the Gants and is currently recording new material. Sadly, Bell, Chilton, Dickinson, and Hoehn have all passed, leaving Tiven as one of the last standing musicians able to shed light on the frenzied recording project. Aquarium Drunkard spoke with Tiven via the telephone to discuss the group and new reissue.
Aquarium Drunkard: How did Prix get started?
Jon Tiven:  I went down to Memphis from New York City to produce some Alex Chilton tracks, which came out as Singer Not the Song and later as Bach's Bottom. I came back to New York and I couldn't find a label [for the songs]. I was working with [Memphis singer/songwriter] Van Duren, trying to get him a record deal. He said, "Why don't you come back down here [to Memphis]? You can join my band and we can see where we get." He had a band with Jody Stephens and Chris Bell, so I was happy to join that band. We did a couple of gigs with another guitar player who doubled on bass named Mike Brignardello, who was very good. I basically felt like a third wheel on a bicycle. There wasn't much for me to do. I enjoyed it, but I wasn't doing enough to merit having a five-man lineup. It was basically Van's thing.
Rather than just bide my time, I decided to do some recordings with [singer/songwriter] Tommy Hoehn. Van and Tommy were a little bit competitive with each other at that point. Van had a song called "Grow Yourself Up" — which I thought was a very good song — and Tommy wrote a song called "Blow Yourself Up," which was not an accident.

AD: A little creative rivalry never hurt anyone.
Jon Tiven: No, and years later Van and Tommy made some recordings together. They obviously patched up their differences.
AD: Did Prix feel as much like a band as it did a recording project? Was the line blurred between those two things?
Jon Tiven: We never did a live gig at all. The Memphis thing — which is where I learned, where I did my initial recordings — [was built around] people getting a spec deal at a studio, going in, doing an album's worth of songs. If they could find a deal with it, then all the sudden it was a band and they'd do performances.
But there was a lot of stuff that never got out of the studio, and that's where we were at…We never really had a lineup besides me and Tommy. Chris [Bell] produced some of the stuff with me, and played and sang on some of it. Alex didn't really participate actively in the Tommy recordings, but we took from the recordings I did with Alex from the previous sessions. The whole Memphis musical scene is so incestuous; everybody's sleeping with everybody's girlfriends or boyfriends. Tommy ended up marrying Lesa Aldridge, who was Alex's muse.
AD: She inspired a lot of Third.
Jon Tiven: And also "She Might Look My Way," which Alex and Tommy wrote together about Lesa.
AD: So it was you and Tommy and some of these satellite players. In your notes, you mention that Chris Bell had some objections to the songs on religious grounds.
Jon Tiven: Chris was a very serious Christian, very devoted to his faith. That was a very deep part of his being.
AD: So was he less enthusiastic about some of the material, songs like "Take Me Home and Make Me Like It?"
Jon Tiven: He didn't want to participate in that. He thought that was literally the devil's music. He said to me, "If you sing the devil's words, you become the devil." He didn't want to be a part of it at all.
AD: Clearly there's a bent toward that sort of raucous material. How did you end up hooking up with Terry Ork of Ork Records, who released Chilton and Prix singles?
Jon Tiven: When Tommy and I finished up our recordings I went back to New York and played them for a few people and immediately got an offer from Anita Wexler at Mercury Records and interest from Columbia Records …I was most interested in the label that was really into it, Mercury. I tried to get that deal to happen. We went through two drafts of a contract and it looked like everything was going to happen, and then someone from their promotion department stepped in and said, "This doesn't sound like what's happening in radio now, we can't deal with that." They backed out of the deal all the sudden. It was crushing at the time, it was a terrible thing.
I decided to follow through with the Columbia Records thing. They flew Tommy up and we did a showcase audition for them. They offered us a record deal as long as we'd do a couple cover tunes. Tommy wasn't interested in that. Then, my lawyer got me a meeting with Bud Prager, who I knew as the manager of Leslie West and Mountain. He sat me down and said, "Look, I've got this group coming out on Atlantic Records next week and it's going to be the biggest group that they've had since Led Zeppelin, and you could be right behind then. But, I'm going to tell you upfront, I'm going to take all the money and give you guys five grand to split between you two. I'm going to be paid as the artist and pay you what I want to." I didn't like the smell of that. I didn't know that band — Foreigner — was going to be such a huge band.
So, I went a see Jonathan Richman at Town Hall with a couple of cassettes with me just in case I ran into anyone there. I was on the hustle, trying to get something happening with the work I'd done. I ran into this guy Charles Ball, who I knew back in my college days — his brother Happy Ball had gone to Sarah Lawrence. He introduced me to Terry. I said, "I just finished producing Alex Chilton and this group Prix," and he said, "I'll listen to it." I heard from them within a couple of days that they wanted it all. I put all my eggs in that basket and that was that. I figured it wasn't necessarily a big money situation, but people will at least be able to hear it.
AD: This record captures a specific moment in the Memphis scene. What was the overall mood like at the time?
Jon Tiven Big Star had crashed and burned. They couldn't get a deal with their third record. Alex had destroyed — well, if not destroyed, had severely damaged — his relationship with Ardent Studios. They had seen him through a lot of really bad behavior. He had keys to the studio, so he could basically go in there at any time. Well, they caught him in the parking lot in a fight with Lesa, kicking her in the head. At that point they took his keys away…
Stax [Ardent's distributor] had sold out to the Union Planters bank. The ownership of everything was up for grabs. Everybody was taking the money and not asking any questions, and the extent to which it was a Ponzi scheme was revealed later. But everybody was pretty depressed about the whole thing…Ardent was in tatters at that point. Chris couldn't get a deal for his stuff, and he'd been recording there over and over, the same songs, different versions. No one was happy. I was happy — I was down there working, 21-years-old, you know, sowing my wild oats in a new town. It was definitely strange, but more ups than downs for me…
AD: It's got to be exciting to have these recording get some attention now.
Jon Tiven: It's tremendous. It's a wonderful affirmation of my early work, which I believed in greatly at the time, that only a handful of people really let me know was worthwhile.  [I'm working on a new Prix record] — I hope it gets enough attention that I won't have to wait 37 years to hear back it's got some good shit on it! words / j woodbury