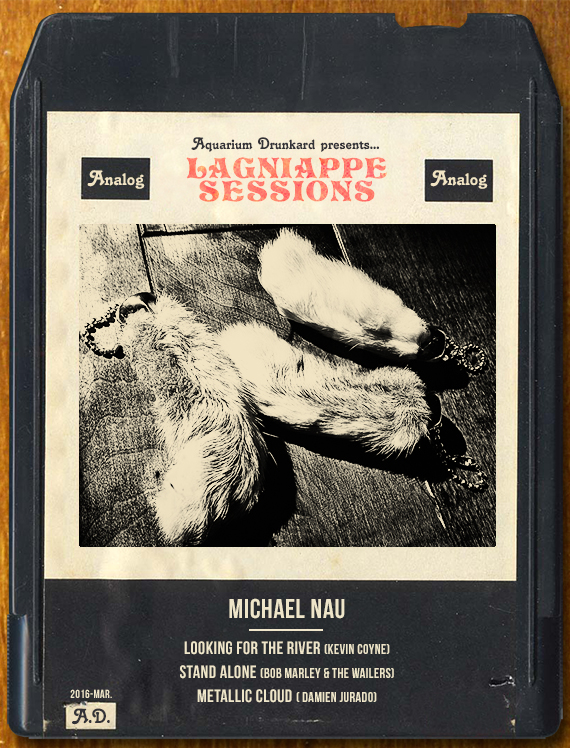 Lagniappe (la ·gniappe) noun 'lan-ˌyap,' — 1. An extra or unexpected gift or benefit. 2. Something given or obtained as a gratuity or bonus.
Last November we debuted a track off of Michael Nau's solo debut, Mowing, out now via Suicide Squeeze Records. And though this record bears Nau's name alone, it's a fine addition to the canon of Cotton Jones' brand of Cosmic American Music. There's no lack of Whitney McGraw's smoky backup vocals and glacial autoharp, and no lack of marimba-touched exotica paired with pedal-steel country.
This latest installment of the Lagniappe Sessions features Nau solo, in a trio of lo-fi, homemade covers, paying tribute to the likes of the unsung Kevin Coyne, fellow cosmic wanderer Damien Jurado and reggae avatar, Bob Marley, The artist, in his own words, below…

____________________________________________________________________
Michael Nau :: Looking For The River (Kevin Coyne)
About five years back, someone in Raleigh, NC introduced me to Kevin Coyne's music. I've been going pretty deep ever since – there's so much music, so much variety in vibe. This one's the most recent song that I've gotten a bit hung up on.
Michael Nau :: Metallic Cloud (Damien Jurado)
I've been a Damien Jurado fan for a long time. I remember hearing Water Ave S for the first time. Then, all these years later. . .those last 3 records are so good. The consistent quality of work – the openness & ability to go further out, over such a span, is inspiring.
Michael Nau :: Stand Alone (Bob Marley & The Wailers)
This one has such a nice melody. It's seemed to follow me around for a while. I was asked to record a few covers a good while ago – it's tricky. This is a salute.
Lagniappe Sessions Archives / imagery via d norsen