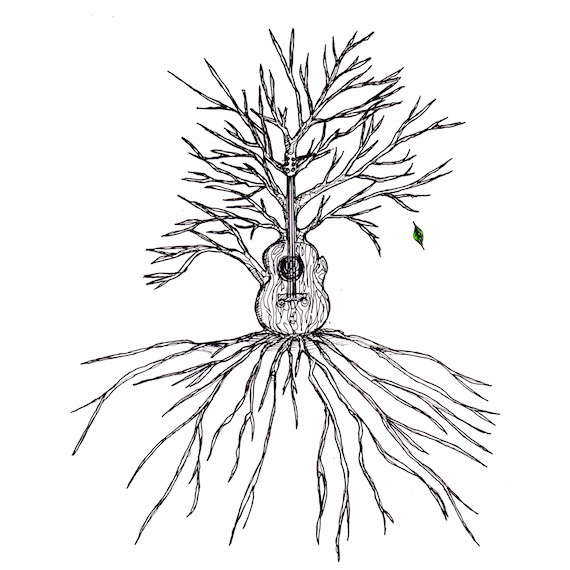 Help keep independent freeform radio alive. WFMU is presently in the midst of its 2016 fundraising marathon. To sweeten the pot Jeff Conklin, host of the weekly program The Avant Ghetto, has put together Songs to Fill the Air – a 12 track compilation of contemporary artists covering the Dead. One of the artists taking part is William Tyler with his take on "Attics of My Life" – which you can hear below, along with his notes on the track selection and WFMU.
William Tyler :: Attics of My Life
As someone who traffics in non-denominational hymns of a sort, albeit without words most of the time, I was drawn to "Attics of My Life." I have always felt that most of the key songs on American Beauty are almost like all purpose hymns that would be appropriate at funerals, weddings, school graduations, and birthdays. "Ripple", "Brokedown Palace", "Box of Rain", and "Attics" fit this model. The Jungian marriage of Dark/Light that the Dead always embodied better than any other band in the world is so stark in these fragile, timeless songs. There's something graceful, unsettled, and truly spiritual in them and they constantly bring me comfort and insight.
WFMU changed my life. When I was in my early twenties, and there was a sort of independent radio graveyard in the Nashville airwaves, I started listening online and I've been devoted since.

Conklin's Notes: The music of the Grateful Dead is near and dear to my heart. Along with the songwriting and the live improvisation of their peak years (68-74), their do-it-yourself approach has been a tremendous influence on how I interact with the industry and what appeals to me in modern artists. Songs to Fill the Air is the latest in a years-long battle to show the Dead's music in a different light. In my mind, all of the artists I asked to participate tap into the mystical, psychedelic America the Dead roamed–a place which may or may not have ever existed. William, and all of the artists featured enthusiastically agreed to use their own time and resources to contribute to the project. The compilation is a gathering to support WFMU's dedication to freeform radio and, in my mind, in keeping with the independent spirit of the Grateful Dead.
1. Bird Song – Lake Mary (Colorado)
2. High Time – Itasca (Los Angeles)
3. Cold Rain and Snow – Chris Forsyth and the SMB (Philadelphia/Brooklyn)
4. Attics of My Life – William Tyler (Nashville)
5. Beat it on Down the Line – Wooden Wand (Kentucky)
6. Mountains of the Moon – PG Six (Hudson, NY)
7. Ripple – Sarah Louise (North Carolina)
8. To Lay Me Down – Meg Baird (San Francisco)
9. Lady with a Fan – Anthony Pasquarosa (Western Massachusetts)
10.Love Scene / St. Stephen – Jon Collin (England)
11. Black Peter – Matt Valentine (Vermont)
12. Jack Straw – Ignatz (Belgium)
The CD compilation is not for sale and can only be acquired with a donation of 75 dollars or more to WFMU. Cover art via Arnold Conklin.
Related: The Lagniappe Sessions: William Tyler cover Ry Cooder, Blaze Foley and more…