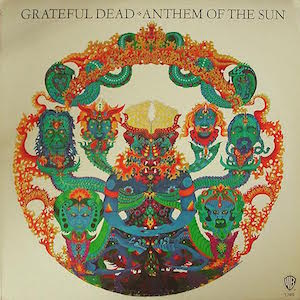 A cornerstone of psychedelic music, 1968's Anthem Of The Sun has long been unfairly brushed off by critics and heads alike. While the group were unhappy with their studio debut (the garage-y, fun, tuneful and downright speedy The Grateful Dead, 1967), they pulled out all the stops for their second release, pushing the patience of both producers and their label along the way.
Not content with merely editing together the lp's individual songs into a seamless suite, the group managed to incorporate both studio and live performances into one seamless whole. It's unclear upon listening what comes from where, and even though I've listened to the album hundreds of times, I'm often struck by how it consistently gives the impression of pleasant disorientation, coupled with a general 'what the fuck is going on here?' sensation.
Early on in the sessions, producer Dave Hassinger quit the project, frustrated and disgusted. Hassinger had notably produced The Rolling Stones and The Electric Prunes; in fact, it was his work with The Stones that spurred the Dead to hire him to man the mixing board. Regarding the initial Anthem studio sessions, which found the Dead cross-country from their San Francisco in New York City, Hassinger was quoted as saying:
"I gave up in New York. We'd been working for a long time on that second album, and they had put down some new tracks in New York, and nobody could sing them, and at that point they were experimenting too much in my opinion. They didn't know what the hell they were looking for…they were going from one end of the spectrum to the other… It was like pulling teeth, until finally I couldn't take it anymore."

The aforementioned experiments included Bob Weir's infamous request that they record 'thick air' – perhaps recorded in the desert – on to the multitrack tape.
Warner Brothers records was not amused, either. President Joe Smith sent the band a telegram stating "…no time for delays or indecision as we must have the package on the market as quickly as possible… Now let's get the album out on the streets without anymore fun and games." The band promptly ignored their label president and hit the road in early '68 with multitrack tape machines in tow. Sound engineer Dan Healy captured dozens of reels of tape, and with the assistance of Garcia and Lesh compiled everything into a stew — a stew that in no way could be described as coherent, but an incredible and inspiring one nonetheless.
No clear explanation has ever been given regarding the 1971 remix of the record as completed by Phil Lesh. The group also remixed their third album Aoxomoxoa at the same time, with results far more dramatic than the treatment given to Anthem. It's not easy to pinpoint the mix differences, but the culmination of side one has a sizable feedback ending as opposed to an echoed vocal refrain. Overall, the remixed album (the only one that was available after '71, until a late-'80's CD issue) seems to be EQ'd to emphasize a bit more low end. Luckily, none of the psychedelic chaos was stripped away, and I enjoy both versions. Drummer Bill Kruetzmann was quoted about Anthem, and his take is rather definitive:
"…Jerry [Garcia] and Phil [Lesh] went into the studio with [Dan] Healy and, like mad scientists, they started splicing all the versions together, creating hybrids that contained the studio tracks and various live parts, stitched together from different shows, all in the same song – one rendition would dissolve into another and sometimes they were even stacked on top of each other…It was easily our most experimental record, it was groundbreaking in its time, and it remains a psychedelic listening experience to this day." words / d see