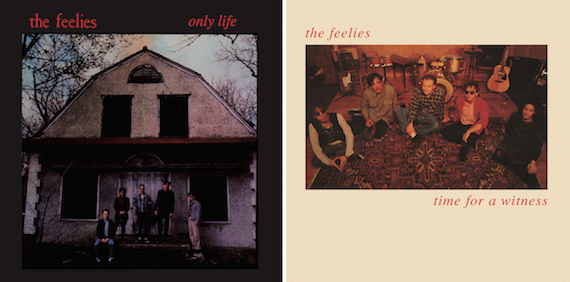 Like so many of their peers, The Feelies made a stab at wider commercial appeal in the late '80s and early '90s. Fortunately for us, this move didn't result in watered-down music. The band's last two LPs (before a triumphant 21st century reunion), 1988's Only Life and 1991's Time For A Witness are classics — perhaps not quite as heralded as Crazy Rhythms and The Good Earth, but classics nonetheless, showcasing The Feelies at their most locked-in and tuneful. Bar/None Records' fresh CD/vinyl reissues of both (with some excellent studio/live bonus material added on as digital downloads) are great reminders of their lasting power.
Upon its release, Only Life undoubtedly gave some longtime fans pause. With a beefed up drum sound, vocals that were mixed above a murmur and glistening guitars, it was certainly far more radio-ready than anything else The Feelies had done previously. But anyone with ears would soon succumb to the album's many charms. Buoyed by a triple-threat rhythm section (drummer Stanley Demeski, bassist Brenda Sauter and percussionist Dave Weckerman), guitarists Glenn Mercer and Bill Million deliver 10 tracks of relentlessly glorious jangle-n-strum. Mercer in particular steps out as a guitar hero, capable of the architectural grandeur of Richard Lloyd's Marquee Moon leads, or the wild abandon of Lou Reed's skronkier solos. Only Life also demonstrates that The Feelies could write a hell of a pop song, whether it's the slinky groove of "Deep Fascination," or the chiming, gentle beauty of the title track (which is given an even more "Sunday Morning"-like reading on one of the recently recorded bonus tracks).
But The Feelies saved their most infectious pop song for Time For A Witness: "Doin' It Again" is a delight every time you hear it, riding a "Roadrunner"-y riff to the heavens. The rest of the album sees the band moving in somewhat more mainstream rock direction — The Feelies had done time as Lou Reed's opening act, sure, but you can almost imagine them in this era winning over a Tom Petty crowd. But there was still room for exploration: one Witness' high point is the lengthy "Find A Way," a slo-mo, psychedelic wonder that's both pleasingly spacey and tightly wound. And the closing cover of The Stooges' "Real Cool Time" is a righteous blast, the seemingly mild-mannered Feelies getting wild and loose in a way that even Iggy would approve of. words / t wilcox
Related: The Feelies :: CBGB — NYC, December 14, 1977
For Heads, by heads. Aquarium Drunkard is powered by its patrons. Keep the servers humming and help us continue doing it by pledging your support via our Patreon page.