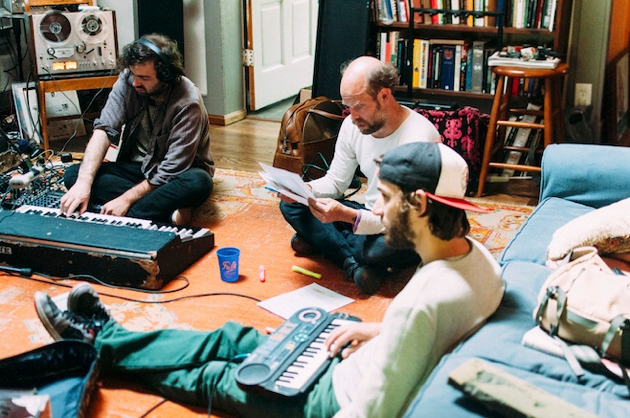 Will "Bonnie 'Prince' Billy" Oldham has a habit of materializing in interesting places: behind the camera, shooting the cover of Slint's Spiderland; behind Johnny Cash, singing background vocals on the Man in Black's cover of his song, "I See A Darkness"; on a tractor in an alternate Kanye West video; in films as quiet and nuanced as Old Joy and in movies like Jackass 3D, which is as subtle as a film called Jackass 3D can be.
Epic Jammers and Fortunate Ditties,  Oldham's new collaborative album with Chicago new age/minimalist outfit Bitchin Bajas isn't an entirely surprising affair — they share a label, Drag City, and a similarly intuitive  approach to folk art — but like those aforementioned instances, his appearance on the LP feels  serendipitous  and magical. To paraphrase  Aquarium Drunkard contributor Tyler Wilcox, the combination of Bonnie and the Bajas sounds like a cult we might be willing to join.
Bonnie 'Prince' Billy & Bitchin Bajas :: Show Your Love And Your Love Will Be Returned
"When I listen to their records and tapes, it's that great thing that you end up having with music you feel a deep connection with: it feels tasty and familiar, like it's somehow already a part of you," Oldham says of the Bitchin Bajas via Skype.
Last year, Oldham invited the band along for a tour of the Midwest.  Following the shows, conversation turned to a potential collaboration.
"We got along beyond levels of just simple conversation," Oldham says. "We got along in practice and aesthetically…the natural progression from there was how we might apply our musical ideas into a shared concept."
Recorded live with the Bajas (Cooper Crain, Dan Quinlivan, and Rob Frye) at Oldham's space in Louisville, Kentucky, with additional recordings and revisions in Chicago, Epic Jammers is the result of that shared concept. Bonnie slides right into the group's celestial drones and cosmic, contemplative tapestries — the long, blissful moments recall the meditations of Laraaji or the peacefulness of Popol Vuh.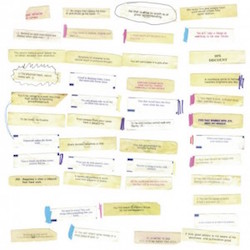 The sessions gave Oldham a chance to confront a challenge he'd been considering:   how to improvise lyrically.  "This is a conundrum I've yet to figure out," he says. "I like to sing. Musically that's where I belong…and yet, I'm also very prone toward the idea of improvisation." While he cites Van Morrison and Patti Smith as possible sources of inspiration, he says "there's no model for a [vocal] improviser." But Oldham knows how to find a sideways approach like few other modern artists.
"[When] I was 16, I was sitting at a dinner table at the Chinese restaurant in Crossroads Mall in Beckley, West Virginia, with a couple of older folks. One of them took his fortune cookie at the end of the night and he put it away. I asked him why he did that. Was that a specifically great fortune? And he said, 'No, I just keep all my fortunes.' From then, that was in 1986, I've kept all my fortune cookie fortunes. So I have hundreds of fortunes. I've always wondered why I keep these fortunes, and when we started to get together for this I thought, 'Oh, this is going to be a good thing.'"
Arranging the fortunes, Oldham used them like a "sample kit," a "palette for words" that allowed him to free associate and melodically improvise, with gentle platitudes at the ready to draw from. The lyrics drift in and out, positive and soothing, but quizzical and curious, too. "May life throw you a pleasant curve," Oldham sings. "Show your love and your love will be returned," he whimsically  advises. Coupled with the Bajas' mystic tones, the platitudes take on a warm resonance beyond their humble origins, like  the cat from one of those  "hang in there" motivational posters climbing out of its tree  to purr in your lap.
"Music is, I think, meant to placate, complete, disrupt," Oldham says. "It's meant to be a part of psyches that are already pretty much formed but will be incessantly incomplete until death. I like that idea that the thing that I need most is some sort of accepting, comfort, and acknowledgment that things are unclear, but that one is not alone in experiencing this lack of clarity." | j woodbury
Only the good shit. Aquarium Drunkard is powered by our patrons. Keep the servers humming and help us continue doing it by pledging your support via our Patreon page.