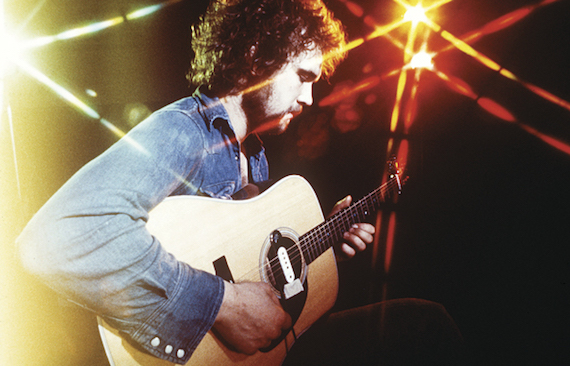 "Woodstock's the best place I've found so far. I detest New York, but upstate it's OK." (John Martyn in Melody Maker, 1970)
By the end of 1968, future psych/folk-jazz icon John Martyn was at an impasse, creatively, personally and professionally. His first two albums – both very folky, largely solo, British-sounding affairs – had flopped, he was tired of London, and had yet to find his own voice. Changes would soon come, however, in the form of another young folk/blues singer named Beverley Kutner and a temporary relocation to Woodstock, NY, a hotbed of counterculture.
Martyn met Kutner, a protégé of producer Joe Boyd, at a shared gig that winter and the two soon fell in love. By the time Boyd had scheduled early summer 1969 sessions in New York for her first solo album, Kutner and Martyn had moved in together, gotten married, and written a batch of new songs. These new numbers were markedly different for Martyn, and were influenced by his current favorite album, the Band's Music from Big Pink. For John, the Band's very American, rural songs were a signpost to something else beyond the limitations of London's incestuous folk community.
Serendipitously, Boyd had rented a house for the pair in Woodstock, the birthplace of Big Pink, for album rehearsals. Keyboardist and arranger Paul Harris, bassist Harvey Brooks, and drummers Billy Mundi (Zappa's Mothers of Invention) and Herbie Lovell would fill out the band. Beverley insisted that John be a major part of the recording, and what was initially to be a solo album soon became a duo project. Though he had agreed to hire Martyn on as backing guitarist, Boyd was not enthusiastic about the prospect, having heard stories of Martyn's oft-difficult personality. And the producer had reason to be cautious, for when it came time for recording in New York City, the headstrong Martyn (still only 20 years old at the time) and the more experienced Boyd reportedly clashed, creatively and otherwise.
John & Beverley Martyn :: John The Baptist
Conversely, the time spent woodshedding in Woodstock was idyllic and eye-opening for Martyn as the artist colony was buzzing with creativity. John and Beverley's neighbors were the actor Lee Marvin's girlfriend and Jimi Hendrix ("He used to arrive every Thursday in a purple helicopter, stay the weekend, and leave on the Monday. He was amazing…a good lad", said Martyn). Bob Dylan lived down the road, and was recovering from his infamous motorcycle accident. The Martyns bumped into him at a benefit concert they were asked to perform at in Woodstock for Pete Seeger's Hudson River Sloop Clearwater. According to Beverley in Lee Barry's Martyn bio Grace and Danger, John flew into a jealous rage when he came upon Dylan and Beverly talking, though Martyn says in a Melody Maker article a few months later, "It was a treat to see him alive and well; he seemed really beautiful".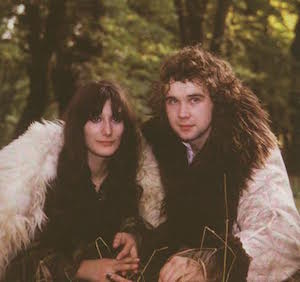 Dylan had been an idol of John's, but of more importance to him was the opportunity to work with the Band producer John Simon (who played harpsichord on Beverley's "Tomorrow Time") and drummer Levon Helm, who he met after arriving in Woodstock. An enduring friendship would be struck between Martyn and Helm: "He was the first one to ever show me a watermelon. Me and my young wife were very innocent – he appeared with a melon the size of a house and a knife and a beard down to here. I thought, 'Is he taking the piss or what?' But he was genuine and I love him for it — Levon was the first piece of American truth I had seen walk through the door. He was friendly, sweet and decent." Helm would play on "Sweet Honesty" and "John the Baptist." His deceptively loose style, influenced by jazz, R&B, and soul as much as country, lends a swing previously missing from Martyn's work, which would find a natural progression in the increasingly folk-jazz oriented direction Martyn would soon make his own. On "Woodstock", a paen to their time there, Martyn sings "The band plays country cool and sweet / Everywhere you go" which could easily be heard as "The Band plays country cool and sweet…", perhaps a nod to Levon and the boys.
Stormbringer! was the resulting album, and it's earthy; steeped in the rhythms and feel of the Martyn's rustic   upstate New York surroundings. "I enjoyed making that album a lot. That was really one of the finest hours because I think it surprised everybody. I think they were expecting some little folky album to come out and it came out with a lot of bite. It was just a little bit ahead of its time I thought", he said in 1974. That bite came from Martyn's new-found confidence working in a different, exciting environment, with a seasoned cadre of American musicians. Martyn felt he was finally being taken seriously.
John & Beverley Martyn :: Woodstock
Stormbringer! was indeed ahead of its time, as the seeds of what would come were sowed on the lp's final track: "Would You Believe Me" contains Martyn's first tentative steps with the echoplex guitar delay unit, here still nestled in a relatively structured folk rock song. Explorations with the echoplex would be integral to his music for the next decade, and this track — put together initially in Woodstock – served as the launching pad for a new sound rooted in the country, but aiming for the cosmos. words / r caldwell