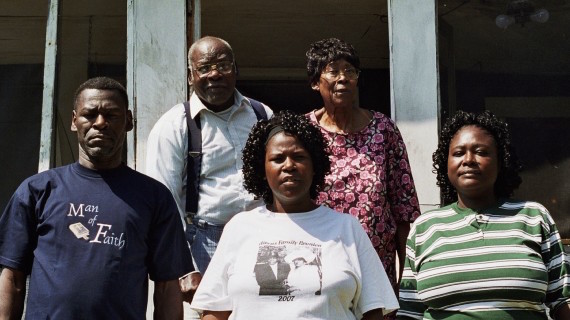 In the mid-2000s producer Michael Reilly joined a group of friends — most of whom worked as music supervisors for television and film — on a trip to the South, guided by advice from the staff at the Alan Lomax Archive. One of those places visited was Como, Mississippi, near the heart of the Mississippi Delta. home to a thriving musical culture which Lomax himself documented in the '50s. The trip yielded more than Reilly ever expected. Since 2008, he's released gospel music recorded there via Daptone Records:  a 2008  compilation, Como Now: The Voices Of Panola Co., Mississippi  and in 2013, the Como Mamas'  Get An Understanding,  and now  Panola County Spirit,  a collection of soul stirring a cappella gospel from the Walker Family singers.
Walker Family Singers :: Jesus Gave Me Water
It was the Mamas who pointed Reilly to the Walkers.
"[The Como Mamas] were a little shocked we thought they were so incredible," Reilly says. "They said, 'This is just how people sing down here.' Over a year or two, every time I would talk to them they'd say, 'If you think we sound good, you should check out the Walkers.'"
So Reilly sought out the Walkers, led by Brother Raymond Walker, who in his youth  turned down the chance to tour with Fred McDowell and Sam Cooke in order to stay on his sanctified path. Along with his wife,  Sister Joella Walker, he raised a family, and all but one of their children sing with them: their daughters, Alberta, Patricia, and Delouse, and their sons, Robert and Bobby. All appear on  Panola Country Spirit,  recorded by Reilly in the Walkers' living room in 2007.
"I grew up around nothing but singing," Elder Robert Walker says via the telephone from Como. "[My family was]  singing before I was born."
Raised in the gospel tradition, the songs on the album constitute "all we ever knew," Walker says.  "I grew up with them songs. I really didn't have to learn them. If something stays before you long enough you're going to catch on anyhow.  They really stick in your subconscious."
The record is bare and essential. Wrapping their voices around old hymns like "Jesus Gave Me Water," "Chilly Jordan," and the rollicking "Leave That Liar Alone," the Walkers sing unaccompanied save a spare clap or foot stomp. Initially, Reilly sought to record the Walkers at their semi-annual gospel revue, but the wild festival atmosphere didn't capture what he was after. He asked if he could record them at their home. They agreed, and what Reilly documented thrilled him.
"I was giddy," Reilly says. "We stayed in a hotel in Memphis that last night, and I just listened to it over and over again."
The record brims with evangelical zeal — hear the powerful message of "Living Testimony" — but it also feels deeply intimate and powerfully personal. The Walkers' voices sound close. When Patricia sings solo, on the moving "Make Me Real," it's  nearly unbearably splendid. You can feel  her voice imminently, sensing  the spirit with  which each line is delivered.
"It is personal," Walker says of the family's singing. "What it really sums up is the gift we have and the means necessary to share that and get it that out. You go to extreme measures to try and get it beyond the four walls…That was my drive, my purpose: to get my dad out of the circle of Panola County, Missisippi and share him with other people."
The younger Walker says that while gospel music has continued to grow and evolve. He's a fan of full instrumentation and the dynamic presentation of an electric band, but he understands why the simple, sparse recording style appeals to listeners.
"It's all about expressing praise and glory to God," Walker says. "That's the number one thing. This kind of musical ministering is in his family's DNA, he explains. "[I wanted to find] the means and the ways to get it beyond this community. It seems unfair to possess or have a gift so precious that you can't get it beyond a barrier that other folks can enhance or enjoy."
The album is a beautiful testament to the family's dedication to the good news, stretching back eight decades, influencing his father's decisions not to travel off singing the blues or other secular sounds. But Walker says that even so, his family's songs are from the same family as blues and soul, from the same continuum of black American music.
"We were brought up strictly to be betrothed to God, not to deviate," Walker says. "That takes you back to Matthew, the sixth  chapter, the 24th  verse: 'No man can serve two masters, either he will hate one and love the other, cling to one and despise the other.' You can't serve God and man. But you would get the same enjoyment if we sat down and sang gospel songs as you would if we called it blues."
It's music of the same fabric, Walker says. "It's heart and soul touching." words/ j woodbury