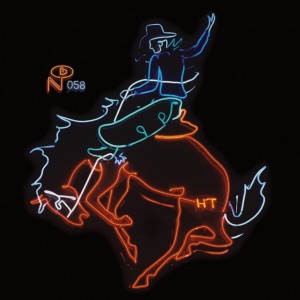 So, that whole "cosmic American music" thing.
What exactly was Gram Parsons getting at when he first muttered it? Each element of the term is loaded — the cosmos are awful big. So's America. Did Parsons mean country music okay for hippies to dig and play? Rural music as informed by grass as the dirt? A melange of uniquely American musics: soul, R&B, folk, blues, western swing, and rock? Did the Flying Burrito bro mean for it to become an idea bigger than him, a sort of ambiguous legacy left behind after he space cowboy-ed his way up to the big western in the sky?
It's the ideas Gram inspired and that famous quote which give Numero Group's excellent new compilation of private press country rock gems its name. Don't get hung up on "cosmic American music" as a genre. Like "country funk" or "loner folk/psych," you can spend many enjoyable hours debating exact definitions. Ultimately, it's less about specifics and more about feeling. The songs on Wayfaring Strangers: Cosmic American Music help draw a picture of what Gram might have meant. They're rurally rooted, often soaked in pedal steel, but not confined by strict adherence to anything other than good grooves. Most were created outside of the Nashville machine, issued on fledgling labels or the artists themselves.
Under this particularly open banner, there's lots of room for diversity. Kathy Heidiman's perfect "Sleep A Million Years" sounds the way the McGarrigle Sisters might had they jammed with Commander Cody and his Lost Planet Airmen; Angel Oak's gorgeous "I Saw Her Cry" sounds like a less sinister John Phillips' outtake from Wolf King of L.A.; Kenny Knight's sly "Baby's Back" could find a home on a Tony Joe White record or, if someone stepped up on a stomp box, even a mid-70s LP by ZZ Top. It's good stuff. Things get sad — hear the weeping harmonies of White Cloud's "All Cried Out" —  and they get sexy, like on Ethel-Ann Powell's smooth come on "Gentle One."
Some of the songs get spacey, some not so much. But the records collected here share a spirit, a homespun vibe. Mostly, they sound like songs that would work well  in a bar on any given night, the kind of barroom Mike and Pam Martin sing about in their great cut "Lonely Entertainer." You get the sense these two weren't concerned with psychedelia or the cosmos the way Gram might have been, but their song still taps into the mystic vein beneath the mundane. "Every song I sing begins to sound the same," they harmonize. The line resonates in ways they never knew it could, or always knew it would. words / j woodbury