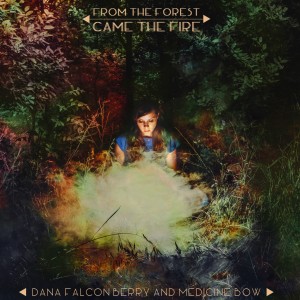 "What good that mounting sky for the grounded such as I?"  Texas-based singer/songwriter Dana Falconberry sings on "Dolomite," from From the Forest Came the Fire,  her new LP with her band, Medicine Bow.
The album is filled with this kind of query, about nature, Falconberry's relationship to it, and her persistent awe in the face of its overwhelming state.
On the record, Falconberry sometimes recalls the haunted tone of Sufjan Stevens' Seven Swans or the ornate complexities of Joanna Newsom, with whom she shares some vocal inflections. But like those two, she's quick to expand outward from her folksy roots in singular ways, employing progressive rock arrangements on the knotty "Snail Shells," sock hop textures on "Calling Mountain," and percussive ambiance on the beautiful "Powerlines," with producer Jim Eno dubbing out clattering loops under Falconberry's swooning melodies.
The songs here embody a kind of patience, a steady forward motion, no doubt linked to the songwriter's time backpacking and exploring National Parks. "I used to see natural beauty more for its face value, and now I'm more interested in the mystery [of] the unseen," Falconberry told Rookie Magazine. "I like to imagine stories about the trees and rivers and mountains, using those natural elements more as characters instead of settings."
On the stately "Alamogordo" she dives into these mysteries, examining the destruction and rebirth inherent in a forest fire. "Wait for a call to fit the fire, some elemental noise," Falconberry sings, spookily. It's those kinds of noises she's captured on this wonderful album. words / j woodbury