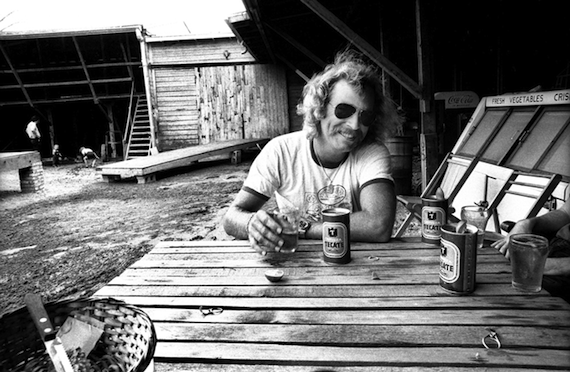 Before Jimmy Buffett became a corporation, he was a rangy and somewhat ragged country-folk singer/songwriter living a low finance life, still discovering his marketable Margaritaville persona. One of the projects he worked on in those early 70s Key West days was the soundtrack for a now mostly forgotten, but oft-times beautiful impressionistic fishing film / hippie travelogue called Tarpon.
At the time, Buffett was hanging out with a group of fellow cosmic American artists, all in search of fun and adventure. These included writers Tom McGuane, Richard Brautigan, and Jim Harrison, painter Russell Chatham and film makers Guy de la Valdene and Christian Odasso (Odasso had recently completed We Have Come For Your Daughters, which followed a 154 person bus and truck tour spreading "the gospel of flower power" throughout the U.S.). In a 1986 posthumous article about Brautigan in Rolling Stone, this group was described as a loose collective of "rough cut, highly competitive male artists."
And though they were competitive, there was an overriding camaraderie among the men — evident in de la Valdene's and Odassos' Tarpon film. Tarpon is a fishing film in the same way John Lurie's surreal early 90s Fishing With John series is about fishing. The sport is partly a vehicle to explore larger philosophic questions and reflect on nature and humanity.
Tarpon :: Soundtrack Excerpt One
Buffett's soundtrack is low-key, laid back country akin to the textures on his albums of the time – A White Sport Coat and a Pink Crustacean, Living and Dying in ¾ Time, and A1A — but all instrumental. The music accentuates the cinema verite / pseudo-documentary nature of the film. The hippies, the tourists, the grizzled old salts; atmospheric, moody shots of fly fishing in the sub-tropical heat and giant tarpon jumping in the scattered sun (bringing to mind the cinematography of Peter Fonda's 1971 The Hired Hand). Informal interviews with McGuane and Brautigan are highlights, Brautigan's in particular as he expounds from a hammock, one of the only existing instances of him ever captured on film.
It's not all existential mellowness, however. In a particularly brutal and jarring sequence, a deckhand on a tourist excursion fishing boat wears a "shark killer" t-shirt and seems to take perverse pleasure in clubbing small sharks to a bloody death while the passengers watch uneasily, not sure whether to laugh or look away.

Though Buffett was around during filming for Tarpon, he only appears briefly, with a small group looking at salvaged pirate treasure. Another short but welcome cameo is by cult folk musician Gove Scrivenor strumming an autoharp on a sunny porch.
de la Valdene and Odasso took their 60+ hours of footage to Paris and spent the summer of 1974 editing it down. Harrison and Buffett joined the crew to view the rough cuts for musical inspiration and in Harrison's case, to provide narration. As Buffett recalls in his eulogy for Jim Harrison (who died in March of this year), the first of the famous soft-porn Emmanuel movie series was being edited next door ("We said 'Boy, this is going to be a lot better than our fish movie!'") Buffett and de la Valdene returned to the U.S. and did the music for Tarpon in Nashville in one day. The musicians are uncredited, but may have been Buffett's Coral Reefer Band, or else were session players. Regardless, they ably capture the "gulf and western" feel of the compositions.
Yet, Tarpon died belly-up before it had a chance to be landed. It was too experimental and unique to attract studio backing for widespread release and only a few below-the-radar showings resulted, before it eventually surfaced on DVD through UYA Films and fishing website MidCurrent a few years ago.
Tarpon and its soundtrack exist today as a window on a Florida Keys time and lifestyle that's become almost mythologized. More than a curiosity, it's an accomplished piece of film making and shows a down-home sun and sand world that Buffett built a career on. | r caldwell
Tarpon :: Soundtrack Excerpt Two
Aquarium Drunkard is powered by its patrons. Keep the servers humming and help us continue doing it by pledging your support via our Patreon page. For heads, by heads.