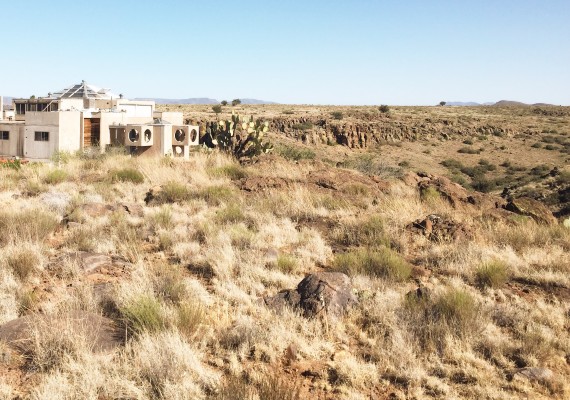 Sunday evening, just before the sun set over Arcosanti, the experimental city  founded by the late "arcologist" Paolo Soleri in the 1970s in Arizona's high desert, Bill Callahan and his band took the stage in the beautiful amphitheater. Quietly — as is Callahan's way — the combo began playing an elegiac version of Prince's 1992 jam "Money Don't Matter 2 Night."
"If there's any place Prince could hear us, we figured it was here," Callahan intoned.
The setting, with a steady breeze rustling overhead, was perfect. It's no mistake that this place, with its ornate domes and ancient-future feel, was chosen by electronic group Hundred Waters as the site of its FORM Arcosanti festival. A beautiful drive up the Black Canyon Freeway, an hour north of Phoenix, the third annual festival was stretched over a weekend in May, featuring sets dispersed throughout Arcosanti's theaters and incorporating non-traditional performance spaces: Bing & Ruth composer David Moore played a grand piano on the edge of a cliff, the wind coursing through cypress tress adding a sonic layer his rippling, minimalist arpeggios; Four Tet and Skrillex collaborated deep in a canyon, on the colorful Elestial Stage.

Arcosanti's history is intertwined with music, and not always for the best. In 1978, a fire broke out at a festival featuring Todd Rundgren's Utopia, Richie Havens, and Stephen Stills, damaging some 180 cars parked there and justifiably putting the caretakers off from hosting live music. But the FORM festival, launched in 2014, is nothing if not conscientious. It's free, but only to attendees selected via an application process, sponsored by corporate patrons like Beats and WeTransfer, and on-site campers are encouraged to clean up, recycle, and respect the facilities, which house on-site craftspeople responsible for creating the bronze bells for which Arcosanti is known.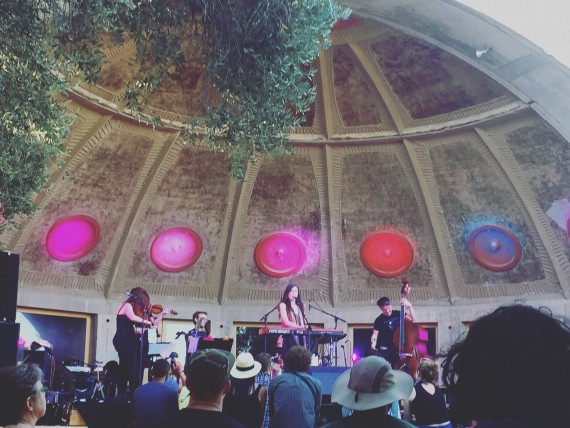 The lineup incorporated a mix of popular electronic music with a diverse roster including avant-garde poet Saul Williams, post-rock outfit Tortoise, art popper Julia Holter, experimental rock band Son Lux. It leaned heavily toward contemplation, with early morning yoga and on-site art installations, and its best moments were meditative, like ambient composer Christopher Willits' set, his treated guitar and drones mingling with bird calls.
"I'm worried you were at your generation's version of Bohemian Grove," my conspiracy-minded buddy joked, chuckling at the "cultish" vibe and the abundance of especially fashionable young people in attendance. But for every snarky laugh you might glean from some dude dressed as a Flash Gordon  extra, there was someone genuinely in awe of the Sonoran's charms or lost in the soundscapes of Canadian songwriter Lydia Ainsworth, whose set in the Apse theater blended Cocteau Twins-atmosphere with cinematic strings. FORM — like Arcosanti itself — is not constructed with cynics in mind.
On a personal level, Callahan's set was hard to beat. Though his country soul sound was something of an anomaly among the mostly electronic acts — he was the only guy shouting out C-3PO and Mickey Newbury on stage —  his slow motion approach fit in, with one line from "Drover," from his 2011 masterpiece Apocalypse,  working out particularly well in the sagebrush setting: "One thing about this wild, wild country/It takes a strong, strong…it breaks a strong, strong mind."
In contrast to Callahan's patient unfurling but just as exploratory, bassist Stephen "Thundercat" Bruner (who's also got an Apocalypse LP to his name) led a trio featuring kinetic drummer Justin Brown and keyboardist Dennis Hamm. The combo explored bucolic soul jazz, and Bruner's complex, knotty bass playing never detracted from the feel and groove of his songs. When he steered the group into his 2015 hit "Them Changes," the crowd instantly stood and danced, and the wide smile on Bruner's face indicated how exuberant the event felt for performer as well as audience.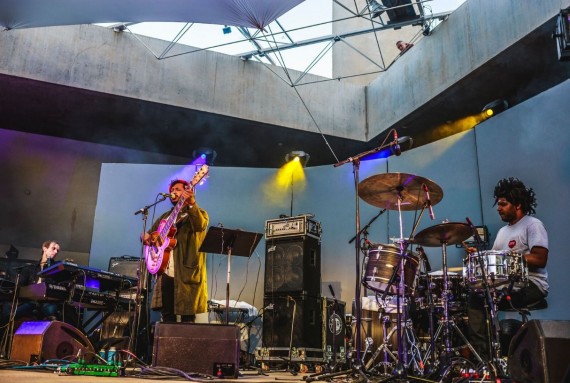 On the FORM website, the landscape of Arizona's desert is described as "alien." And while that might sound hyperbolic, it's accurate enough, even to someone who's lived here all his life. Like another sustainability-minded festival, Pickathon, which integrates itself into the framework of Pendarvis Farm in Oregon, FORM is built around its environment and doesn't impose on it.
Soleri passed away in 2013, but his concepts, and the mission of his "urban laboratory" — focused on ecological accountability and "experiential learning" — continues on, interpreted by young people via events like FORM.
"The coherence found in human development could be that we have reached the point where we understand the appearance of self-awareness is one of the most incredible things that's happened in the universe," Soleri once said in an interview. "So slowly we are developing some kind of responsibility to do in the universe what it has allowed us to do." words / j woodbury
Thundercat photo by Ian Clontz; Julia Holter and Arcosanti photos by author
Listen to Aquarium Drunkard's Arizona mixtapes:  
Old Gold: Sonoran Country, Garage Blues, Pop, Soul, and Avant-garde from Arizona 1951-1971
Range And Basin: Sonoran Roots, R&B, And Hard Rock 1966-1978