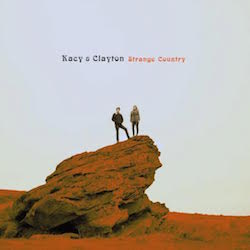 Kacy Anderson and Clayton Linthicum are second cousins, barely past the legal drinking age in their rural home, and have been playing music together for over a decade. Their music is steeped in the traditions of Southern Appalachia, the British Isles, and their Saskatchewan homeland, yet it is wholly forward-looking. Their recently released third full-length is a monumental leap forward for the duo, and one of the finest Canadian folk albums in decades.
Front and center on Strange Country is Kacy's subtle and twisting voice and Clayton's fingerstyle guitar. Her voice reminiscent of many others–yet completely unique–and his playing as tasteful and versatile as it is virtuosic. Shuyler Jansen's production is expert and unobtrusive–always letting the two speak for themselves. Arrangements for songs about murder, jealousy, and infanticide are augmented with an occasional rhythm section, well-placed effects, and a bevy of other instruments.
Unlike their earlier work, Clayton joins his cousin on vocals for a large portion of the album, and Strange Country is mostly originals–each as timeless as the three traditional songs they take on. "Seven Yellow Gypsies" is the best of the traditional bunch, with their rollicking version faithfully paying it backward to Shirley Collins. Closer "Dyin' Bed Maker" offers a glimpse of where the duo might be headed–Clayton's pendulum-like playing anchoring Kacy's hypnotic voice and swirling strings.
The heirs to Canada's abdicated folk throne have truly arrived. Long may they reign. words / k evans

Kacy & Clayton :: Seven Yellow Gypsies
Kacy & Clayton :: Dyin' Bed Maker