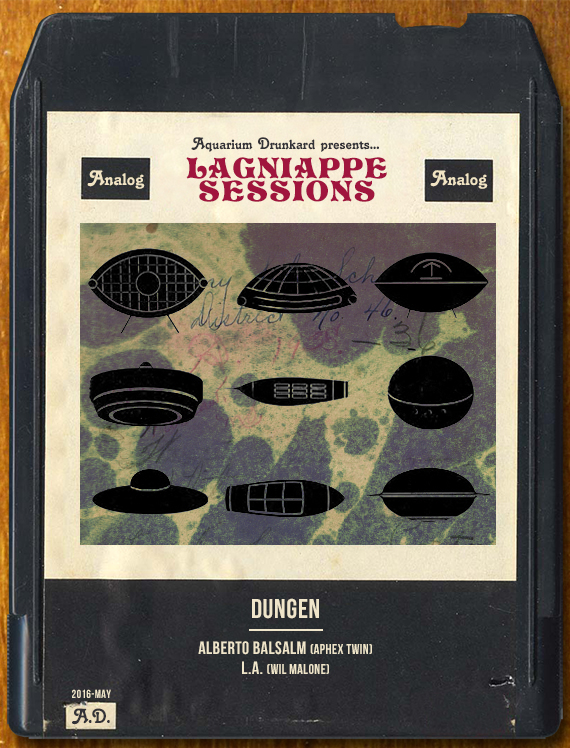 Lagniappe (la ·gniappe) noun 'lan-ˌyap,' — 1. An extra or unexpected gift or benefit. 2. Something given or obtained as a gratuity or bonus.
The Lagniappe Sessions return with Dungen whose 2015 lp, Allas Sak, remains one of our favorite releases of the past year. Below, the group take on the underknown Wil Malone composition, L.A.; appropriate as the session was recorded by Josh Conway in Atwater Village while Dungen were in town touring behind Allas Sak. Next up is a reimagining of Aphex Twin's – "Alberto Balsalm", originally found on 1995's …I Care Because You Do. An organic take that does Richard D. James proud.
Dungen, on their selections, below . . .
Dungen :: L.A. (Wil Malone)
Wil Malone is still something of a hidden treasure. He is mostly known for his string arrangements for artists such as Massive Attack, The Verve and others but also for scoring film-music. In the late 60s and early 70s he recorded a lot of "demos", mostly where he played most of the instruments himself. He also made an amazing folk-pop record, now ultra-rare, and also created the more progressive outfit "Motherlight". This track is taken from the un-released second album from 1970/71, also recorded by his group Orange Bicycle. We hope our version gives it some kind of justice. Going to an L.A.session and also ending the last tour in the US the very same day, this song finally made it as an obvious pick for us. – Reine Fisk
Dungen :: Alberto Balsalm (Aphex Twin)
It's a all time classic for me. My elder brother and his friends were arranging raves in the mid 90s and Aphex Twin was one of the gods, and still is, for us. – Gustav Ejstes
Lagniappe Sessions Archives / imagery via d norsen