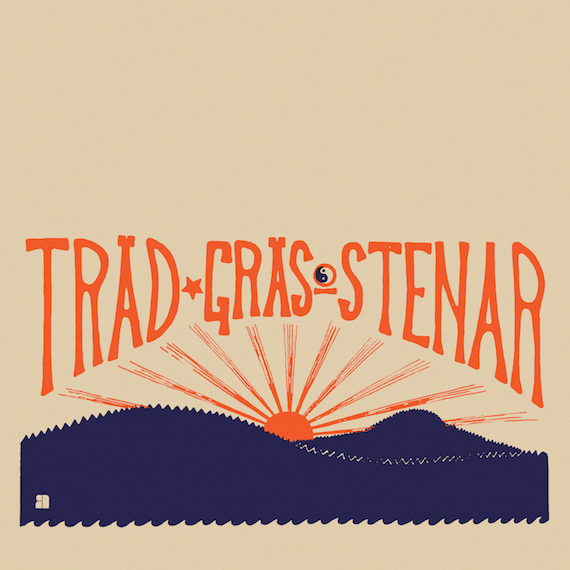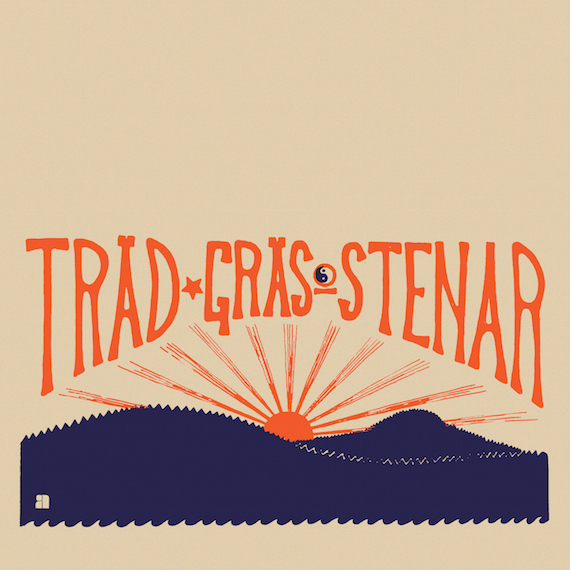 In the early '70s,  progressive rock band Trî¤d, Grî¤s & Stenar emerged from the Swedish "New Left,"  part of the counter cultural "music movement,"  bearing a unique sound with elements of  Swedish folk, Bay Area psychedelia, the minimalism of Terry Riley, gutsy  American R&B and blues, and the British rock inspired by it.
Formed in 1969 after Bo Anders' previous groups  Pî¤rson Sound and International Harvester ended,  TG&S recorded an excellent self-titled studio album, but like their counter parts on the American West Coast, the Grateful Dead, the group's power was best exhibited in a live setting. In the interest of documenting the group's in-concert power,  Anthology Recordings released a tremendous box set earlier this year, featuring three documents of that live wildness: 1972's  Djungelns, '73's Mors Mors,  and  Kom Tillsammans, featuring previously unreleased material recorded in '72.
Often,  the group's live sound is droning and mantric, group vocals tangled up with steady rhythms and repeated riffs, but sometimes it melts into pure blues-driven freakout mode. Even when the band approaches conventional pop material, like their cover of the Stones' "The Last Time," it's stretched and mutated. The group's sound wasn't  necessarily one  of direct political action; in the liner notes, bassist  Torbjî¶rn Abelli writes: "We were invariably criticized by the representation of the orthodox Left: 'Why aren't you out there protesting? The masses are listening to you — and all you can do is sing about the MOON!?'" But it was the sound of a kind of rebellion, a "ritualistic battle cry" for freedom, Abelli writes.
Trî¤d, Grî¤s & Stenar :: Sanningens Silverflod
Aquarium Drunkard reached out to  Trî¤d, Grî¤s & Stenar guitarist  Jakob Sjî¶holm for insights into the group's influences, progression, and the Swedish counter culture of the late '60s/early '70s. Like the band's legendary live sets,  Sjî¶holm's answers flowed in unexpected directions.
Aquarium Drunkard: Where did your interest in music start?
Jakob Sjî¶holm: The first memory I have is from when I was three or four years old…my uncle used to come and visit us in the countryside during summer and there was an old harmonium he used to play and sing old Swedish folk songs on. I was completely spellbound by this and never wanted him to stop playing. He visited us every year and that was always the highlight of the summer for me.
AD: What were the circumstances behind you joining Trî¤d, Grî¤s & Stenar?
Jakob Sjî¶holm:  [Pre-Trî¤d, Grî¤s & Stenar group] International Harvester was a band, but also a collective of different artists. As an example, we had a performance installation at the Pistolteatern [a theater] in Stockholm in 1968 where we used music, painting, photography, films, theater etc. I was [initially] involved in this larger Harvester collective, [which grew into  Trî¤d, Grî¤s & Stenar].
AD: With Trî¤d, Grî¤s & Stenar, you embraced American and British rock — covering the Stones and Dylan (via Hendrix) — but the band retained a connection to Swedish folk. What precipitated your inclusion of more pop-focused sounds?
Jakob Sjî¶holm: This is difficult to say. When you create music the way we do it it comes from the subconscious, it just sort of unfolds without us being fully aware of it. I'm sure there are many theories and explanations one could put forth, but I don't think it's healthy to dig too deep; there's a risk that it would slow the growth of what's about to start happening — I think things need to grow and flourish on their own without too much outside influence.
AD: The material collected and reissued by Anthology — Djungelns, Mors Mors, Kom Tillsammans — comes from a very fertile period in the early '70s. These live songs are sprawling and seem largely improvisational. Can you tell me about your influences as far as live performance? What about improv jamming appealed to you?
Jakob Sjî¶holm: As a teenager in the mid-1960s, I saw several American blues artists. There would be these package tours that would come once a year, later on there was a Stax tour with Sam & Dave, Otis Redding, and Wilson Pickett. And of course there was the British invasion: Rolling Stones, Who and Small Faces…
AD: Obviously you were familiar with Western music, but were you specifically familiar with the psychedelic scene of the Bay Area (the Grateful Dead, Quicksilver Messenger Service, Jefferson Airplane)? Were those bands an influence?
Jakob Sjî¶holm: We somehow felt spiritually connected to the Bay Area psychedelic scene. We did feel connected to a lot of different movements all over the place, but perhaps it was mostly the U.S. West Coast… it all seemed new to us, that the world started to seem smaller, more connected, in a way that hadn't happened before. I remember that Bo Anders was really into Country Joe and the Fish at the time. (As an aside, Harvester did once open for the Doors when they played in Stockholm in 1968.)
AD: What was the Swedish counter culture like? How did Trî¤d, Grî¤s & Stenar fit into it?
Jakob Sjî¶holm: Something we in Sweden came to call musikrî¶relsen  (The Music Movement) got its start during this time, 1968 or so, which was an idea about a sort of an artistic co-operative. It was a loose network of bands, labels, venues, distributors, etc, and all this made it easier for bands to find places to play and get their music heard. Within this movement I guess you can say there were two main directions: the political and the non-political.  Trî¤d, Grî¤s  probably belonged more on the non-political left side, but we were very concerned about our dependence on and the health of the environment and nature. We had no direct or clear political messages in our lyrics.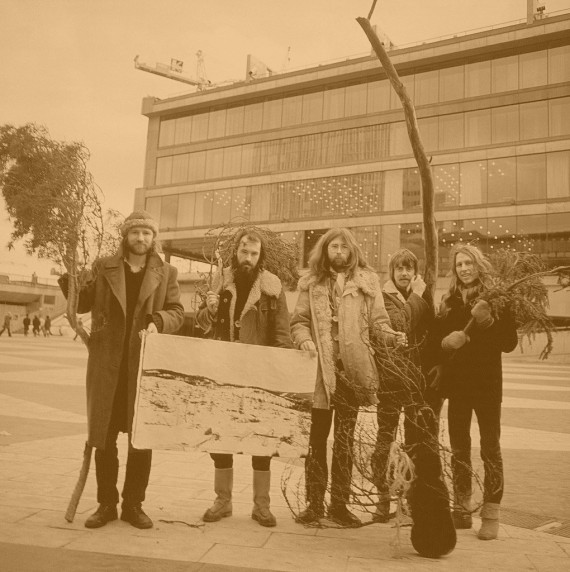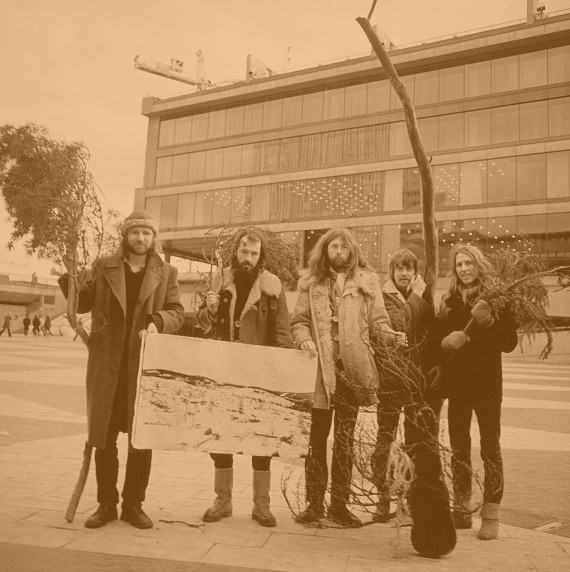 AD: What kind of places were you favorite to perform? Bars, venues, outdoor festivals?
Jakob Sjî¶holm: We played everywhere we could – there weren't too many "venues" back then. Also, in Sweden — due to bureaucratic liquor laws — there were no bars where you could play, but through the musikrî¶relsen movement we were able to create spaces, happenings, events, small festivals here and there. We were enthusiastic about this, and very much involved. We played all over the place, in towns big and small, and hardly ever for more than some gas money in return. We crashed on people's floors to keep the costs down, and that way we got to know a lot of people across the country pretty closely, which in turn meant that more people would come see us the next time we visited. The larger network grew organically this way.
AD:  Can you tell me more about importance of nature in the artistic process of Trî¤d, Grî¤s & Stenar? Did the name of the group — which translates to "tress, grass, stones" — reflect that?
Jakob Sjî¶holm: I'm pretty sure it was Bo Anders who came up with the name. Nature, and the environment has always been a key component to this band, sometimes almost bordering on the religious…. the way us humans look at patterns and interdependency and how these things are connected to all of nature — all this is evident, if one takes the time to look closely enough.
AD: The connection between the band and the audience was of high importance to the early formation of the band. Was it difficult to maintain this connection as the music grew louder?
Jakob Sjî¶holm: The relationship between the band and the audience has always been the basic foundation — it's how we were able to create music. As more people started showing up and we played on bigger stages this became harder to achieve or maintain, the physical distance between us became greater, but it probably didn't have that much to do with the music getting any louder. We always played pretty loud, it sounded so much better with over-driven guitars, which also meant you could hang on the notes, which in turn carried the music.
AD:  As that distance became greater, how did you work to maintain a connection  to your listeners?
Jakob Sjî¶holm: By continuing to be curious about the people we would encounter, just like in your normal every day life: you meet people and you become interested in them and curious about how life unfolds around you
AD: Trî¤d, Grî¤s & Stenar became an active band again in the 2000s. Has the attention paid to the group surprised you?
Jakob Sjî¶holm: We were of course surprised, as well as happy. It meant we could continue to play and meet people and travel around the world — a rare luxury, a blessing. words / j woodbury