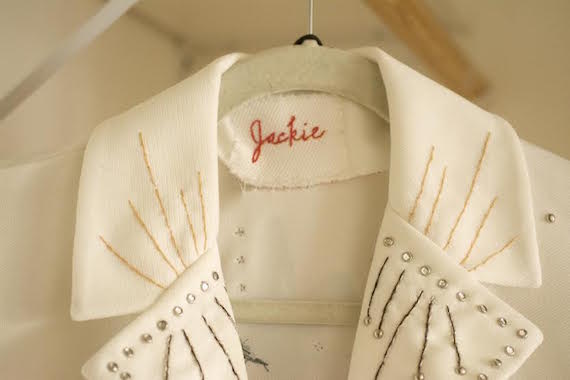 Haley Fohr is primarily known for her project Circuit des Yeux, an experimental pop vehicle propelled by Fohr's distinct vocals and dramatic, operatic lens. An intriguing artist, she's doubled down with her new project, Jackie Lynn, out now via Thrill Jockey. A concept album recorded in collaboration with Cooper Crain of Chicago's Bitchin Bajas and CAVE, the record is centered on a fictional titular character, a debutante runaway, known for her lavish parties. On the lam from the cops, the only evidence Lynn leaves of her existence are scant traces of cocaine and this enigmatic LP.
A quote from Lynn reads: "I've always been the source of action. My mom didn't even make it to the hospital before I decided to come into this world. She had to lie right down on the sidewalk in front of Rolling Hills Hospital as doctors hovered around to help. It was storming that morning, and right as I was coming into the world a bolt of lighting fell from the sky, striking my mother right in the belly. They say I shot out of her like a bullet from a gun, right into oncoming traffic."
The musical and conceptual results are intoxicating – a late-night narcotic pulse bordering on hypnotic bliss. Fohr's deep, androgynous croon brings to mind contemporaries such as Ela Orleans, Daughn Gibson, Molly Nilsson, and the equally enigmatic (and missing!) John Maus.
There's some Suicide in there, too, and on album highlight "Chicken Picken," a taste of Waylon, Wanda, the Velvets, Lee Hazlewood, and a whole slew of other gold-hearted sinners. In a way, it feels like a sort of spiritual sequel to "I'm Waiting for The Man," offering a glance from the other side, as Lynn boasts: "90 bucks a gram/daddy wont every understand how I'm living so good…cause I got freedom in a bag/party starts at 8/don't worry about a date," while keeping her geographical dialect intact: "Up north/downtown, the only real deal is in the South Side/come on and take a ride."
But in Fohr's world, nothing's black and white, let alone a pure hedonistic fantasy. A deeper, more ambiguous cloud forms as Lynn asks: "Is the moon singing a tune, are the stars singing along or did I just step into the room?"
Is she addressing herself, us…or no one in particular. We find ourselves in the midst of an existential tunnel, an outlaw tale of self-reflection. It comes as no surprise that, in her recent reflection on Terry Allen's Juarez for The Talkhouse, Fohr asks: "Are we aimlessly searching –- or are we following the thread?" The road Jackie takes to answer that question is one worth following her down. |  c depasquale
Only the good shit. Aquarium Drunkard is powered by our patrons. Keep the servers humming and help us continue doing it by pledging your support via our Patreon page.