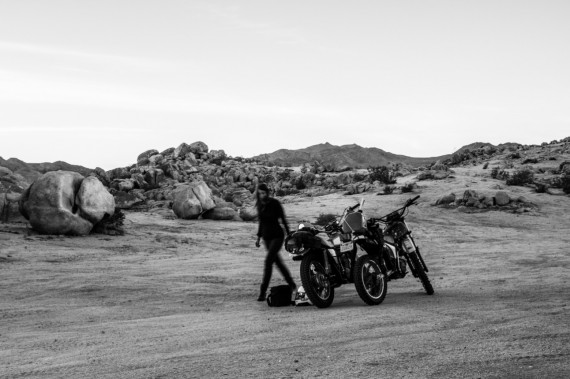 As a conceptual artist, Ali Beletic seeks to make her art experiential, utilizing vast desert backdrops in the Mojave and Sonoran to continue the land art traditions of figures like Michael Heizer and Richard Long. Her installations exist as physical spaces, often massive and cinematic in scope, but still approachable, spaces for the viewer to be in and marvel at. With her debut album, Legends of These Lands Left to Live, recorded with her partner Seth Olinsky (Akron/Family, CY Dune), Beletic achieves a similar spaciousness, her songs feature a wide-open sparseness that evokes the deserts outside of Tucson or Joshua Tree, where Beletic honed these songs, but also the swampiness of Memphis and the punk spirit and avant-garde attitude of New York City in the '70s.
"I believe in rock & roll and I believe you have to set up a vanguard opportunity trigger to keep up with it," Beletic writes, and that philosophy serves as a guiding principle in her work, in art she creates, Lightning, the label and magazine she founded with Olinksy, and on the new LP, which combines poetic fervor with coiled blues riffs, scorched garage rock, and junked up rockabilly.
Following are edited excerpts from a conversation with Beletic, phoning from her home outside Joshua Tree to discuss what brought her out to the desert, what the land holds for her, and her use of rock & roll as a "symbolic" force.
Ali Beletic :: Ends of The Earth
Aquarium Drunkard: What initially brought you out to the desert?
Ali Beletic: We were in Oregon at the time and [my partner] Seth [Olinksy] and I thought that we wanted to go to Arizona and record records. I was working on art installations and I wanted to work on a bigger scale. It was very intentional; we wanted to completely immerse ourselves, and that's what we did.
AD: What's the attraction of the desert for you?
Ali Beletic: There are so many. Mainly, we were just excited about the earth art history there. Since leaving New York, we were searching to have a relationship with nature, but also be in proximity to culture. And it was sort of whimsical too, there was an aspect of going some place neither of us had ever lived and just to see what it was like.
AD: How did you first discover land art and the tradition of it that exists in the Southwest?
Ali Beletic: I went to NYU for filmmaking, and when I graduated, I realized I didn't want to make films. While I love the production and scope of films, the end result of just sitting in a dark room watching a film was difficult for me to accept. I got interested in art and started making sculptures and painting. That time in Brooklyn was so wonderful; there were so many artists and musicians. It was a very creative time.
I got interested in creating experiences for people. I think my interest in art came from my interest in film, but I wanted to translate that into real things people could experience. I spent the following few years really educating myself on art, going to museums, spending time at retrospectives at the Whitney, MoMA, the Met. I got really into ancient art and spent a lot of time at a musical library listening to world music. All my spare time in New York was spent educating myself. New York is the best place to do that.
AD: "Rugged Ancestry" from the new album uses the term "ageless traditions." Is that a reference to the kind of stuff you found yourself immersed in back in those days?
Ali Beletic: I'm really talking about rock & roll being connected to an ancient feeling. It's inspiring to try to connect to that and look at it through the ages. It's more connected to that than my art practices.
AD: It feels like your record, Lightning Magazine, and your art all abides by a specific logic. They don't feel like separate aspects of your creative work. It seems like it all stems from a similar place. Does it feel that way to you?
Ali Beletic: I'm one person. But I would say my art and music come from two pretty different places. I've been playing music my whole life — not formally, but personally. I studied singing and piano as a child and my mother was a singer. I picked up a guitar when I lived in New York and spent a lot of time with it. Music has always been this personal passion. I recorded this record at the same time I was making a lot of installations and art in Arizona. In a way [the processes are] similar, but they're also separate. They are definitely in conversation. They have underpinnings and threads that connect them, but music is more emotional and direct, and so my hope with my music is that I can speak on that level, whereas art for me is more conceptual and philosophical. They share inspirations, but my hope is that they're different expressions.
AD: When you talk about rock & roll in your work, it feels like you're talking about more than just a style of music.
Ali Beletic: Absolutely.
AD: That's in the record too — I hear elements of the Cramps, Bo Diddley, R&B, torch songs. But even though you're achieving that more emotional connection, I feel like there is a conceptual side to the way you talk about rock & roll.
Ali Beletic: My [goal in life is] breaking down boundaries. A lot of the inspiration to do that comes from rock & roll music — not the genre of rock & roll, but the spirit.
AD: Can you describe that spirit?
Ali Beletic: In my work, there's a strong use of iconography and a strong form of symbolism. When you listen to great rock & roll, there's so much contained within the music: rebellion, spirituality, sexuality. There's so much in there that's really strong and powerful. If you're listening to it, it's not just a musical expression, but also a symbolic expression, which I really believe in.
With Lightning, our motto is that we believe in the transcendent spirit of rock & roll. It's that kind of fertility and rebellion that we believe in. Before we moved to Arizona I started throwing these things called "vanguard parties," where we'd do silly things and set ice on fire, or hike into the desert 20 miles. The idea was within the context of art but also outside of it. It was just a party, getting people outside of their regular lives and trying to keep some of that spirit alive. When you ask about my art and my music being connected, that is definitely the place they meet, in my intention to invoke fun or spirited moments. A rock & roll feeling. words / j woodbury