"I never tried to make a commercial record…I know that sounds like a bit of a weird thing to say, because you try to sell records, but I was always trying to find a path of my own," producer, deejay, and "mixologist" Adrian Sherwood explains via Skype, hanging out in his kitchen cooking and discussing the contents of Sherwood at the Controls Vol. 2: 1985-1990, out now on his label, On-U Sound.
Emerging from the early punk movement, Sherwood has spent his career making his own path, and the process has established him in disparate fields. He's a dub innovator, working with artists like Prince Far I,  Suns of Arqa, and Mickey Dread, and a pioneering remixer, re-cutting singles by Depeche Mode, Sinead O'Connor and Cabaret Voltaire. He's led groups like the influential  New Age Steppers and contributed to records by the Pop Group, the Fall and the Slits, all the while blurring the distinctions between electronic music, punk, and reggae.
This new collection, a sequel to last year's Sherwood at the Controls: Vol. 1: 1979-1984,  explores Sherwood's involvement in the development of industrial music, his collaborations with NYC hip-hop session players  Doug Wimbish, Keith LeBlanc, and Skip McDonald as Tackhead, and selections from his fruitful relationship with Lee "Scratch" Perry, culminating in their essential album Time Boom X De Devil Dead.
Sherwood remains incredibly  prolific. His mixing recently appeared on the blissful  Neptune  by Higher Authorities  and on Japanese trio Nisennenmondai's clattering, throbbing #N/A,  and he's in the midst of prepping a new album for On-U called  Dub…No Frontiers,  a featuring a selection of woman singing over his riddims (an early release from the album, Neyssatou singing Bob Marley's "War," indications it'll be a must-hear selection).
We caught up with Sherwood to get some insight into his process, examining his attraction to making a "racket" over crafting hits, and lessons Lee "Scratch" Perry taught him.
Aquarium Drunkard:  This collection starts in the early-to-mid '80s, at at time when you had stepped away from reggae and dub, following the Murder of Prince Far I in 1983.
Adrian Sherwood: I loved reggae still, but I was  really like, "You know what? This is depressing." I didn't feel  much  at all like doing any [reggae music] really. I was surrounded by a bunch of great reggae musicians who were my friends, but it wasn't their fault. At that time I was starting to get invited by the likes of Depeche Mode and others to do remixes. They always called me in to do the weirder remix– not the commercial one — which to be honest with you, suited me right down to the ground, because I'm not a musician, I'm not that confident [saying] "Okay, let's go and design a hit record or something." I was quite happy making records for myself, which were a little bit out of the normal scope of things.
So when I started to get offered opportunities to work with non-reggae stuff, but still use the Jamaican effects and techniques I'd picked up, it was really quite nice. I was getting paid; I wasn't putting out the records, people were hiring me…it coincided that at that time I did a lot of jobs, and it coincided with me meeting Doug, Skip, and  Keith [with whom Sherwood formed the industrial hip-hop group Tackhead] in New York.
AD:  What was it like hearing NYC hip-hop for the first time?
Adrian Sherwood: Mark Stewart and Neneh Cherry and lots of other people were going on about, "Check this stuff from New York, it's brilliant." I was listening to it and thinking okay, that's interesting. We'd heard [Grandmaster Flash's] "The Message," which was a big record. I got invited to go to New York by Neil Cooper of ROIR. He'd put out the Bad Brains on cassette and he'd released One Way System by the Dub Syndicate. There…I met Tom  Silverman [of Tommy Boy Records]; I was introduced by Neil who said, "It would be perfect for you to work with Tommy Boy."
We'd heard "No Sell Out" by Malcolm X, which Keith had made with the permission of Dr. Betty Shabazz, and we were all thinking, "Well, that's a great record," so I met Keith in the the studio — he was doing an overdub for Sylvain Sylvain [laughs] and an Edgar Winter session. I watched him and thought, "Wow, this fella's amazing." We just got chatting and one thing led to another.
AD: It seems like all those worlds at the time — punk, funk, hip-hop, post-disco electronic music — were colliding. It seems like all those sounds were feeding off each other.
Adrian Sherwood: You had some great clubs in New York at the time, and of course the situation of white people discovering black underground music, going right back to the blues and jazz in America, and  commandeering bits of it and suddenly you've got the Rolling Stones and whoever else. It's always the way, and then each one teach one: certain things from other schools are incorporated in other schools. A lot of gay dance music in New York inspired other people in Detroit or wherever.
People started watching movements on dance floors to sell records…I always wanted to sell records, but I don't think I'd know a hit if it punched me in the mouth! I've often said, "God that's rubbish" about a song and it's been a big hit. [Laughs] And lots of things I was convinced would be successful weren't. It's not for a lack of trying, it's just the path we traveled was to try and be creative and original to some degree.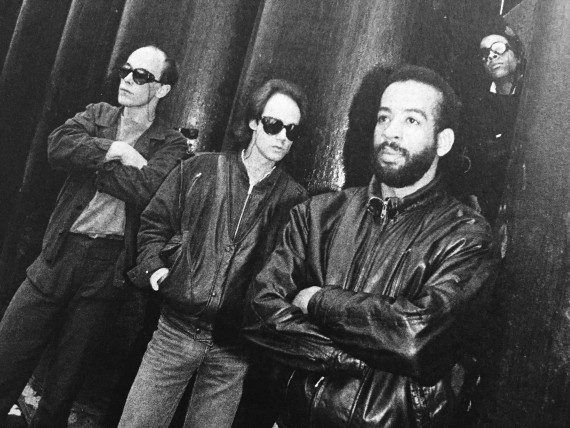 AD:  I read an interview in which you explained how Mark Stewart of the Pop Group helped to politicize you.
Adrian Sherwood:  At that time people were much more politicized in London, anyway. I wish they were more politicized everywhere now, and would actually mash down all the Babylonian systems that are going on in America and here, you know, fighting every injustice, fracking, corporate greed and everything. In the '70s, people were very politicized. Mark was one of my friends who was a great source of really good information…he started opening my head up. I'd left school at 16 and he was a really bright friend of mine who was checking out what was going on in the world.
AD: Did you view your label On-U Sound as an extension of your political beliefs at the time?
Adrian Sherwood: I wasn't really holding political  beliefs [at first]. It takes years and years. If you just read the newspapers and listen to the press, you'll become a moron, really. They'll have you  believe that right is wrong and that the good guys are bad and vice versa. Completely whatever. With On-U what we did was  basically reflect things. I made sure we  didn't record  banal,  rubbish lyrics. When we lyrics, we tried to make them conscious in a Garveyist, Rastafarian way on one side, and on the other side they were politicized by the input of Mark and other people. Then when we did Tackhead, we employed with Keith LeBlanc called "news on the beat."  We used collage, like Brion Gysin or Burroughs, cut-ups to deliver messages, and that was quite political to a degree.
AD: There continues to be a political edge to your work…
Adrian Sherwood: Politics is a Latin word that means "citizens" — people. I don't want to do "cuddly, cuddly-koochy coo-coo, I love you let me stick my tongue in your ear" rubbish. I do like love songs, but I don't really record them very often.
AD:  You mentioned Rastafarian-oriented lyrics. When you discovered reggae, were you drawn to the messages?
Adrian Sherwood: I wasn't drawn to the great lyrics  immediately. That came a bit later. I just liked it for novelty to start with, but over time I became fascinated by   Garveyism and the situation of my black friends, some of whom had been in the care system in England…The racism in England in the late '60s, early '70s was appalling. I saw a lot of black people and the pride and power in these messages coming from Jamaica and obviously bands like the Last Poets and others coming from the States as well. But the Jamaican stuff was like "let's bomb the church and kill the hypocrites" and it was like wow! I started checking out Garveyism and the Back to Africa movement and I became fascinated by it and just  one brilliant tune after another.
AD:  Did the reggae movement offer something punk didn't, or did it mirror the social change element of punk rock?
Adrian Sherwood:  I was there when the whole punk rock thing started. My friends put on gigs at the 100 Club, we knew everyone — the Sex Pistols, the Clash — and they were all fans of reggae. On the first-ever radio show John Lydon did — and he was massively popular — the first tune he ever played on the radio was "Born For a Purpose" by Dr. Alimantado. He said that song meant more to him than any other song at the time. I think what happened in England was you had a lot of people who were very angry with the political system. The Pistols sang, "No future" and everything. There was a lot in common between very pissed off white kids and black kids who were subject to the search — [police] were allowed to stop you search you on the spot — and the bad treatment they were getting. There was a lot in common between the two movements, really, although I don't think a lot of reggae fans were liking the punk.
AD:  It was more punks liking reggae than the other way around?
Adrian Sherwood: There were some black kids who did like the guitar stuff, but by and large it was white kids who were relating to the message in black music and lots of bands shared the same stages, consequently.
AD:  This compilation also draws on some fairly aggressive material you did with KMFDM and Ministry. Did early industrial feel like an extension of punk rock to you?
Adrian Sherwood:  I wish I could say yes and have some kind of intellectual answer for you, but I just listened to stuff and thought, "Alright, I like the attitude in that." I liked  Al Jourgensen. He was a really  good lad, although I haven't seen him for 30 years, I really enjoyed working with Al. I think you just hear something you're drawn to. I never really analyzed everything. I could tell when there was a scene; England's built on little scenes everywhere — there's a scene that likes northern soul, or one that likes whatever, whatever. I got approached by people from Chicago's [nascent industrial community]. I heard it, I liked it.  The lad from KMFDM used to follow me around at all the gigs. I did all those mixes that ever came out in one evening, and then my name was all over the records for the next few years. [Laughs] I never really thought about it to be quite honest. There was a lot of stuff that was very edgy and very noisy and I just worked on it. Years later, people said I was one of the first people doing  industrial stuff, but I just liked the noise and I never thought about being part of a movement. I was like a cog in the wheel or something, but I never thought, "Wow, this is me, I am this." I just liked making a nice racket.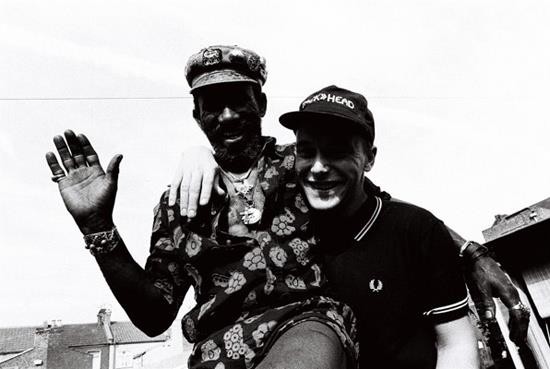 AD:  This compilation illustrates that soon enough you re-engaged with reggae music, guys like Bim Sherman and African Head Charge. The collection also features material you did with Lee "Scratch" Perry. What was he like in those days? What was working with him like?
Adrian Sherwood:  Working with Lee was a dream. I'm very lucky, I've worked with almost all my heroes, people I was a fan of. When I ended up working with him, he was going though a bit of a bad time.  He was drinking a lot. I think he was a bit depressed because of things in Jamaica, which were a bit strange, and he'd gone through a marriage breakup and burned his studio down.  My friend Steve Barker had met Lee in London and he said, "You should work with Adrian," and he said, "Okay." He turned up at the studio with a master tape on him. It was like covers of Bob Marley songs. I said, "Look, sorry, but check these out." I started playing him some of the riddims I'd produced and some I'd co-produced with [drummer] Style Scott. He loved them. He started voicing them and we spent the next couple months making Time Boom X De Devil Dead,  which I'm very proud of.
AD:  Making that, what sense did you get of the way Lee works?
Adrian Sherwood:  Lee, apart from having amazing musicality, wants magic to happen. That's what Lee Perry does, even to this day. He would come into the studio and put feathers all around, stick up pictures everywhere, light candles, blow smoke in the mixing desk. He thinks if you're going to do music, you have to believe you're going to do something magical. In those days, he was doing all that, but he was also a bit deranged — he was drinking, taking drugs and everything — but we got on very, very well. He's my friend to this day, we're quite close. I speak to him every couple months. I know he respects me, because I didn't just do any old shit, rush, rush, rush. We spent a lot of time in the studio, experimenting and trying things, and I  must admit, I learned a lot from Lee. Just about approach, the idea of trying to inject something, a spark inside what you're doing. | j woodbury
For heads, by heads. Aquarium Drunkard is powered by its patrons. Keep the servers humming and help us continue doing it by pledging your support via our Patreon page.