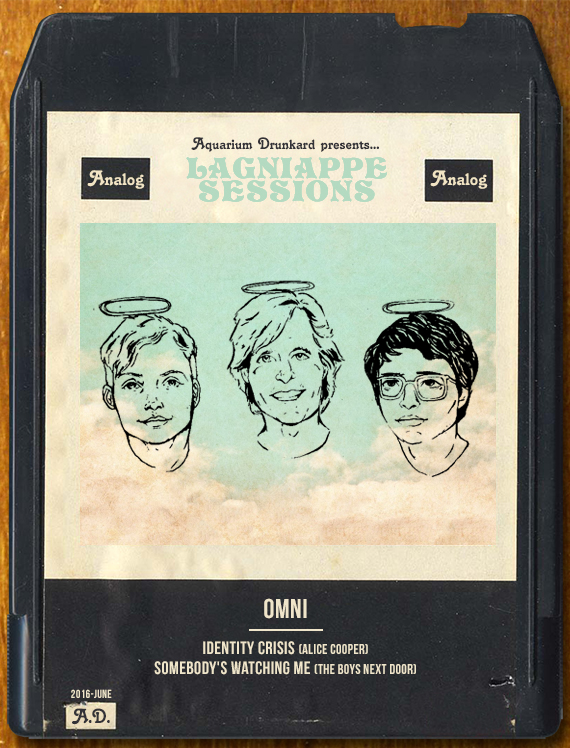 Lagniappe (la ·gniappe) noun 'lan-ˌyap,' — 1. An extra or unexpected gift or benefit. 2. Something given or obtained as a gratuity or bonus.
Next month sees the release of Deluxe, the debut lp from Atlanta's Omni. As we mentioned in May, Omni is comprised of former members of Deerunter / Balkans (Frankie Broyles) and Carnivores (Philip Frobos / Billy Mitchell). Theirs is a sound that is at once both gloaming and crystalline; one that neatly encapsulates the best of late 70s / early 80s jittery post-punk, all without muddying the waters with unnecessary pastiche. And if that grabs you, it will likely be one of the better records you'll hear this year.
This week's installment of the Lagniappe Sessions finds the band re-imagining the Alice Cooper oddity "Identity Crisis" and "Somebody's Watching Me", via Nick Cave's proto-Birthday Party outfit, The Boys Next Door. Omni, in their own words, below.
Omni :: Identity Crisis (Alice Cooper)
A while back, my brother lent me a copy of the film
Monster Dog
. Alice Cooper stars as a rock star who's returned home to shoot a music video in this werewolf ridden mansion. This song is featured in the film and after hearing it, I couldn't get it out of my head. It just sounds… so great. I think it was later released on some box set. It's
the best Alice Cooper song you've never heard
… unless you've heard it. – Frankie Broyles
Omni :: Somebody's Watching Me (The Boys Next Door)
Getting my bootleg copy of the Boys Next Door LP over at Criminal Records years ago was a glorious day. At the time, being really into Birthday Party, it was even more exciting to hear their early punk/power pop songs before they released the bats. "Somebody's Watching Me" always stood out, an amazing guitar lead, and catchy paranoid lyrics. Atlanta's music and restaurant scene is particularly full of a lot of Nick Cave worship so if you're lucky enough to find a bootleg or reissue around here you can expect to be met with "what? you don't already have this?" – Philip Frobos
Lagniappe Sessions Archives / imagery via d norsen
Into this? Aquarium Drunkard is powered by our patrons. Help us continue doing it by pledging your support via our Patreon page. For heads, by heads.