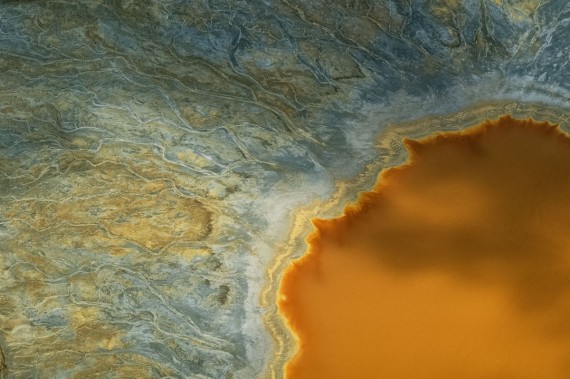 Last summer, we teased the release of Tucson avant-roots combo Ohioan's Empty/Every MT, and upon its release last month, our initial hopes for the record were strongly confirmed: it's the strongest and most developed work from songwriter O Ryne Warner (formerly of Castanets)  yet. Blending diverse influences, from Malian  blues to post rock to languid  country rock, Warner creates a singular world within the record, but one that draws heavily from his desert surroundings, incorporating a sense of the heat and sand into the record's grooves.
It is, in an overarching sense, a protest record, centered around ecological concerns, its title drawing connective threads between the mines of his native Ohio and those in his adopted home in the Sonoran. Warner puts forward the idea of an "Appalachian Desert," projecting that "mountaintop removal and mining will level the forests of Appalachia, turning once lush land into an arid desert-scape not unlike parts of the American West and North Africa."  But its protests exist  on a personal level too, and Warner often rails against existential attacks intertwined with environmental ones: "Stay true human" he intones on the mantric "Pissing at Will," and he invokes the nature of survival, dwelling on a "mother's love for an ugly child" on the languid western ballad "Like Survival Like." On the droning "Birth Control," he incorporates elements of counter culture past, singing "Like a true nature's child, he were born to be wild," subverting a big rock & roll riff into something  quixotic and maybe even ironic.
It's a record that sounds as vast as its concept. Featuring contributions from Susan Alcorn, Arrington De Dionyso, and Tara Jane ONeil, Warner recalls Tuareg blues on album opener "Bad Altitude," opening with a spectral banjo riff before spiny guitars lock into place, pulling and tugging against the songs thumping rhythm. On "Workman's Comp" the band swirls psychedelically  before easing  into a driving, heavy-limbed strut and harmonized lead guitars. On the album closer "Whats Not Blood," he sings over swooning pedal steel and an acoustic guitar, crafting a ghostly sound, spooky and lovely.
Warner and company have made a special record with Empty/Every MT, a weird, electrifying one, and in a year that's often felt apocalyptic — if not simply fraught — it sounds vital and necessary. "There's beauty in my anger," Warner sings. He's quite right. words / j woodbury