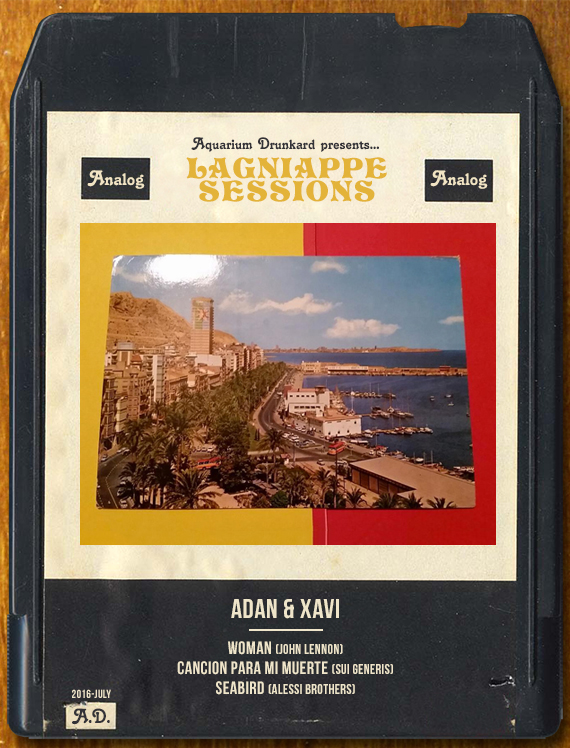 Lagniappe (la ·gniappe) noun 'lan-ˌyap,' — 1. An extra or unexpected gift or benefit. 2. Something given or obtained as a gratuity or bonus.
From recording in the living room of John and Yoko's Manhattan apartment, to songs purloined while traveling through Argentina and recorded back home in Paris, this installment of the Lagniappe Sessions catches up with musical co-conspirators Adan & Xavi. The pair's new lp, Y Los Imanes, is out now via Everloving Records and they'll be gigging stateside July 9th in Chicago and LA, July 13th. The artists in their own words, below.
Adan & Xavi :: Woman (John Lennon)
"Woman" is classic John Lennon, and it's hard to cover such a great song. But, as we were promoting our album in March 2016, we were kindly hosted by Sean Ono Lennon in Yoko and John's first apartment in New York. We spent a week there, among old guitars and pianos, and since our record is a collection of ballads about love and women, we felt it was the right song, in the right place, to cover. We always have a couple of mics in our traveling bags, so we started recording the song in their living room with the piano, guitar and percussion giving it an intimate vibe. And then we finished it off in Paris.
Adan & Xavi :: Cancion Para Mi Muerte (Sui Generis)
We discovered "Canciî³n Para Mi Muerte" during travel in Buenos Aires. A guy at a show gave us a CD with Argentinean bands, and we listened to it in the plane flying back to Paris. It's a song from the 70s, and very popular in Argentina. We always wanted to do a cover of it, so it's done. We can now die in peace!
Adan & Xavi :: Seabird (Alessi Brothers)
"Seabird" is not the most famous song of the Alessi Brothers, but it's one of our favorites, and we wanted to pay tribute to its great nostalgic melody. On the original song you can hear the rhythm machine that we replaced here by a real drum, giving it some organic fills. We recorded the basic track live, and added some pedal steel guitar to give the song a flying vibe…
Lagniappe Sessions Archives / imagery via d norsen