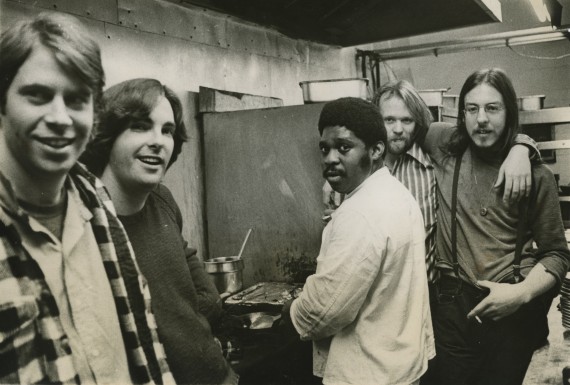 Eggs Over Easy represent a distinctly American branch of the pub rock tree, a group of singer/songwriters who banded together to create a raw, punchy style of rock & roll and ended up playing a year-long residency in London at the infamous Tally Ho, which helped inspired Nick Lowe, the Stiff Records gang, and the punk rock movement which followed pub rock's flare up.
The whole story is traced remarkably on Yep Roc's Good 'N' Cheap: The Eggs Over Easy Story,  which collects the band's entire recorded output, including remastered versions of the  1972 debut Good 'N' Cheap, produced by Link Wray in dusty Tucson, Arizona, the band's second album Fear of Frying  and previously unheard London sessions recorded by Animals bassist and Jimi Hendrix manager Chas Chandler.
Rolling from rustic country funk to revved up rock & roll, the Eggs are well represented by the set as roots rock forebears. AD caught up with founding members Austin "Audie" De Lone and Jack O'Hara (the set is dedicated to late Egg Brien Hopkins) to discuss the band's formation and playing no-frills jams in front of prog and glam rock fans.
Good 'N' Cheap :: Don't Let Nobody
Aquarium Drunkard: Eggs Over Easy are considered pub rock pioneers. When did you first hear that term and what did you think of it?
Jack O'Hara: I never heard it until years after we left London. To me, it didn't mean much. But in the many years that have passed, I can see the significance of it…We came back to the States and went about our business and had no real idea about the impact that particular moment had.
Austin De Lone: We probably first heard of it somewhere mid-'70s…at that point we knew our buddies Nick Lowe and Brinsley Schwarz and Bees Make Honey had this groovy scene going [in London] and that there were a lot of places to play. When we started, we played at one club, the Tally Ho, and that was ground zero for pub rock pretty much. From then, a bunch of others bands and pubs jumped on and that's when it became a real scene.
AD: You formed in Berkley initially and headed to New York from there. What brought you out east?
Austin De Lone: Jack and I started in Berkley, and I went to New York in the fall of '69 to see my brother get married. I was hanging around there a bit and Jack came back and we started playing around New York, and we met Brien Hopkins, the third Egg, and shortly thereafter stumbled into a diner and looked up at the menu board and decided to call the band Eggs Over Easy.
Jack O'Hara: I had history in New York before I was in California, so when Audie went back, my scene was kind of played out in Berkley. I'd already had a lot of experience in the Village in '65-'67; it's where I learned to play music.
AD: When you started Eggs Over Easy, what kind of band did you consider yourselves? I hear rootsy influences, some country and folk references, but the songs can also get quite groovy.
Austin De Lone: We were three different singer/songwriter guys with different influences. We all loved country and western, the Band, Dylan…
Jack O'Hara: …Beatles, Stones.
Austin De Lone: Of course! But when we started we didn't have a drummer, so we didn't think of ourselves as a rock & roll band. We thought of ourselves as a musical band, like the Loving Spoonful. Not specifically rock & roll, just about good songs and harmonies.
AD: You guys were brought out to England by Jimi Hendrix manager Chas Chandler. What did you think about going overseas?
Jack O'Hara: Thought it was a great idea. Our manager took us to audition for Chas…we put on a show and just basically played our songs as a three-piece band. Chas said, "Yeah, let's do it." So we went to England because it was cheaper to record there. It was an exciting adventure for us.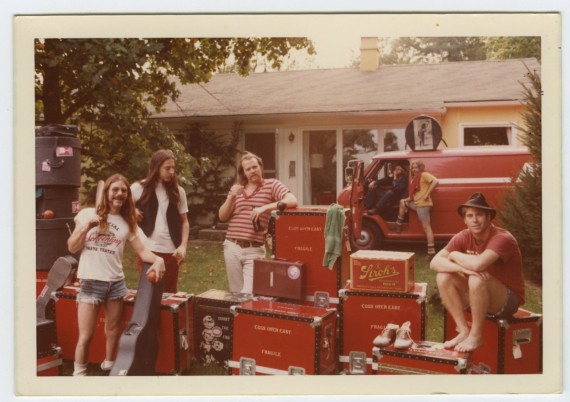 AD: While you were out there, you began playing marathon sets at the Tally Ho. How did the audiences react? Was there an excitement for a group playing American music there?
Austin De Lone: Yeah. Well, first of all, we had one of the great British drummers in our band, John Steel, the Animals drummer, who played with us the whole year were were there. He provided a certain English backbone to our American style — but he loved American music; he was a big blues fan as well. When we played, we were just having so much fun that people dug it so much. [Laughs] It was loose, unpretentious. It was a refreshing change from some of the heavy glam rock that was going on that was ruling the airways.
Jack O'Hara: There was no barrier between us and the audience. They just responded. There was nothing they had to intellectualize at all…we just had little amps and a grand piano, so we weren't loud, we were just rockin'.
AD: You were out in London for about a year and then returned to record at Vernon Wray's Copper State Recording with Link Wray in Tucson, Arizona. I really enjoy the stuff Link was making in that era — did you feel like he understood what you were trying to do?
Jack O'Hara: Absolutely. We just felt we could be ourselves in his presence.
Austin De Lone: Yeah — same thing with Chas. He liked what we were doing and encouraged us to be ourselves and that's what Link did. We got on great with him.
AD: The recording you did in London with Chas had been previously unreleased until this set. Do you feel like those captured your live sound they way Link did?
Jack O'Hara: At that point, we hadn't really played with drums too much. We were a songwriting trio generally. It was just about the songs — we could really be expressive with our vocal nuances. But Chas introduced us to a drummer who played on most of the record and he did okay but he wasn't so familiar with our style, but I think the songs come across…
Austin De Lone: [At that point] we were just developing our style as a four-piece band. Some of it was still being discovered in the studio, but it got really fleshed out by the time we spent playing at the Tally Ho that whole year.
AD: After Eggs over easy disbanded in the early '80s, you went your separate ways, but people began to draw the line from the pub rock scene to the punk movement which followed it. Was it surprising to you that punk seemingly grew out of this thing you helped start?
Austin De Lone: When the punk started coming out with that wild, fantastic, manic energy — and a lot of anger — I didn't particularly associate that with us and pub rock. But later, I realized the connection partly is just the fact that the scene that developed around pub rock [opened up the room] for people to write their songs and be who they were without having to worry about whether they were selling enough tickets. They just had a scene where they could play their songs — and say what they wanted to say. But it was a while before I made that connection; I could see it more with the new wave stuff, which was more musically in line with what we were doing. I didn't think "God Save The Queen" was a pub rock anthem particularly, but I dug it.
Jack O'Hara: It was more of a social thing that happened over the years, where the basic personality of the English society, these kids were coming up…they were pissed off. The economy was a mess and meanwhile, they had a place to express it, because all these pubs were open. It was a natural progression socially, but not so much musically.
Austin De Lone: But also musically to a certain extent. Nick [Lowe] and Jake Riveria of the Chilli Willi and the Red Hot Peppers and Dave Robinson, those guys started Stiff Records, and they put a big fist forward in terms of getting that wild energy stuff out. Nick produced some of those early Jam records and Wreckless Eric.
AD: You did some big tours, with groups like the Eagles, Edgar Winter, and Black Oak Arkansas. I can picture the Eagles crowd digging you, but you also toured with Yes. How did the prog rock fans react?
Jack O'Hara: Those times were different, man. You heard a lot of different varieties of bands on a bill. Bill Graham used to book totally diverse types of music, almost on purpose, to force audiences to hear different kinds of music. Things were so wide open. So as far people reacting, we were just a little unknown band, so we were on our own to win people over night to night. Most of the time, we did. words/j woodbury