"Death and transformation are the coolest shit to write about. When you look at life from a mystical point of view, we're all going through changes all the time."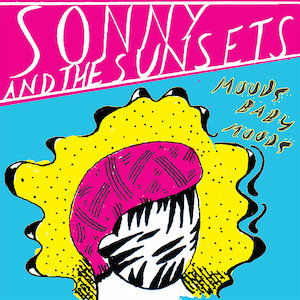 So said Sonny Smith when we interviewed him last year ahead of his Sonny & the Sunsets LP Talent Night at the Ashram. Smith returns with Moods Baby Moods, the latest record in the Sunsets' canon. For over a decade now, Smith has been crafting his own sort of universe, influenced by neighbors orbiting it: Heidi Alexander's Earth Girl Helen Brown, his collaborations with The Sandwitches, and his 100 Records project. It's an exaggerated reflection of our existence — a kind of deadpan cynical vision of a not too distant future.
Sonically, he has explored and expanded upon his own brew of garage-inflected art-rock, adding forms of country, new wave and spaced-out proto-punk. Take Longtime Companion, an earnest record of forlorn country and Smith's most genre-specific offering.
On Mood Baby Moods, those otherworldly sounds and influences — the musicians; Smith's recurring cast of characters, strange freaks, rejects and aliens among them; the mysterious void explored — brilliantly coalesce into what might be Smith's defining record and inarguably his funkiest.

Smith kicks off Moods Baby Moods going back, almost, to the beginning, revisiting "Death Cream" of 2010's Tomorrow is Alright. Here, he offers some kind of vague caution in the way of a sequel — "Death Cream, Pt. 2: 'Watch Out for the Cream.'" Warnings of telepathic machines and syringes could be drug allegory, or just pure art rock mischief. Nevertheless, Smith's patented burnt out, freak show liveliness is clear. Channeling "Golden Years"-era Bowie on the semi-title track "Moods," he gets down on a trippy funk groove. The paranoia and internal turmoil that encumber him render the Arcadian organ line and tranquil backup singers menacing in their contrast. The vibe here is anything but grounded, as Smith takes us further out into his spacey universe than ever before.
"Modern Age" rides a warbly synth line across dystopian atmosphere. Midway through, the song gives way to a mournful chorus of stings and synth, only to rumble back into Smith's indifferent musing on the perils of 21st century life. "I found a piece of art in the trash," he sings, "I don't know anything about art." He envisions baffled extraterrestrials looking down on our millennial world, where everyone "knows," but no one cares. What do we really digest? What do we internalize?
Indeed, Smith seems most concerned with cerebral transformation — and what it might mean for the coming singularity. On "Nightmares," he sings of a man whose head is a plug, looking for an outlet to charge. A female voice joins in, perhaps the subject's wife, bemoaning the challenges of their relationship. After all, technological superiority isn't immune to boredom, weighed down by the day's monotony, which inevitably becomes melancholy. The proto-industrial synth lines feel right at home. Smith is looking to "dream, baby, dream," and who among cynics wouldn't, when our modern age seems resigned to such a fate.
For Smith, that escape — even in the form of apathy — is the antidote, as we see on the angst-ridden new-wave distortion "White Cops on Trial," which processes societal tensions through tabloid covers. And on "Check Out," Smith suggests the solution to this madness is doing just that: "It's time to check out," he sings. "See you / See you later." But that kind of mental escape is temporary, and Smith does find something more permanent to provide if not hope, then purpose. "I can see what is what" he sings on the gorgeous, bittersweet "My Little Death," an ode to that one unifying purpose: "Love, oh love, just a little love."
In a world that's rapidly changing — and us along with it — angst and resignation are understandable. If Moods Baby Moods is an exploration of that, then it's also a testament to those rare, precious moments that are good that make us feel secure. As Smith walks the titular landscape in album closer "The Hospital Grounds at Night," he departs life with a final thought, which serves as his final thought on this record and maybe his career to date: "I'm full of love" is the refrain, and maybe counsel that we should be, as well. words / c depasquale
Related: Sonny & The Sunsets :: The Aquarium Drunkard Interview