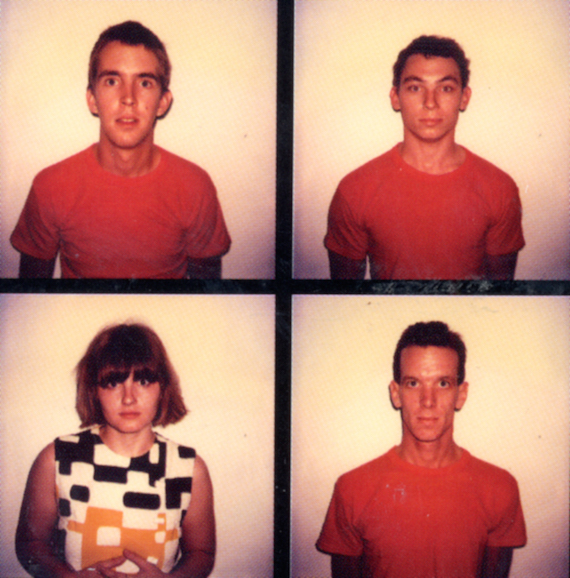 Growing up an hour from Athens, GA, in Atlanta in the 80s/90s, Pylon were akin to something like the home team. Sometime around 1991, via R.E.M.'s regular endorsement, I picked up a cassette copy of Pylon's Hits, and that was it. Twenty five years later I placed their song "Cool" in a Lexus commercial. Time flies.
And now they are back, in an archival sense, courtesy of Chunklet Records. July 25th sees the release of  PYLON LIVE, a twenty track double vinyl album described by the label as "recorded on the band's home turf at the culmination of their powers". I'll bite.
In anticipation of the release, we asked Pylon's Vanessa Briscoe Hay and Michael Lachowski to take us on a sonic journey through their time in Athens, relaying some of their favorite local artists, and stories, of the era. Vanessa and Michael, in their own words, below. A fascinating read/listen.
B-52's :: Dance This Mess Around – I can remember the first time that I heard the B-52's at the Last Resort and this was one of the original songs that they performed. The song starts out with Cindy Wilson sadly cooing about a lost love. She then completely loses it on the phrase "why don't you dance with me, I'm not no limburger?" at the end of the first verse alluding to her feelings of poor self esteem at the loss of this whoever he was. The guitar,keys and drums go into a little bit of overdrive and Fred exhorts us to "dance this mess around." He is closely followed by Kate who in the coolest of voices advises that "Everybody goes to parties, they dance this mess around." It's difficult to describe how happy they made us all feel in that room and how much fun it was attempting to do all 16 dances. It was wild and uninhited. It definitely made us all feel a whole lot better!
Squalls :: Cindy – The original lineup of the Squalls started out drinking, playing bridge together and jamming out in the sticks beyond Athens. Big Al Walsh, the original bassist, humorously suggested that they call themselves the Squalls after the sound had started coalescing a little. Their sprightly pop sound was driven by two bright sounding guitars, bass, percussion and drums. Their sounds were influenced by the Loving Spoonful crossed with the Grateful Dead. Everyone in this band could sing and it was not uncommon to see them switch instruments during the set. Bob Hay,the chief songwriter and arranger, was inspired to write this song after seeing the B-52s for the first time. At some point, much later, he realized that he had gotten the names of the two women in the band confused and that his ode to Cindy Wilson was actually supposed to be to Kate Pierson. I'm glad he was confused, because "on the beach it was wet and windy-I want to be with Cindy" sounds great and I can't imagine it any other way.
R.E.M. :: Driver 8 – I can see the power lines going up and down next to the railroad tracks and feel the heated roar of the train engine listening to this song. I have always loved trains and I still feel like a child while waiting for one to pass by. I look at the cars and imagine where they came from and where they are going. I don't know who wrote the poetry for these particular lyrics, but Michael Stipe's yearning delivery does them justice. They are visual and heartfelt like those a cowboy might compose. The bass line combined with the low register guitar is a powerful and direct combination driven along by the drums. You hear this tune and it can't be anyone else but R.E.M. I have a lot of favorite songs by them and this is one of my very favorites. Film by Jim Herbert.
Love Tractor :: Fun to Be Happy – Love Tractor was formed by original members Mike Richmond, Mark Cline and Armistead Wellford along with rotating drummers Kit Swartz (Side Effects) and Bill Berry (R.E.M.) sometime in the spring of 1980 during the flowering of the Athens,GA music scene. They started out purely as a instrumental band, and gradually added vocals as time went on. Bill went on to be with R.E.M. full time and Andrew Carter then became the full time drummer. Anyway, their debut record was all instrumental and that is how I remember them best. Layers of guitar come and go playing a theme and the song develops right before your ears while the bass and drums continue relentlessly delivering an infectious beat that you can dance to. A little bit surf, a little bit of this and that while the youth of Athens danced. You have to listen to more than one song once you get started on a Love Tractor binge. Maybe their cover of Neon Lights would make a nice gateway too if you are not familiar with them.
Side Effects :: April 5,1980 – is a famous date around Athens because that is the night an unnamed R.E.M. debuted at a birthday party for Kathleen O'Brien. Two other also played that night: Men in Trees and the Side Effects. To enter, you were directed to crawl through a hole in the wall of the apartments in the front of the Church and suddenly you were in a abandoned, falling down sanctuary with a lot of other people. The stage was where the pulpit would have been. The keg was out back in some weeds. A balloon floated here and there. The Side Effects consisted of Kit Swartz (guitar/vocals) , Paul Butchart (drums) and Jimmy Ellison (bass). They played an extremely fun and danceable set. I had wandered up to the rafters by the time REM played. Looking down, I noticed some girls who had formed a fake punk rock sorority (de fi u's). They screamed and ran to the front of the stage and began dancing like they were on Hullabaloo. Amazing, really amazing! If I ever felt like Alice in Wonderland, it was that night. Unfortunately (to me anyway) the perfectly fine and wonderful ep that the Side Effects ended up recording was not representative of the mass dance hysteria they were capable of inducing. So I am providing a link to a short documentary about them. They were only together for 2 years and the bassist Jimmy Ellison died a year later.
Swimming Pool Q's :: Little Misfit – The Swimming Pool Qs were among the first generation of Georgia new wave/punk bands and originally included Jeff Calder, Bob Elsey, Anne Richmond Boston and Robert Schmid. They were later joined by drummer Bill Burton. Randy Bewley, the guitarist for Pylon insisted I come and see them the first time that they performed in Athens at the Last Resort sometime in 1979. They were colorful, poppy and funny and we had a great time. Later on, the Swimming Pool Q's and Pylon were both on the Atlanta label DB Recs and both performed together occasionally. We all became good friends-especially Randy Bewley and Jeff Calder. There were was some connection there because both of them had spent their youth in Florida. Jeff has done a lot to help Pylon out of the goodness of his heart with the reissues of Gyrate Plus and Chomp More on DFA and now Pylon Live on Chunklet. From 1982 here is one side of a single that they released on DB Recs. Little Misfit. Now available again on The Deep End which has been reissued.
Limbo District :: Carnival, Limbo District –   A 12-minute film by Jim Herbert featuring four songs: "Those Devil Eyes", "A la maison", "Rhythm Forward", and "Daydreaming" is the only current recording that we have of this experimental band from Athens,GA. Craig Woodall,Jerry Ayers, Marguerita Bilbao, Dominique Amet, Tim Lacy,Kelly Crow and Davey Stevenson.They broke up before releasing any recorded material and most moved away to New York,Paris and Spain. Talented photographer and writer Davey was the brother of Gordon Stevenson, a filmmaker and artist who was married to Muriel, Exene Cervanka's sister. Muriel sadly was killed in an accident, both Gordon and Davey later died from Aids. Dominique returned to France and everyone lost track of her. She is reported to have passed away too.   I can hear the influences of African polyrhythms, circus music and musique concrete,which was combined with the visual influence of filmmakers like Fellini's La Strada.
Current Rage :: Waikiki – I loved Current Rage because I wanted to, because Randy's brother Chris who I was close to was the frontman, and because their songs were their own and I liked those too. I'm not sure what their influences were but it wasn't Pylon-esque, it was more surf rock and fun and punk – as evidenced by their "hit," Waikiki. That was a single before it appeared on Seven Songs. I had a lot of fun with them when we hung out and I took their photos for something at least once.
Is/Ought Gap :: Artsy Peace and Love – Less than two minutes long, this song packs in a whole lot of "Athens" from the era. Brian Cook's impish nimble goofy vocals are on perfect display in this song, along with the casually perky garagey instrumentation of guitar, bass and drums. So sweet – and only recently released; their seven song CD Lucky 7 was recorded long ago (with help from Vic Varney of the Method Actors) and released in 2014!
Vietnam :: Was It Long Ago? – I'm choosing this band as much as choosing a track, I don't remember song to song anyway. I remember the energy, the sound, the form. I loved Vietnam, they were from Atlanta, we played on a bill once: Vietnam, Pylon, Public Image Limited. From this track you can hear their post-punk that was still punk, I love that nice long strung out continuum, Stan's half-screaming vocals that aren't as annoying as that form usually is, Lee's lovely bass. Seeing these images of them is awesome for me to watch, being reminded of Drew and Sue in the band and the look of all of them.
For heads by heads. Aquarium Drunkard is powered by our patrons. Keep the servers humming and help us continue doing it by pledging your support via our Patreon page. .