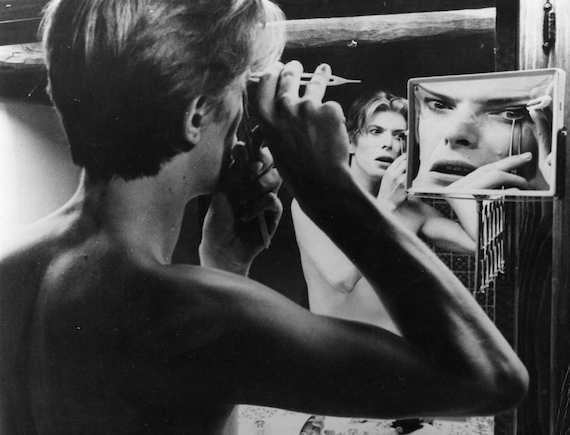 Rob Sheffield's On Bowie  begins plainly: "Planet Earth is a lot bluer without David Bowie, the greatest rock star who ever fell to this or any other world."  I read those words early Wednesday morning and turned them over in my head a few times, preparing myself for a book that more or less held that sustained, mournful  note: sad and  undeniable. If anyone's qualified to write en elegiac book on Bowie's passing, I figure, it's Sheffield, whose writing about music, and the way it weaves through our lives, is touching and tremendous. (Look no further than his essential books  Love is a Mixtape and Talking to Girls About Duran Duran  for proof.)
But On Bowie, written in a flurry the month following Bowie's passing just days after the release of his final album, the Kendrick Lamar-inspired jazz rock odyssey Blackstar and the Starman's  69th birthday, isn't that book. It's not a quiet eulogy at all. Instead, it finds Sheffield dwelling in all the worlds Bowie created,  a crackling, hilarious, and deeply loving meditation on Bowie in all his Bowieness, zooming in on each character he inhabited and reflecting on how generously he treated his fans, in part because they provided  him with his primary artistic mandate: offering  them a Bowie lens to see themselves through. "I mean, if I've been at all responsible for people finding more characters in themselves than they originally thought they had, then I'm pleased, because that's something I feel very strongly about," Sheffield quotes Bowie saying in the  BBC's Cracked Actor documentary.
Sheffield calls the book a love letter, but also a travelog, and so he goes looking for Bowie and finds him in all sorts of fascinating places: on Dinah Shore's variety show, in the themes of Kanye West and Future's records, in Berlin, in the feminine/masculine and nebulous alien genders in between, in science fiction landscapes, in the groove and far out of it, in the back of cabs, in the air at Pappy and Harriet's Pioneertown Palace outside of Joshua Tree. He pulls not just from Bowie's acknowledged classics, but from B-sides and Earthling  and Hours, shrugging off dated guitar tones and cutting to the thriving, vibrant  art just beneath the production. Sheffield writes direct from the heart and with obsessive knowledge, citing  the archives and his own lifetime of Bowie-centric experiences.
I tore through the book with ease. It was impossible to put down, because Sheffield's voice feels like that of a friend you never get sick of listening to. You're not reading his book, you're sharing drinks at a bar, and he's got the attention of everyone at the table and oh wait, he's up for karaoke, hang on.  I didn't want On Bowie to end and it reads like  Sheffield doesn't either. But  that's where Sheffield finds the most beauty — in those perfect moments that frequent David Bowie songs, moments too pure to  last beyond the impact they make in our heads and hearts. Writing  about "Where Are We Now," from The Next Day,  he cites "Heroes," a song "about respecting a temporary moment of human fellowship and resisting the temptation to make it fraudulent by pretending it can or should last forever." words / j woodbury  
Recommended: Cracked Actors: A Look Through The Bowie Cover Catalog