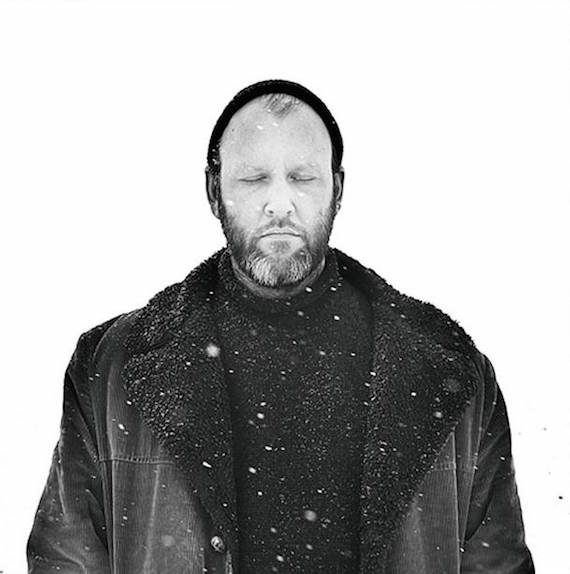 The name Eric Bachmann is well-known to indie-rock devotees, but not because it has graced the covers of records that often. Chiefly known as a member of Archers of Loaf and the main force behind Crooked Fingers, Bachmann only just released the third album under his own name earlier this year. This latest self-titled album has been met well critically, and following a full-band tour earlier this year, Bachmann is about to set off on a series of living room concerts in support of it. We caught up with Bachmann via phone to discuss the new album, the potential end of the Crooked Fingers name, how one promotes a tour like this, and how giving a 46 year-old-man some dignity is a good thing.
Aquarium Drunkard: The new album has been out since March. How has the response been thus far?
Eric Bachmann: I think, relatively speaking, it's done well. It's had a good response. It hasn't done as well as, say, Kanye West does or anything. [laughs] But I feel good about how it's going. My world isn't going to change or anything. I did a bunch of touring in April, May and June and that all went really well. And I'm going to start doing these living room shows, which is a new thing for me, and I have other things happening this year for me. But as much as I'm happy it went well, I'm always kind of moving forward. I haven't forgotten about it or anything, but I've just kind of let it go.

AD: I've heard that a lot from artists over the years – that once you've finished an album and released it to the world, you're kind of past it at that point.
EB: You're most excited about it when you make it, the moment you mix it. Because that happened a year ago, and the album came out in March. But I feel good about the bands I took out on tour and it was really fun to do and really inspired me for what I want to do with the next record and who I want to work with. So I feel if you can have that kind of hand-off – if you can make a record and then go on tour with it and learn from that tour what you want to do with the next record – you're very lucky and it keeps you from getting any kind of writer's block or stagnation. For me, it's been 5 years since I'd made the last record – because I'd been working with Neko Case and that has been busy and wonderful. But as I get older, I get less confident and I always think 'well, what am I doing next?' So I feel very good about that part of it.
AD: I was trying to remember, is this the first time you've released an album under your own name?
EB: Well, not quite. I released an album called To The Races, in 2006 on Saddle Creek Records. And then before that, I did an instrumental soundtrack for a film called Ball of Wax in 2002 or 2003, and that was under my own name. But that was an instrumental record. So it's not an unfair thing for you to say, because I've done it in such a staggered way. It's been ten years since I've released an album under my own name.
AD: What's the difference between an Eric Bachmann record and a Crooked Fingers release?
EB: Well, nothing in terms of the music or the tracks or the approach. When I did To The Races, I called it Eric Bachmann because it was so stripped down. It was mostly just me and a guitar. Crooked Fingers, as much as it's me, there are people who have input and they color the record and what they do to it. Unless it's a string player where I have parts written out, when I bring in a guitar player, I don't tell them what to play. On To The Races, there was none of that.
To be fair though, on the new record, even though there's all this stuff about it being a more personal record, it's not really more personal. I'm just sick of being a band name. I kind of want to be myself and not do that. So it's really the marketing or the presentation of it that is changing. That's kind of boring, but it's the truth.
AD: So does that mean going forward that you intend to be more under your own name than Crooked Fingers, or does it depend on the mood?
EB: I definitely think if I'm writing the songs and I'm writing the lyrics to it, then it's going to be under Eric Bachmann. The only way I'd release something not under my own name going forward is if I joined another band and I was one-fourth or one-third of something. But as far as my songwriting goes, I'm just going to call it Eric Bachmann from now on, I think.
AD: You were doing full band touring earlier this year, but the living room tour coming up is going to be just you, or will some others be involved?
EB: It's going to be just me. It's a new thing for me. I talked with David Bazan about it and he said it was a good way to do it, not such a drain on you, an easy way to tour and it's a really good, intimate experience. So I thought I'd try it and see how it goes. I get bored doing things the same way over and over again. I did the big band tours for a few months, so I'm kind of excited to just strip everything down to guitar and voice or banjo and voice and do it solo. I reserve the right to change it. If I do this first leg – and I'm going out again in October – I might decide I want some violin or something to go with it, then I might bring them out then.
I have a friend, Josh Modell, who digitally introduced me to Bob Andrews [of Undertow, the living room concert promoter] and I was so reticent to do it. I kind of want to play in smokey rock clubs. But after talking with Richard Buckner, David Bazan about it, friends who have done it and friends who have hosted them, I thought maybe I should give it a shot. There are a lot of people who do them.
AD: It has to be a different type of promotional thing to do this. It seems like a different promotion than for a normal rock show. Have you had different experiences with this?
EB: I think so. Merge [Records] has been helpful on both. This stuff is very new to me, but if I put something on Facebook, then they share it or whatever. They've even posted stuff from scratch. In terms of the label helping me, that hasn't changed. But I do know that I think it's more insular. I don't think people do these tours to grow their band or brand. They count on the fact that you already have a fan base and you're tapping into that as directly as possible. You have to have a pre-existing fanbase to do these at all. So you use your email list more. I've never been good at that stuff – I came up at a time right before the internet. I've gotten better at it, but it's all new to me. But I guess what I'm not wanting to admit is that I should've come around to this stuff ten years ago, so I'm finally catching up with it. Living room shows aren't a new thing, so the fact that I'm getting to it now is more of a testament to me being a slow learner.
AD: I'm looking at the page for the shows now, and it looks like about half the shows are already sold out. But each show has a different number of tickets depending on the size of the person's house. I'd been hemming and hawing about whether or not to buy a ticket and I went on the site to see how many tickets were left and there was one ticket left, so I felt, welp, that's the universe telling me to come. [laughs]
EB: It's a weird thing. I do better in certain places, so for me, that any of them sold out, I'm happy about it. But I knew places like Knoxville – I've played there maybe three times in my life – Cleveland, I've not played much there. So we'll see how it goes. But it's all new to me, so I thought, let's just try. We'll figure out what we can and can't do. I feel grateful that stuff has sold pretty well.
AD: Not asking you to get into numbers, but I would guess that financially this benefits you with the overhead of doing this by yourself, but also taking home a larger chunk of the ticket.
EB: I think you do. The club needs to take what they need to run their business, of course. Here, it's the generosity of the host that is allowing you to do this. Undertow takes a little bit, my booking agent takes a bit, but that's more than fair. I love taking people out with me, but going out solo, you're always going to make more money than if you take people with you. You're a little more in the black because the hosts are generous enough to let you play there for nothing.
AD: Would you say it's been since Archers of Loaf played house shows in the early days since you've done something like this?
EB: I'd say you're right. We did that in the early days. You know, Crooked Fingers did some of that in the early 00's. But since then, no, and I've kind of missed it. That's part of what Bazan and Buckner were talking to me about. In a weird way, it's a house show that you used to play at in the early 90s, but they just jazz it up by calling it a living room show, charging more money and trying to inject dignity into it, which is a fantastic thing for a 46 year old man who's been doing it his whole life. [laughs]
AD: What's the aspect of this that you're most looking forward to?
EB: The performance – if you're in a room and you're playing guitar and singing and the audience is listening to you and you know you're playing well that night, it's a really rewarding thing. I like to perform. I like to be the center of attention. So if that's going well in an intimate space, that's probably the best way to perform. I like a loud rock show. I like everything. I hate to put a limit on the fun you can have on stage, but it's a really rewarding experience to have everyone listening to the thing you wrote. words / j neas
We're giving away a vinyl copy of the new self-titled Bachmann record courtesy of the folks at Merge Records. For a chance to win, comment below with your favorite Bachmann-penned song and include your email for contact if you are chosen. A winner will be selected at random Friday afternoon.