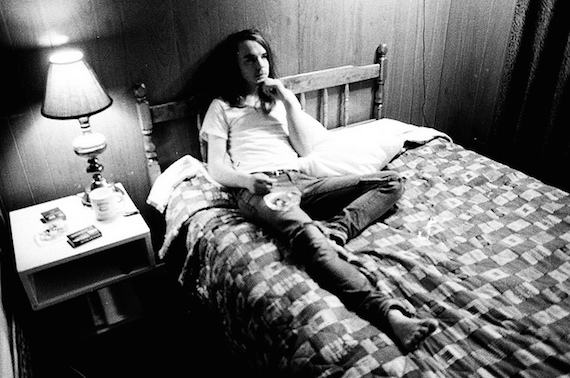 Diversions, a recurring feature on Aquarium Drunkard, catches up with our favorite artists as they wax on subjects other than recording and performing.
He's been at awhile now, but there is a reason you are hearing the name Andy Shauf everywhere of late. It's The Party, Shauf's third long-player; his Anti Records debut which dropped in May. An ambitious endeavor, aesthetically indebted to the 70s smart pop of Jimmie Spheeris, Harry Nilsson and Carole King, the record is a meditative grower in the best kind of way. In an effort to get inside Shauf's headspace, we asked him to run through some of the works he was listening to, and inspired by, while in pre-production. Shauf, in his own words, below . . .
Chris Cohen – Overgrown Path: This is an album that I started listening to while I was about halfway through finishing my record. I was feeling lost with what I was trying to do, kind of exploring synthland and really forgetting what I intended to do when I started making the record. Chris' album is really nice and song-focused. It reminded me that I'd originally set out to make an album centered around bass, drums and piano.
David Bowie – Hunky Dory: I was mostly writing songs on piano for The Party, so Hunky Dory was naturally a big inspiration for me. The arrangements are so good, the songs are very creative both lyrically and musically. The piano playing is a lot fancier than what I can manage, but I was really trying to improve on my piano skills for this album.
The Beach Boys – Smiley Smile: The story around this album is really interesting. I guess the intention was for the rest of the album to have been done in a similar style to Good Vibrations, how it was spliced together from different takes and sessions. I really liked that idea of hard cuts between sections of songs. I did a lot of that when I was making demos and originally recording the songs for this album. Obviously it was less extreme…by myself and recording with a computer. I just liked the idea of different textures occupying fully different portions of songs.
Steely Dan – Aja: Right before I went into the studio to record this album I watched the 'Classic Albums' episode on this album. I was really into the 70s LA pop sound and this album is a perfect example of that sound. I got into this one and it inspired me to want to incorporate some sort of a shuffle beat in a song. The first draft of the album was a lot closer to this aesthetic than the finished product.
Carole King – Tapestry: Carole King is one of the best songwriters of all time, and this album is so perfect. The instrumentation is fairly straight ahead but everything is placed so precisely. I mean, what's more inspiring than perfect songs? There are also quite a bit of congas or bongos or whatever on her album, which I think fit well. I tried to put congas into pretty much every song on mine, but it never seemed to work out. Maybe next time.