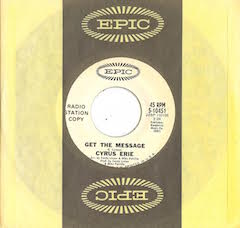 In this Big Star worshiping world (a church of which I'm a card-carrying member),  Eric Carmen's seminal power pop work with the Raspberries simply doesn't get the respect it deserves. But that's another story. Several years before the formation of that group, Eric Carmen and some future 'berries laid down one of the greatest Who-influenced American 45 of the 1960s.
Cyrus Erie was formed in Cleveland in 1967, with Eric Carmen joining later in the year after being turned down as a member of (other huge local band) The Choir. Guitarist Wally Bryson (fresh out of the Choir, himself) joined Cyrus Erie, and the band quickly became a local phenomenon, covering the likes of the Who and Small Faces in addition to their originals.
The group was soon scooped up by Epic records who tried to squeeze a more commercial and polished sound (the "a" side of this single, 'Sparrow", is OK but not the MONSTER "Get The Message" is). One can only imagine how first-rate this group must have been live, and it's clear these formative years paid off as The Raspberries later maintained a raw edge, yet were still tight as the cracking snare drum that we hear in "Get The Message".
Note: It's perfectly acceptable to play this song a dozen times in a row at maximum volume; in fact, it's kind of impossible not to. words / d see