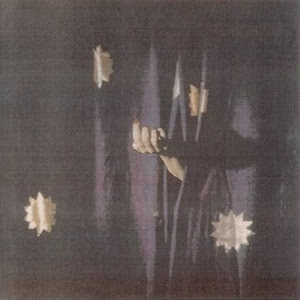 During the 90s and the first part of the millennium there was a great UK based mail order psychedelic music store called the Freak Emporium. Their catalogs were as fun to read as   the music was to listen to. It would be impossible for all of the albums listed to be as mind-blowing as described, but one of the platters that lived up to the hype was a mysterious album called The Gnostic Mass by a group calling themselves The Entheogens.
The cover art features an alluring female hand beckoning the listener to come behind a set of closed purple curtains decorated with stars. Combined with the album's title it takes on the feel of an invitation to an ancient cult. But an invitation to what end? The flipside shows the band members in negative unexposed film images donning ceremonial robes, furthering the effect.
Entheogens, besides being psychoactive chemicals extracted from plants, were a temporary collective of Swedish musicians who delved in an adventurous yet melodic brand of Eastern-flavored psychedelia; mostly acoustically, using guitar, sitar, flute, organ, glockenspiel, bouzouki, and various percussion instruments. Guitarist and indie-label head Stefan Kery was ostensibly the de facto leader, releasing the album in a limited edition of 500 copies (re-released digitally a few years ago) on his Xotic Mind label. The imprint eventually morphed into Subliminal Sounds, still going strong today, and has the distinction of being the label that eclectic psych/folk rockers Dungen started on.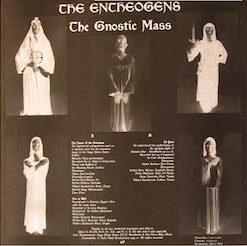 There are only three tracks on The Gnostic Mass, all strange but successful combos of Middle Eastern and Indian textures – folk, acid rock, and free jazz. The shortest, "Fire at Will", was the soundtrack to a short art film of the same title, while the remaining cuts are engrossing improvisations. Both start slow, building in fervor as the musicians become increasingly absorbed in the performance. Track one, "The Dance of the Priestess", is good, but merely a taster for the final track, "IO Pan", recorded live in a Swedish club. Sounding something like the house band for a firelit-fevered pagan ritual, the musicians hit a plane of communication here that taps into the mystic. Cosmic hippie music of the highest order, indeed.
As one online vendor selling a used copy of the album writes: "This band deals with the knowledge of the divine that's inside ALL of this world!! Heavy stuff! Really unfitting for the lay people." It's good to see the spirit of those old Freak Emporium catalog descriptions lives on. And if you're one of those lay people, you too could be inducted into the cult of Entheogens just by putting your ear to the speakers. Come on, come inside…it won't hurt a bit. words / r caldwell