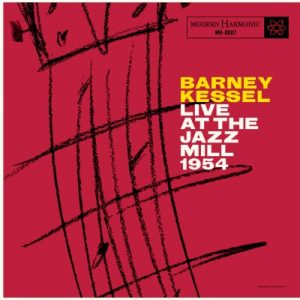 Sometimes it's all about right place, right time. When a 21-year-old Jack Miller camped out at the short-lived Jazz Mill night club in Phoenix, Arizona, for a few nights in late March of 1954, it was just to catch some sets by jazz guitarist Barney Kessel. Of course, with his Knight tape recorder in hand, a small mixer and three mics, he also had an ear for preservation, recording the sound of Kessel and the house band, the Jazz Millers, getting down. Miller scarcely could have known that 62 years later, his recordings would see official release: Barney Kessel: Live at the Jazz Mill 1954, out now via Modern Harmonic Records.
The stand at the Jazz Mill followed Kessel's stint with the Oscar Peterson Trio, and found the guitarist in a sharp, playful mood. Backed by Pete Jolly on piano, Gene Stoffell on bass, and drummer Art Kile, Kessel tears through standards like Gershwin's "Strike Up the Band" and Harold Arlen's "Get Happy," but offers slower, soulful fare too, like the swooning "Stardust," punctuated by Jolly's heavily chorded piano, and a gorgeous and ethereal take on the Gershwins' "Embraceable You."
Kessel was likely reminded of home while in Phoenix. He grew up in Muskogee, Oklahoma, where "People didn't just talk about jazz, they lived it" and "jazzmen and cowboys lived side by side," as Jim Carlton's notes quote Kessel, and though Phoenix was in the midst of explosive growth in those years, bolstered by advancements in air conditioning, there was still enough of a dusty quality to the town's tenor to suite Kessel.
Meanwhile, it was just the beginning of Jack Miller's long career as a legendary audio engineer. He passed away earlier this year at the age of 83, but left a considerable mark in the world of record making. He had a crucial hand in crafting the hits of Duane Eddy, working with ace producer Lee Hazlewood at Audio Recorders Studio in Phoenix. Eventually, he found his way to Hollywood where he made records with the Stones, the Monkees, Jefferson Airplane and many more. He returned to Arizona, joining the Canyon Records team, where he served as chief engineer, recording traditional and contemporary Native American music for the label founded by Ray and Mary Boley in 1951 (just a few years before Miller would record Kessel's sets at the Jazz Mill).
In an essential 2001 Tape Op Magazine interview, Miller laid out his audio philosophy. Discussing recording with Tucson cowpunk Al Perry he says, "…if the band is playing for real and you want to hear it for real, just leave it to be what it is." Live at the Jazz Mill 1954 assuredly demonstrates that Miller — on stage or in the studio — knew how to capture things in the moment, true snap shots of real musical happenings, even at the very beginning of his career. Right place, right time, right man. words / j woodbury