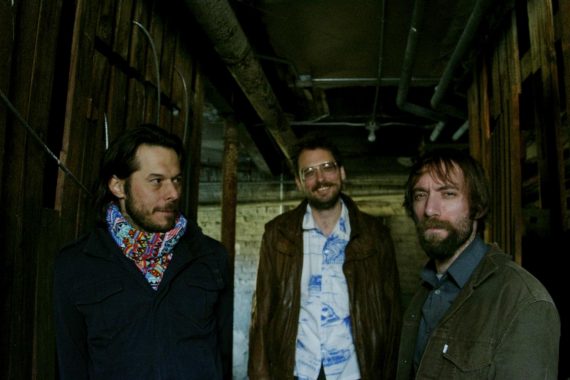 There's an enjoyably perplexing quality to Chicago trio Heath&Beauty's new album, No Scare. Opening with "Back to the Place" – its title indicative of the sidewise humor which marks the songs of songwriter/vocalist/guitarist Brian J. Sulpizio – the record begins haltingly with distorted falsetto and light strums, before tangled guitar lines and a stuttering drum beat lurch in. It sets the template for what follows, a pull between cluttered beauty and lilting melodies. Along with keyboardist Ben Boye and drummer Frank Rosaly, Sulpizio find clever ways to insert odd touches into every corner of the song's scant two minutes: "woo-woos," discordant riffs, and crashing piano runs.
Technically, Health&Beauty's existed for something like 15 years, initially as a recording project of Sulpizio's. "I just hung onto the name because I couldn't find a better one," he says, but No Scare marks the recorded debut of this current lineup, which solidified in 2012, under the long running banner. If the group sounds more seasoned and comfortable than should be expected, that's because it is: the lead up to No Scare's release found the group working out the songs for years and touring and recording with songwriter Ryley Walker, appearing on his 2015 album Primrose Green and on his latest, Golden Sings That Have Been Sung.
Health&Beauty :: Asunciî³n & Dayanara
"I've known Ryley since he was 19 – at some point I asked him to teach me how to play finger-picking guitar and he said, 'No,' because I could just do it," Sulpizio laughs.
But while they share a similar stylistic flourish, Sulpizio's guitar work draws from more aggressive and rock-based traditions than Walker's: the freneticism of Sonny Sharrock, the entwined web of Lee Ranaldo and Thurston Moore's work on Sonic Youth's Murray Street (a pivotal influence, Sulpizio says), the weighty thud of Neil Young.
Initially, he was drawn to Chicago's experimental underground and its confluence of jazz, electronics, and improvised approaches.
"When I was 20, 23, I started going to see music at the Velvet Lounge in Chicago, watching the AACM [Association for the Advancement of Creative Musicians] or Umbrella Music people, and really got deep into that as a guitarist and a drummer," he says. "It became very frustrating for me; I was never comfortable with that stuff moving around totally structureless, so I would create these riffs, really simple song forms that left room for improvisation, and I'd perform them almost like exercises."
That creative tension is still at work on No Scare, which alternates between complex arrangements and open-ended improvisation.
"There's a lot that's pretty tightly arranged, but if you hear things that don't happen more than once, those are probably improvised," he says citing one of the record's best songs, "Beyond Beyoncé," with its clattering electric keys and bluesy backbone.
"It's pretty determined where the song will rise and fall, but what happens in them is different moment-by-moment," Sulpizio says. "It makes it more fun to play songs like that. The fewer people you have playing, the freer you can be, the more nimble."
Like Golden Sings That Can't Be Sung, No Scare finds a balance between the spontaneity of live performance and the textured deliberation of the recording studio.
"At some point, I came back around to writing actually songs," Sulpizio says of his early experimentation, but he notes: "I kept it in my mind that things could be looser…I want to make something that can develop and move and change over time."
No idea on No Scare, which is full of them, feels forced over overthought. The songs allow for space and time and freedom, which makes for a richer record.
"Whatever catches your mind at the moment," Sulpizio says, "is what you go with." words / j woodbury