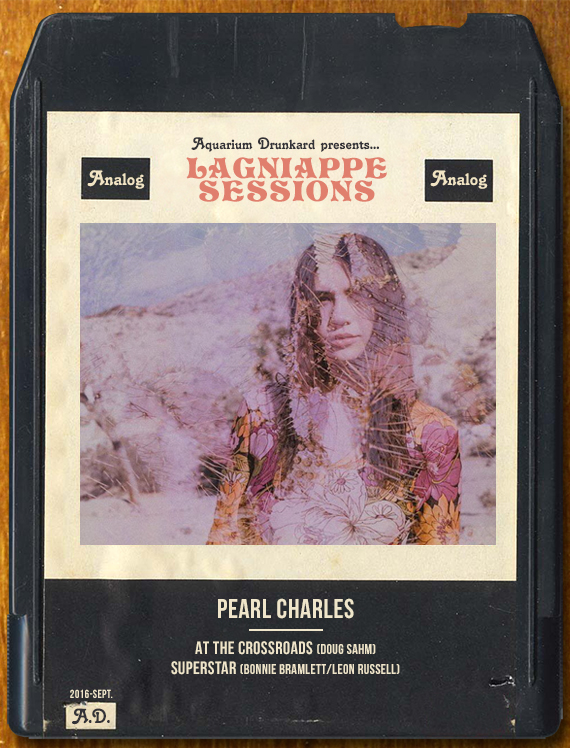 Lagniappe (la ·gniappe) noun 'lan-ˌyap,' — 1. An extra or unexpected gift or benefit. 2. Something given or obtained as a gratuity or bonus.
One foot in the past, one in the present. Enter Pearl Charles. Having exited the country leaning Driftwood Singers in 2012, followed by a brief stint in the garage drumming for Blank Tapes, Charles has carved out her own path of late. Mining the indigenous coast and canyon sounds emanating from her native Los Angeles, her latest work is imbued with an increased sense of self. Here, we find Charles paying tribute to the late great Sir Doug Sahm, covering "At The Crossroads", along with her take on the evergreen "Superstar" — penned by Bonnie Bramlett and Leon Russell, covered by many.
The artist, in her own words, below . . .
Pearl Charles :: Superstar (Bramlett/Russell)
I was reintroduced to The Carpenters through the Todd Haynes' student film Superstar: The Karen Carpenter Story, in which he recreates her life using Barbie dolls. You can watch here. I had been familiar with the song prior but had no idea that the song was actually written by Bonnie Bramlett of Delaney & Bonnie and Leon Russell and was originally titled "Groupie (Superstar)".
Pearl Charles :: At The Crossroads (Sir Douglas Quintet)
Doug Sahm named his band The Sir Douglas Quintet in an attempt to piggyback on the success of British Invasion in the 60's. Though they started out as a garage rock group, by 1969 Doug had moved to California and began exploring psychedelics and country-rock. I chose this tune because while the song is representative of this later period in which Doug explored more soulful, countrified ballads, I still wanted to pay tribute to Doug's Texas roots, which he references in the chorus line "You just can't live in Texas if you don't got a lot of soul".
Recorded, Produced and mixed by Kenny Woods. July 2016
Additional Musicians: John M.F. Anderson (Bass and lead guitar), Chris "Dixie" Darley (Guitar and background vocals), Connor "Catfish" Gallaher (Pedal steel), Drew Erickson (Piano and keys), Richard "Chauncey" Gowen (Drums and percussion).
Lagniappe Sessions Archives / imagery via d norsen