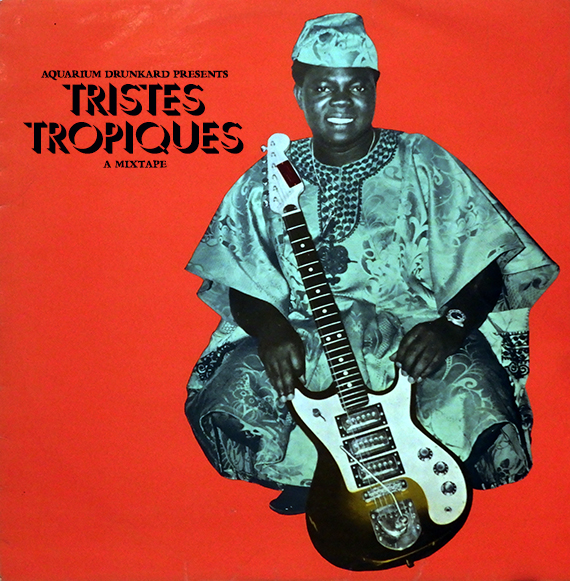 One last languid cruise before the summer fades into fall. A varied collection of teardrops from the Congo to Brazil, Tristes Tropiques presents the hauntingly beautiful sound of sadness from the global south. Poor a cup of palm wine and enjoy.
Our fourth entry in a series of ongoing collaborations with Copenhagen based DJ/record collector Peer Schouten.
Intro
Celestine Ukwu – Okwukwe Na Nchekwube
Maria Bethî¢nia & Gal Costa – Sol Negro
Franco Et Le Tout Puissant Orchestre Kinshasa Jazz – Boma l'Heure
Pablo Milanés – Yo soy un Hombre Sincero
Luiz Gonzaga – Sanfona do Povo
Bonga – Mona Ki Ngi Xiça
Geraldo Vandré – Depois î‰ So Chorar
Jupiter Bokondji & Okwess International – Djende talelaka
Gal Costa – Antonico
Amanaz – Khala My Friend
Carlos Puebla y sus Tradicionales – Qué pare el son
Wendo Kolosoy – Camille
Atahualpa Yupanqui – Le Tengo Rabio Al Silencio
Nora Dean – Angie La La
Chief Commander Ebenezer Obey & His International Brothers – Ajoyio
Volta Seca com Conjunto e Coro – Se Eu Soubesse
Yaseen Mohamed – Ni Wewe
José Larralde – Quimey Neuquén
Chico Buarque de Holanda – Desalento
Fela Kuti – Sorrow Tears & Blood
Simî³n Dî­az – el becerrito (la vaca mariposa)
Lhasa – De Cara a la Pared
Edu Lobo – Pra Dizer Adeus
Previously: Chuck Berry On The Rocks: A Mixtape / Shaft's Old Man
Pssst…Aquarium Drunkard has launched a Patreon page, which allows readers and listeners to directly support our online magazine as it expands its scope while receiving access to our secret stash, including bonus audio, exclusive podcasts, printed ephemera, and vinyl records. Your support will help keep an independent cultural resource alive and healthy in 2019 and beyond.