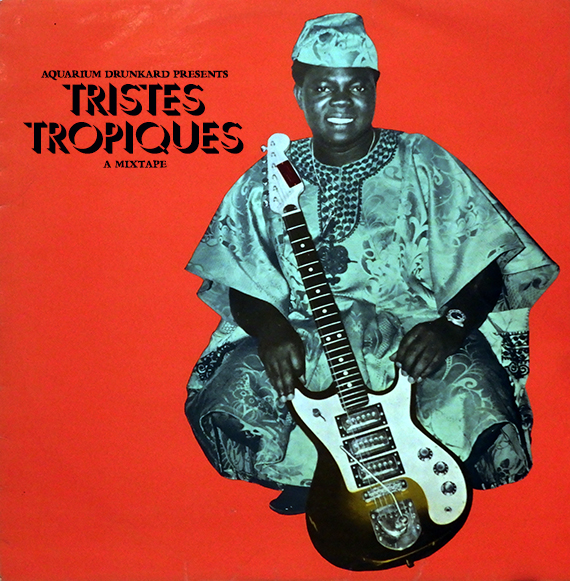 One last languid cruise before the summer fades into fall. A varied collection of teardrops from the Congo to Brazil, Tristes Tropiques presents the hauntingly beautiful sound of sadness from the global south. Poor a cup of palm wine and enjoy.
Aquarium Drunkard Presents: Tristes Tropiques – A Mixtape
Our fourth entry in a series of ongoing collaborations with Copenhagen based DJ/record collector Peer Schouten.
Intro
Celestine Ukwu – Okwukwe Na Nchekwube
Maria Bethî¢nia & Gal Costa – Sol Negro
Franco Et Le Tout Puissant Orchestre Kinshasa Jazz – Boma l'Heure
Pablo Milanés – Yo soy un Hombre Sincero
Luiz Gonzaga – Sanfona do Povo
Bonga – Mona Ki Ngi Xiça
Geraldo Vandré – Depois î‰ So Chorar
Jupiter Bokondji & Okwess International – Djende talelaka
Gal Costa – Antonico
Amanaz – Khala My Friend
Carlos Puebla y sus Tradicionales – Qué pare el son
Wendo Kolosoy – Camille
Atahualpa Yupanqui – Le Tengo Rabio Al Silencio
Nora Dean – Angie La La
Chief Commander Ebenezer Obey & His International Brothers – Ajoyio
Volta Seca com Conjunto e Coro – Se Eu Soubesse
Yaseen Mohamed – Ni Wewe
José Larralde – Quimey Neuquén
Chico Buarque de Holanda – Desalento
Fela Kuti – Sorrow Tears & Blood
Simî³n Dî­az – el becerrito (la vaca mariposa)
Lhasa – De Cara a la Pared
Edu Lobo – Pra Dizer Adeus
Previously: Chuck Berry On The Rocks: A Mixtape / Shaft's Old Man