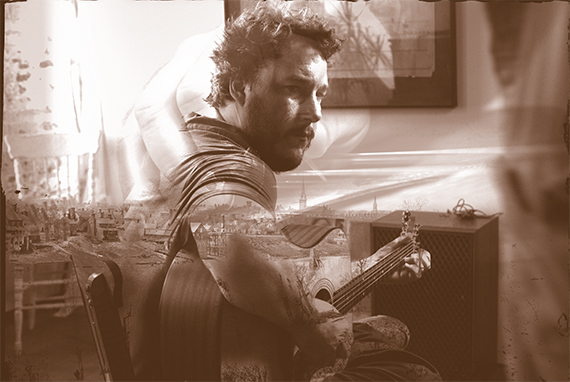 "Everyone felt a big gap all of a sudden," Keith Jarrett said after John Coltrane died in 1967. "But he didn't intend to leave a gap. He intended that there be more space for everybody to do what they should."
The same could be said of Jack Rose. Seven years after his much-too-soon passing, the guitarist's influence is all over the underground these days, in both obvious and subtle ways. And thanks to vinyl reissues of six of his finest works via VHF and Three Lobed Records this month, it's easy to understand why. Rose sounds better than ever, as he navigates his way through deep blues and folk forms, raga excursions, unbelievable drones, and unclassifiable zones. New Possibilities, indeed.
To celebrate these fantastic LPs coming back into print, we asked a few favorite musicians to share their thoughts on Jack Rose's extraordinary craft — and why his spirit remains very much in the house. words: t wilcox / photo: sam erickson / photo treatment: d norsen
Ben Chasny (Six Organs of Admittance, Rangda, 200 Years, Comets On Fire, New Bums)
When I wrote about Jack Rose for Pitchfork in 2005, he had only put out his second (solo acoustic guitar) record at the time, the beautiful Opium Music on Eclipse Records. Though his ultimate statements would come later, with records like Kensington Blues and Luck In The Valley, the space he covered between his first record, Red Horse, White Mule, and that second record was a warning sign to look the fuck out for this dude with an acoustic guitar who was about to open up the space for making the sound of Takoma Records cool again. There had been some "dark precursors" to this opening of space already: Byron's Coley's article on Fahey in November of '94, Sonic Youth talking about Fahey tunings in guitar magazines, Cul De Sac covering Fahey on their Ecim record, Jim O'Rourke, etc. These moments poured the foundation, but Jack took that space reserved for a small crowd of tastemakers and blew it open through dedication to a sound. The guy didn't just know music and have it in his collection, he incorporated it into a praxis involving hours and hours of practice and playing. This dedication was folded into talent bordering on divine inspiration. That is the sound of Jack Rose.
Our relationship was confined to guitar talk. We would see each other about once or twice a year since 2000, the year we met and toured together. This guitar talk would consist of all night sessions discussing where different guitar players should be placed on the continuum from inspirational to get-that-shit-off-the-stereo. Old players, new players, everyone got discussed. I'd say we agreed as much as we disagreed. It was a special way of being friends that I've never really had with anyone else. All guitar, all the time. Sometimes, nowadays, I like to imagine what Jack would think of a particular player, new or old, but the fact is that Jack was not predictable in what he found to be good. I also do not know what he would have made of his recent hagiography, which has been coalescing into a concrete myth. Such is the way after an artists dies, so it is not a surprise. But no matter what, it is a wonderful thing to see more and more people being turned on to his music and this reissue campaign will do a lot to make that happen. As far as I am concerned, the more people who listen to Jack, the better the world will be. Praise should be given to Three Lobed and VHF for getting together with the awesome plan to make this happen.
Jason Meagher (Black Dirt Studios, Steve Gunn and the Outliners, No-Neck Blues Band)
One of my trusted panaceas for the musician in the studio struggling against the heavy reality commonly referred to as "red light syndrome," is the comforting thought that a keeper take is simply an audio snapshot of a moment in time, rather than a definitive statement. The idea is to loosen up the performer enough to allow them to break the mummifying stress that a studio date brings. Perhaps then something like a moment of perfection, with all of its inherent anomalies and blemishes, will sneak through the capsule of the microphone.
It's difficult for me to choose a favorite Jack Rose track because he was a type of living embodiment of this idea. The time he played "Sundogs" in the tiny back room of a bar in the early fade days of Brooklyn, that wounded my concepts of reality and made my stomach feel like an evening spent spinning through a summertime carnival, may be his most palpable impression on my addled memory banks. But, having worked with him in the studio's nascent days, I quickly learned the truth about the 'snapshot' concept. The tracks you hear on a Jack Rose LP are the favorite takes of the man himself. These were not always my favorite takes, and I was often both surprised that he felt there were higher peaks to ascend to, as well as terrified that they would be insurmountable and the song in question might find its way to the cutting room floor. Some of those earlier takes, the other little squares on the contact sheet, were of jaw dropping beauty. And I tend to believe that out there in the infinity loops that were Jack's tour routes, someone heard him unleash a version of an album track that allowed everyone's feet to gently rise a few inches above the highest peaks he strove for when the shutter of the audio camera that is a recording studio went "snap!"
All of that said, I must apologize to the kind reader in advance of my next statement; there is an unreleased version of "Linden Ave Stomp," Jack with a band consisting of people he cared greatly for — Glenn Jones, Harmonica Dan, Hans Chew and Nathan Bowles — that is brimming with so much joy it is almost tangible. Performance, snapshots, cutting room floors… I like that track quite a bit.
Chris Forsyth (Solar Motel Band)
Jack made having chops cool again, at least in the underground. Consider any of the recent crop of guitar players who have attained some level of notoriety since his passing: we've all walked through an opening that Jack created. But think back to the aughts: there was a lot of noise, a lot of circuit bending, a lot of self-conscious primitivism, and a lot of faux naî¯ve folk moves. But there were not a lot of people who could play the guitar like Jack. Of course there have never been many people who could play like Jack could, but Jack's virtuosity was also modest, low key. He didn't call attention to it. I think a lot of it was intuitive. He played only what the music required.
This is the real lesson of an artist, a player, as great as Jack — to know what to play and what to leave out. But his authority always set him apart. The perfection of his slide playing is the pinnacle for me. It was breathtaking to watch him do it in person and it will always be breathtaking and heartbreaking for me to hear it in his largely unvarnished, unfussy recordings. There was no need to "produce" Jack's records or finesse these recordings, because there was nothing to hide or construct. His expression was all right there at his fingertips, as direct and devoid of bullshit as it gets. We are lucky to have these documents.
Jack Rose :: Mountaintop Lamento
Meg Baird (Espers, Heron Oblivion, The Baird Sisters)
It is really hard to think about Jack's work in terms of favorites. I was so focused on his live performances that it was pretty much like any song he was playing at the moment — that was the favorite.
I've always carried a big soft spot for "Mountaintop Lamento" because of how lyrical it is, and how it felt tied to the Loren Connors and all the NY free guitar work that had gotten into my ear so early on in my own musical memory. It also has that quality that makes me wonder why I even bother to sing over the guitar (something I've thought many times over when listening to Jack play).
If I weren't highlighting "Mountaintop" I might go straight for "Kensington Blues" instead. I'm sure that for many, many years to come I will dream about a strange, haunted and frozen in time version of Fishtown/Kenzo 2005, and "Kensington Blues" will be the soundtrack.
The post-Takoma corner of the guitar soli universe has to grapple with the challenge of sounding "samey" to many ears, and carving out a personal style within those limited parameters is daunting, because what makes a player unique may only be noticeable to other guitar players. I preface with this as a way of saying that I initially approached Jack's music as a fellow guitarist and that's how I describe it below, but I also celebrate the ways in which his music transcended genre and typecasting.
I first crossed paths with Jack when my band shared a bill with Pelt at a house show in Blacksburg sometime around 1996. The blissed, rattling, ragas of his early solo records seemed like a natural progression from Pelt's blistering thrum. But then I encountered "Blessed Be the Name of the Lord" from Raag Manifestos and thought, "He is really leaning on the 2 and the 4, and he can rip those sly little 16th grace notes." Suddenly I realized that Jack had a syncopation that was every bit as personal and iconic as Fahey's, and he somehow managed to swing even harder.
Then there was Kensington Blues, with the signature earworm of a title track and the cover of "Sunflower River Blues" that manages to dig in deeper than the original, almost as if to contrast his sense of time against Fahey's. And for me, the real game-changer, "Flirtin' with the Undertaker," where Jack casually busts out a Blind Blake-style ragtime in standard tuning, which is as technically challenging as this genre gets, especially for open-tuning junkies who are used to letting the open strings drone while they hunt and peck minimal chord voicings and one-string melodies. Now there was whole new left hand path for his music, so to speak.
The accuracy and expressiveness of his slide playing is completely unrivaled by any Western guitarist as far as I am concerned — it really came into fruition on "Yaman Blues" and I loved how he was expanding the lap steel repertoire near the end of his life. With each new Jack Rose record came new epiphanies in technique and songwriting, and I admired his willingness to revisit and re-record older tunes, as if there was always something new to discover in them. I know I am not alone in this, but I would love to have heard where he was going next …
Jack Rose :: Spirits In The House
Nathan Bowles (Black Twig Pickers, Steve Gunn and the Outliners, Pelt)
I'm always gobsmacked anytime I put on the self-titled record and flip to side B for "Spirits in the House." Jack has a few slide tunes in this vein, but this one strikes me as the most patient & wide-eyed of them. He had so fully internalized this sort of multi-part mini-raga by this point; the pacing and melodic contours of his compositions sounded like they came from a place deep within himself, beyond the restrictions of any particular influence. It's spooked stuff, the kind of recording from Jack that will stop me in my tracks and make me take the time to live in his world for those several minutes. That's about all we can ask for from a piece of recorded music, and for one to have that effect on me so consistently feels like a profound gift.
I think that the record that still clicks with me the most is the VHF CD Two Originals Of . . . (which compiled the LPs Red Horse, White Mule and Opium Musick, both part of the VHF reissue campaign — ed.).
I didn't realize that Jack grew up in the same town I did until maybe a year or two into listening to Pelt and his solo tunes. Me and all my friends went to a gig in Baltimore at the old True Vine Records store and I noticed that he had an apple music sticker on his case — that was the local guitar shop in Fredericksburg that was next to my mom's office and owned by a couple of guys that recorded some of the songs on this record and played in a high school band he was in, Naked Lunch. I went in there and asked them about him and they said that he had dropped off a bunch of his CDs, so I picked one up: Two Originals Of . . . with the image of some kind of sketched Dixieland band on the front — still don't know the story behind who drew that.
Anyway, the way that CD starts — with "Red Horse" — is really unlike a lot of the other longer more loosely structured tunes he has. He keeps it light. Even when he dips into those frustrated hard picking parts it still has a hopeful nature to it that shines through a little sadness and I don't feel like its represented many other places in his catalog. I remember that it was fall when I bought this and when I hear the record start it still kind of feels like cold air — wood smoke and mold — runny nose — I listened to it so many times. His take on Ry Cooder's version of Blind Willie Johnson's "Dark was the night cold was the ground" is better than Ry's, and "Blues for the Colonel" is another tune that is really well thought out and executed so well but never really revisited in his later records. "Yaman Blues," "Linden Ave Stomp," "Mountaintop Lamento" and "Black Pearls" — you get a little bit of everything and everywhere that Jack ended up going in his career. Two hundred days a year on the road fleshed them out and probably gave him the confidence and time to get that right hand tighter than anyone else playing then or now. I really love all his records and hold them all very close to my heart but this is the first one I discovered on my own and is still the one that holds the most weight personally. Go buy a copy from VHF, they're still in stock.