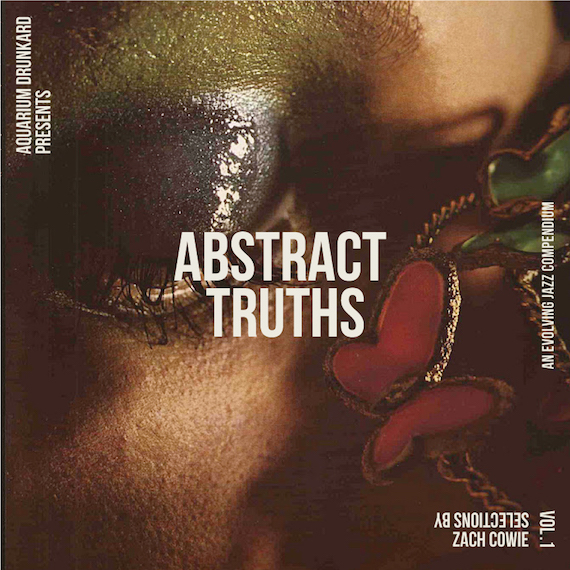 Several months back I happened upon a survey stating that, according to Neilson, jazz now held the dubious honor of being the least listened to genre in the US. The piece went on state that both "jazz and classical represent just 1.4% of total U.S. music consumption apiece…with classical album sales higher for 2014."
This soon led to a conversation with pal and record collector/music supervisor Zach Cowie, and we came up with the idea for Abstract Truths, an ongoing forum to invite some of our friends to flex a sampling of their favorites within the medium. Kicking the series off is Cowie, his selections spanning continents, modalities and beyond.
The next two volumes feature Carlos Nino and Eothen 'Egon' Alapatt, respectively.
(artist – Song – Album – Label)
Pharoah Sanders – Love Is Everywhere (excerpt) – Love In Us All – Impulse
Eddie Gale – The Rain – Eddie Gale's Ghetto Music – Blue Note
Steve Reid – Lions Of Juda – Nova – Universal Sound
Carsten Meinert Kvartet – Blues To Someone – To You – Frederiksberg Records
Cecil Mcbee – Voice Of 7th Angel – Mutima – Strata-east
Ornette Coleman – All My Life – Science Fiction – Columbia
Don Cherry – Marimba, Goddess Of Music – Modern Art – Mellotronen
Sun Ra And His Myth Science Arkestra – Angels And Demons At Play – Angels And Demons At Play – Saturn
Joe Henderson Featuring Alice Coltrane – Earth – The Elements – Milestone
Alice Coltrane – Paramahansa Lake – Huntington Ashram Monastery – Impulse
Ellington, Mingus, Roach – Fleurette Africaine – Money Jungle – United Artists
Chico Hamilton Quintet – Blue Sands – Chico Hamilton Quintet Featuring Buddy Collette – World Pacific (thanks Kevin)
Brigitte Fontaine & Areski Featuring The Art Ensemble Of Chicago – Tanka 2 – Comme A La Radio – Saravah
The Jimmy Giuffre 3 – The Green Country (new England Mood) Trav'lin' Light – Atlantic
Duke Ellington & John Coltrane – In A Sentimental Mood – Duke Ellington & John Coltrane – Impulse
The Tony Williams Lifetime – There Comes A Time – Ego – Polydor (thanks Carlos)
Related: AD Presents :: Zach Cowie — How Small We Are / A Mixtape