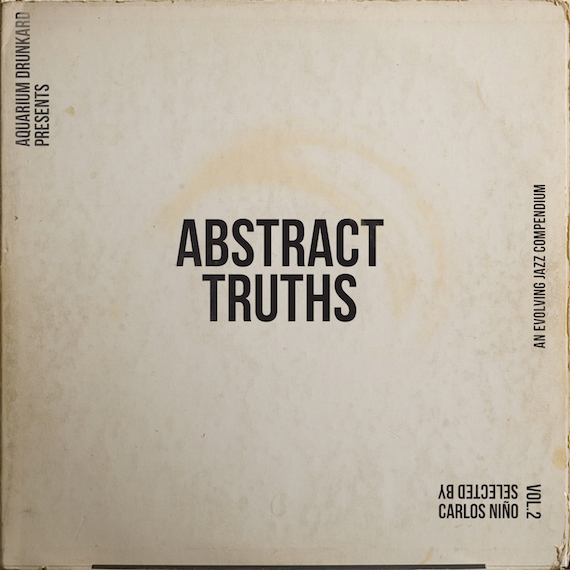 Volume two of Abstract Truths, An Evolving Jazz Compendium. If unfamiliar with the series, please first read here about the its genesis and intention. As promised, this installment is courtesy of dj/record collector Carlos Nino. Per his selections, Niî±o notes "I was thinking about Bobby Hutcherson and my Father Pablo Niî±o who had just transitioned from the Earth, and the great Michael White who has been going through serious health challenges. Listening back I feel that the music is diverse, textural and soulful, bringing together some new and old favorites, classics, and obscurities ." Next up, our third volume in the series comes via Egon, of Now Again Records.
(Song — Artist — Album)
Even Later – Bobby Hutcherson – Cirrus
Ensenada (Excerpt) – Bennie Maupin – The Jewel In The Lotus
Peaceful (Excerpt) – Sonny & Linda Sharrock – Paradise
Once Upon A Time (Edited) – Sonny Sharrock – Ask The Ages
Profusion Electric Mix 1 – Turn On The Sunlight / Build An Ark
The Rhythm Changes EDIT – Kamasi Washington – Spaceways Radio EDITS
Blue Skies (Excerpt) – Robert Glasper Trio – Mood
Falaq (Excerpt) – Larry Young – Of Love And Peace
La Sorrella (Excerpt) – Marion Brown – Why Not?
It's Not Up To Us – Byard Lancaster – It's Not Up To Us
Some Other Time – Keno Duke / Contemporaries – Crest Of The Wave
February – Nicole Mitchell – Black Unstoppable
Sounds Like Seven – Marian McPartland – Ambiance
Port Of Call – Cecil Taylor – The World of Cecil Taylor
Farid (Excerpt) – Ed Blackwell – Shades Of Edward Blackwell
The Land Of Spirit And Light Parts 1 & 2 – Michael White – The Land Of Spirit And Light
Healing Song (Excerpt) – Pharoah Sanders – Live At The East
Prayer For My Ancestors – Azar Lawrence featuring Nate Morgan – Prayer For My Ancestors
Venice – Ralph Thomas featuring Joey Ector – Eastern Standard Time
I Know Why the Caged Bird Sings (Excerpt) – Carmen Lundy – Solamente
Open Sky – Open Sky Unit – Open Sky Unit
A Love Supreme (Excerpt) – Dwight Trible – Horace
Changes – Carlos Niî±o & Miguel Atwood-Ferguson – Fill The Heart Shaped Cup
The Cry Of My People – Archie Shepp – The Cry Of My People
Spirits Up Above – Rahsaan Roland Kirk – Volunteered Slavery
Mud Theatre – Yusef Lateef – Hikima – Creativity
Tezeta – Mulatu Astatke – î‰thiopiques 4
Previously: Abstract Truths: An Evolving Jazz Compendium — Selections By Zach Cowie
For Heads, by heads. Aquarium Drunkard is powered by its patrons. Keep the servers humming and help us continue doing it by pledging your support via our Patreon page.